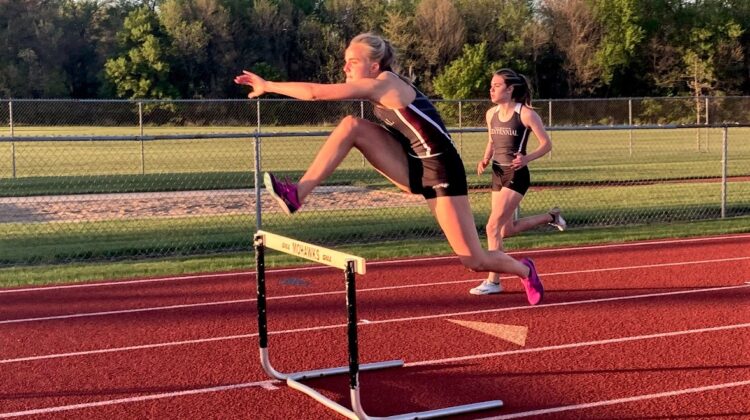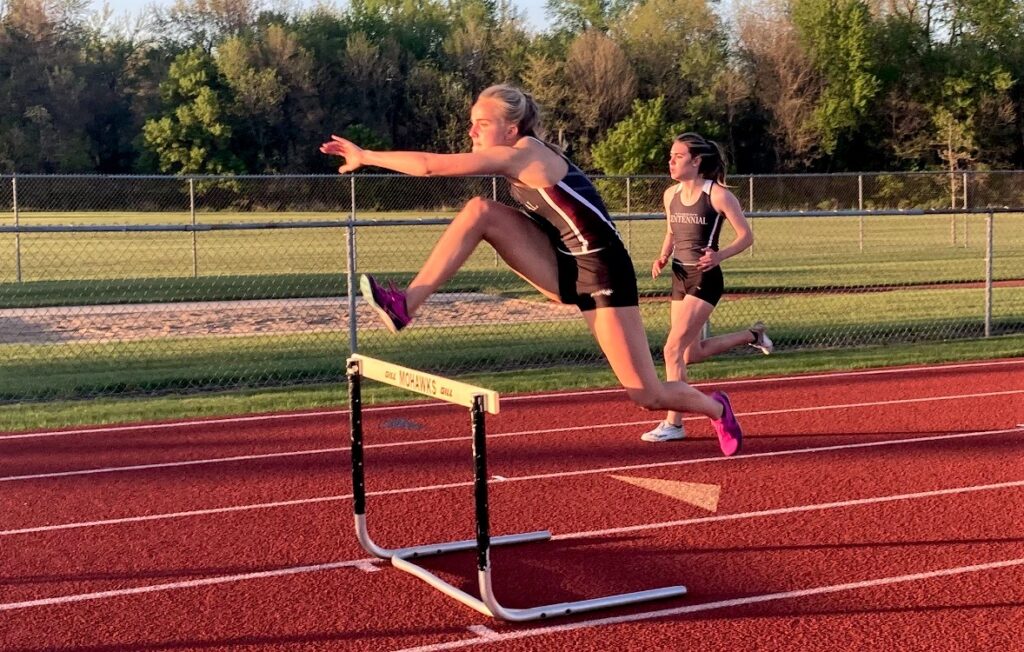 The Ankeny Centennial girls' track team continues to chase its crosstown rival.
On Tuesday, the Jaguars nearly caught Ankeny for the first time this season.
The two squads waged a close battle for the team title in the CIML Iowa Conference meet at Mason City. The Hawkettes emerged with the crown, racking up 159 points to edge Centennial by six points.
"It was quite an evening for the program," said Ankeny coach Thomas Cotter. "We've been talking since November that we believe that we can be one of the best teams in the state and this month we get to start really showing that. Hat's off to Centennial. They're a quality team, and we knew they would battle us until the end."
Both Ankeny teams won seven events. The Jaguars had lost three previous meetings against Ankeny by an average of 33 points.
"It was another great night to be a Jag," said Centennial coach Andrew Kruzich. "On paper, we thought we'd be 16 to 20 points behind Ankeny, and we ended up six points out of first. We overperformed early in the meet in the field events and some early races, and that kind of set us up thinking that maybe we had a shot at winning, which we did. We hit a little lull in the middle of the meet where we had a couple of hiccups, but overall I'm really very, very proud of our team. Ankeny is deep and talented, and we gave them a real run for their money."
The Hawkettes were led to the title by seniors Shelby Romig and Mytika Mayberry, who combined to win three individual events. They also anchored a pair of winning relays.
Romig won the 100 hurdles in 15.48 seconds and the long jump with a leap of 16 feet 9.5 inches. She also combined with Ellie Dalton, Calyssa Wright and Madeline Poock to win the shuttle hurdle relay in a season-best time of 1:09.19.
"Shelby is Ms. Consistency with her events," Cotter said. "She continues to impress in the long jump, and she keeps getting better and better in the 100 hurdles running a new PR."
Mayberry took the 100 in 12.50 seconds. She later teamed up with Eva van de Mortel, Lillian Smith and Macie Strnad to win the 4×100 relay in 50.37, coming from behind to edge Ames by .06 seconds.
"I hate being in second," Mayberry said. "To be honest, I really do. I just thought, 'I can't go out like this.'"
Ankeny also got victories from Lauren McMahon and Hannah Baier. McMahon won the 1,500 in a time of 4:49.73, while Baier captured the discus with a toss of 108 feet 4.5 inches.
"It was a pretty good race," McMahon said. "I definitely need to work on going out stronger and making sure that I get my position right away."
Centennial, meanwhile, got an outstanding meet from senior Kathryn Vortherms. She won the 800 in a time of 2:25.75 after earlier anchoring two winning relays.
"My favorite part about running races is chasing people," Vortherms said. "If I get the baton behind, I'm always picking out the girl in front of me and I'm like, 'OK, when am I going to get her?' It's not, 'Am I going to get her?'"
In the sprint medley relay, Vortherms teamed up with Addison Arringdale, Olivia Anderson and Elle Street to post a time of 1:52.11. She combined with Jordan Su, Anderson and Addie Pollock to win the distance medley relay in 4:15.91.
"Kathryn was brilliant," Kruzich said. "She ran down the Ames anchor in the sprint med, then (Ankeny's McMahon) in the distance med to give us a couple of wins there. Then she tripled back to the 800 only a few events later and won that. She's a special athlete and an even better young woman."
Millie Hill won the 400 hurdles for the Jaguars in 1:07.82. She then combined with Su, Street and Josie Bearden to win the 4×400 relay in 4:08.31.
"All of our seniors were great," Kruzich said. "Millie won the 400 hurdles easily, then ran down Ames' anchor to win us the 4×400. Josie had her best meet yet–a PR 800 split, great open 400, and a PR 400 split in the 4×400. Katie Jensen popped off a great time (4:55.53) to get second in the 1,500."
Centennial's Rondi Quass won the 3,000 in a time of 10:41.66. She was third in the 1,500 in 4:59.69.
Quass also teamed up with Bearden, Maddy LaVoi and Jensen to win the 4×800 relay in 10:05.44 shortly after winning the 3,000.
"I was just trying to take my time between the races and just enjoy the rest that I did get, and then once I got the baton in the 4×800 I really was just thinking that I had to do this for the team and not for you," Quass said. "That helped carry me through the race."
Ankeny's Megan Bosch took second in the 800 in 2:28.98. Dalton was the runner-up in the 400 hurdles in 1:10.44, while Lexi Stephens placed second in the high jump at 4-10.
"We had seven first-place finishes, four seconds and five thirds," Cotter said. "I am a broken record saying that you don't win meets without a great deal of depth and buy-in from the girls. Many have been putting in work since November to see the success they are having."
Centennial's Alayna Wallace placed second in the 3,000 in 11:12.31. Su was the runner-up in the long jump with a leap of 16-6.5.
"Special shout-out to our JV, who won with 200-plus points," Kruzich said. "They've been hard-working and competitive all season. I'm glad they could cap their season with a big win."
Both teams will compete in Class 4A regional meets on May 13. Ankeny will go to Waukee, while Centennial will compete at Urbandale.
"Certainly next week will be a challenge going up against Waukee, but we know they will push us to be faster," Cotter said. "We are looking forward to it."