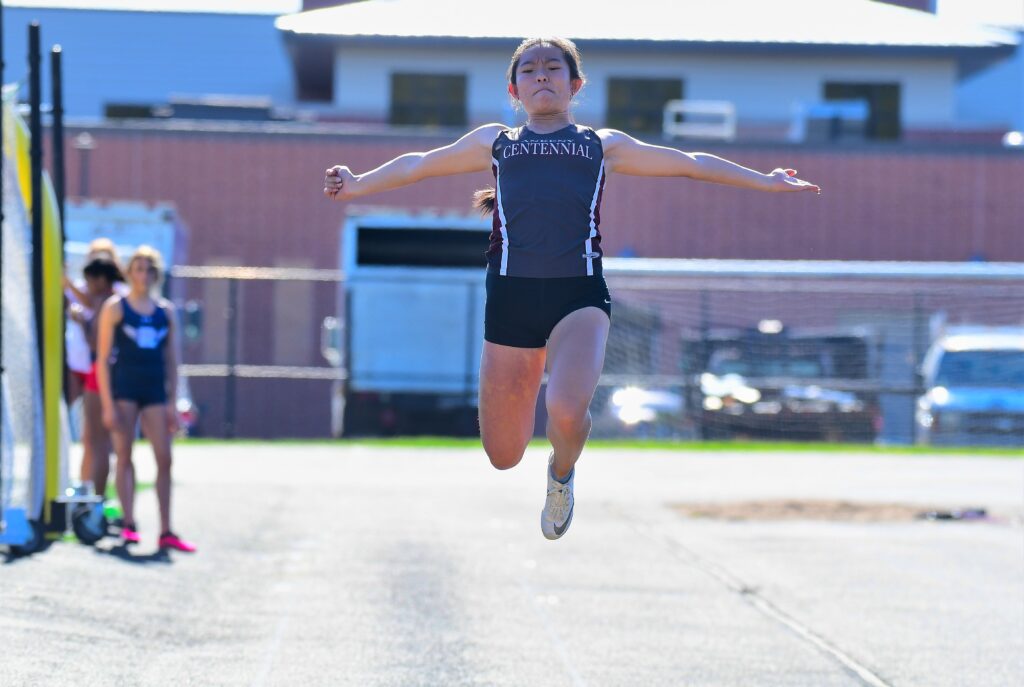 For only the second time in school history, the Ankeny Centennial girls' track team captured a Class 4A regional title on Thursday at Urbandale.
And the Jaguars did it in unexpected fashion.
Centennial won the meet when Southeast Polk was disqualified in the final event, the 4×400 relay, for running on the lane lines. The Jaguars finished with 141.5 points despite winning just two events.
Southeast Polk, which also dropped the baton in the 4×100 relay and finished eighth in that event, placed second overall with 133 points. Ames was third in the eight-team field with 127.5.
"It's not the way we wanted to win the meet, and I felt a little bad about the way it went down," said Centennial coach Andrew Kruzich, whose team also won a regional crown in 2019. "It was pretty surreal to go from thinking all day that we could win, then losing by 1.5 points after losing (the conference meet) by six last week, then finding out you won. But at the same time, we ran clean through the evening–no drops, no DQs–and that's what you have to do at this time of the year. Kudos to our girls and to our staff for having them ready to go.
"I knew we could win it if we ran well and got some breaks. Southeast Polk and Ames are potential top five teams at state, so it was no easy task," he added.
Centennial ended the night with eight automatic qualifiers for the state meet. The Jaguars likely qualified in five more events based on times, with three other events on the bubble.
"Our first goal is to get girls to state, and we got everybody in that we thought we could, except for one," Kruzich said. "It looks like we'll have 16 qualifiers in 14 events."
Centennial swept the top two places in the long jump. Jordan Su won the event with a jump of 16 feet 7.5 inches, while Kambria Leazer also qualified for state by placing second with a leap of 16-1.
Leazer should also advance to state in the high jump. She took fifth in that event with a jump of 5-1.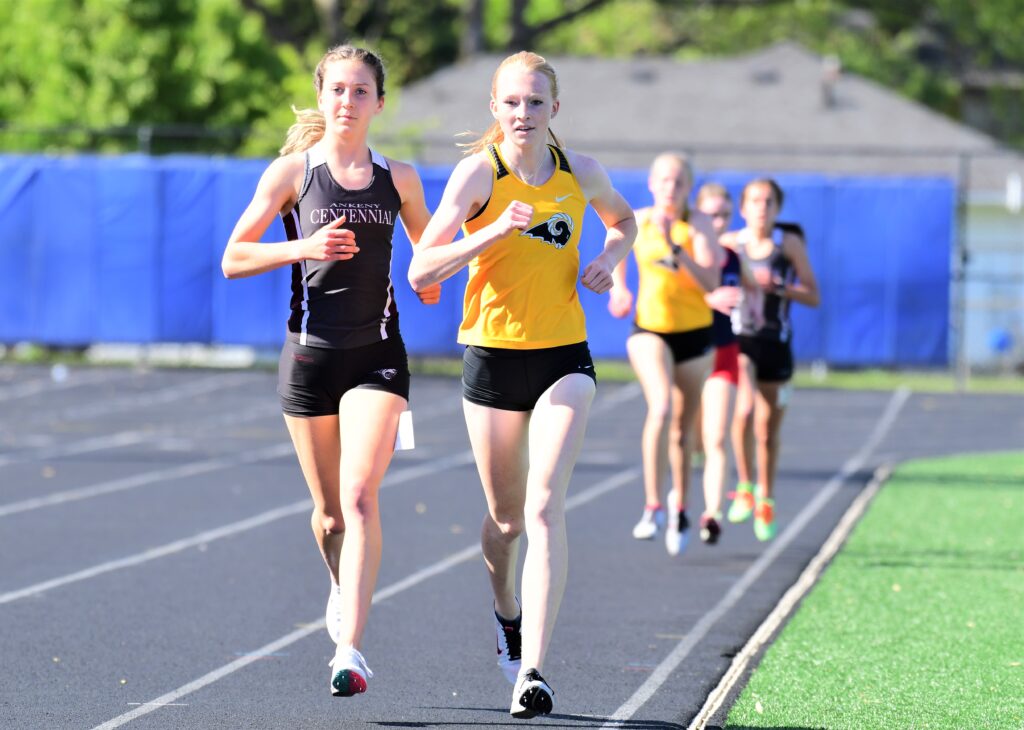 Rondi Quass qualified for state in a pair of individual events. She won the 3,000 with a time of 10:33.91, then later placed second in the 1,500 in 4:52.89.
"It was a super fun experience," Quass said. "I'm so excited to see so many of our girls going to state!"
Millie Hill was an automatic qualifier in the 400 hurdles. She placed second in a time of 1:07.43.
Hill later anchored the Jaguars to a runner-up finish in the 4×400 relay. She teamed up with Su, Elle Street and Josie Bearden to post a time of 4:09.05.
After the race, the Centennial girls waited for the final team results to be tabulated.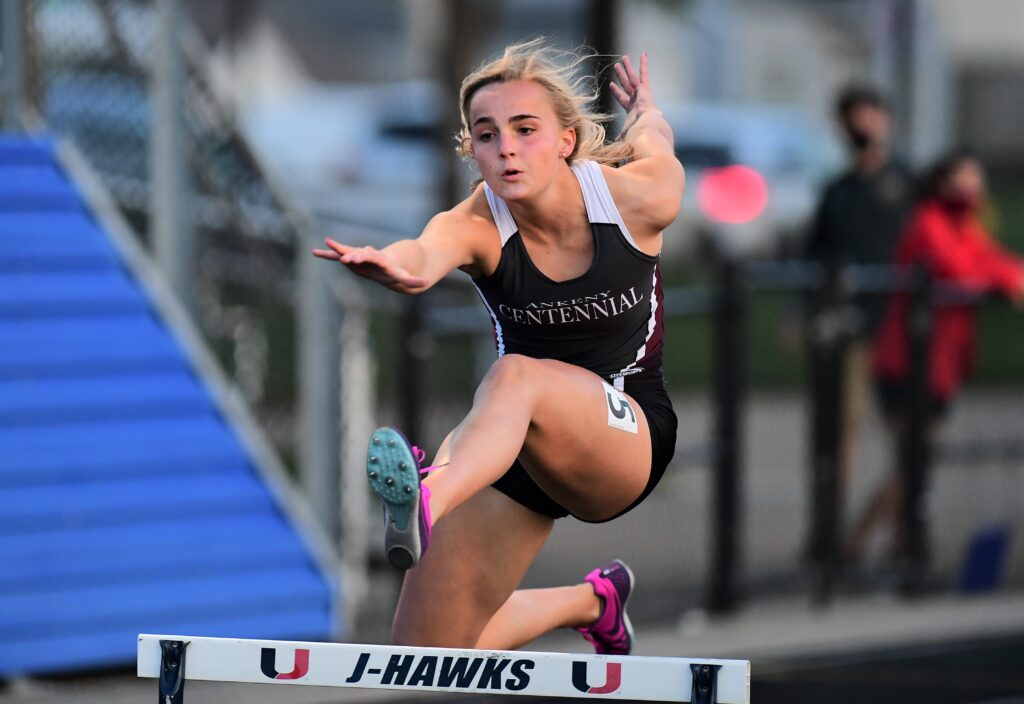 "We knew we had a good shot at winning the banner, but everything had to fall into place," Hill said. "Then upon finding out Southeast Polk had been the team DQ'd (assistant coach Eric) Cog(dill) immediately did the math and said to us, 'That means we won the meet.' Our 4×4 went crazy, screaming and yelling and jumping up and down and hugging–we couldn't believe it. I will never forget that moment. Our teammates came running over a little confused and we then let them know there was a DQ and as a result we won the meet. We all started celebrating together; there were lots of hugs and big, big smiles. We also made our way over to the boys and celebrated with them when it was announced that they were district champs. Overall, walking away from a district meet with two banners is a pretty awesome experience."
Kathryn Vortherms placed third in the 800 as the top three finishers all broke the 2:20 barrier. Her time of 2:19.49 will undoubtedly qualify for state on a time basis.
Vortherms teamed up with Bearden, Katie Jensen and Kendall Jorgensen for a second-place finish in the 4×800 relay. Centennial posted a time of 9:37.75 which was just .52 seconds off the school record that was set earlier this season.
Vortherms also ran the 800-meter leg in the distance medley relay, anchoring the Jaguars to another runner-up finish. She combined with Olivia Anderson, Layla Hughes and Maddy LaVoi to post a time of 4:25.16.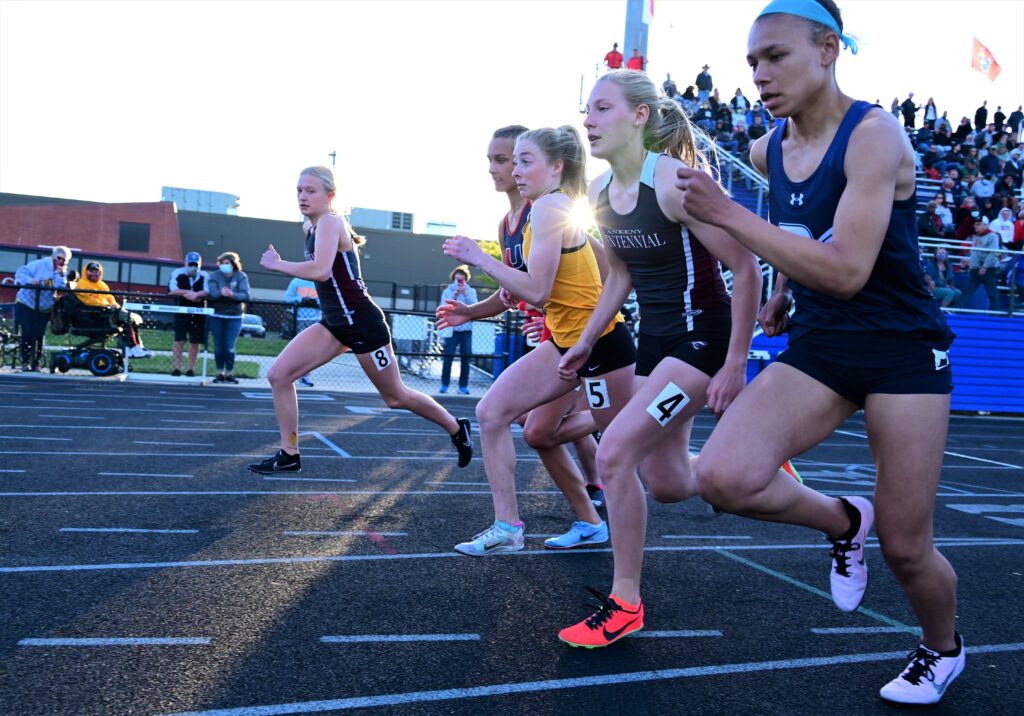 Centennial placed second in the 4×200 relay in a season-best time of 1:45.58. The foursome of Anderson, Street, Maraye Breeding and Su became the 100th state qualifying event in program history.
The Jaguars also posted a season-best time of 51.12 in the 4×100 relay. The quartet of Mariah Belzer, Morgan Posusta, Hughes and Addison Arringdale finished third.
Centennial also took third in the sprint medley relay. The team of Arringdale, Breeding, Anderson and Street posted a time of 1:53.15.
Jensen added a third-place finish in the 1,500 in 4:58.77. Bearden took fourth in the 400 in a time of 1:02.17.
The Jaguars finished fourth in the shuttle hurdle relay. Breeding and Hill teamed up with Ella and Jordy Jumper to post a time of 1:10.80.
"Most importantly, we got all of our important scoring chances for next week through," Kruzich said. "We're very excited to see what we can do next week. It will hopefully be a sweet payoff after a long, long wait to get back to state track."