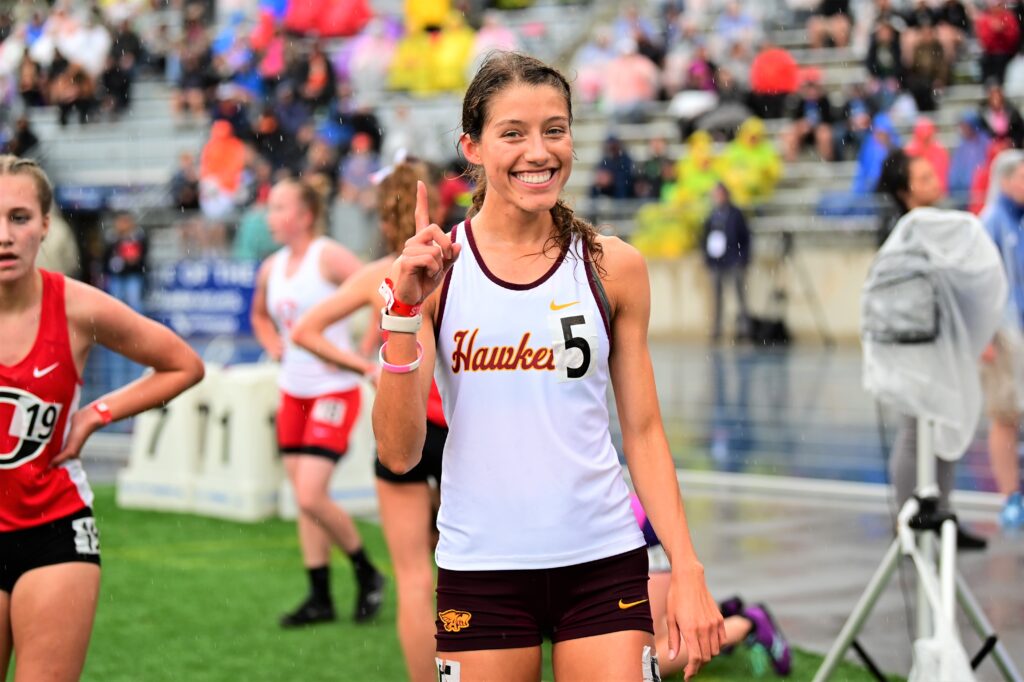 Ankeny senior Lauren McMahon asked herself a question as she watched Iowa City Liberty's Ashlyn Keeney take the lead on the final lap of the 3,000-meter run in the girls' Class 4A state track meet on Thursday.
"I knew she was going to come out with a really good 400 kick," McMahon said of Keeney. "I was just thinking in my head, 'Lauren, what do you have left? Like, how bad do you really want it?'"
She wanted it bad.
McMahon responded with a strong kick of her own, surging past the fading Keeney in the final strides to win the race in a time of 9:57.17 at Drake Stadium. She broke her own school record while becoming Ankeny's first-ever state champion in the event.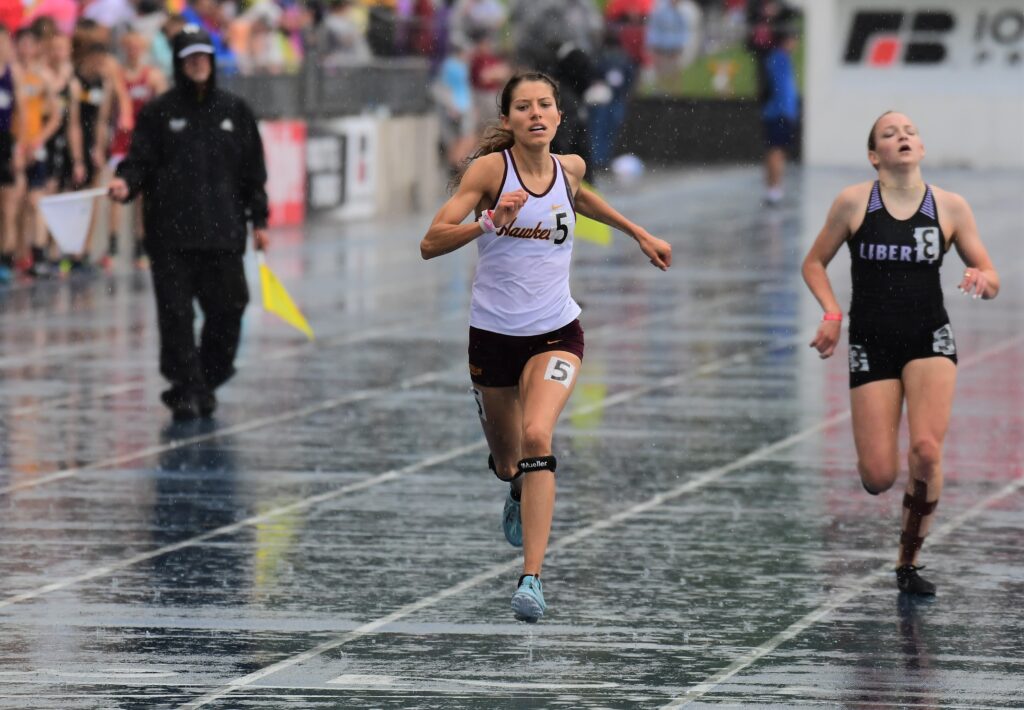 "It feels amazing," said McMahon, who ran the final 400 meters in 72 seconds. "I'm still in kind of a little bit of disbelief right now."
McMahon took the lead in the second half of the race and gradually pulled away from most of the field. Only Keeney stayed within striking distance.
Keeney then made a bold move on the bell lap and appeared to be in control of the race, building a 3-second lead at the top of the stretch. But she ran out of gas and eventually collapsed as she crossed the finish line in 9:58.57.
"I was just really focused on the finish line," McMahon said. "I just had to put it all out there. My goal was to break 10 minutes and see what else I was capable of."
Ankeny Centennial's Rondi Quass placed ninth in the same race. She overcame the rainy conditions to post a time of 10:18.56.
"I didn't do quite what I wanted to, but I felt good because I PR'd and sometimes that's all you can do," Quass said. "When I was in a big group of people, the water was splashing in my face and it was distracting. But that made it a really fun race."
Quass wasn't surprised by McMahon's victory.
"I trained with her over the winter, and she's so fun," Quass said. "I'm so proud of her for her accomplishments, and it's just really fun to run with your friends."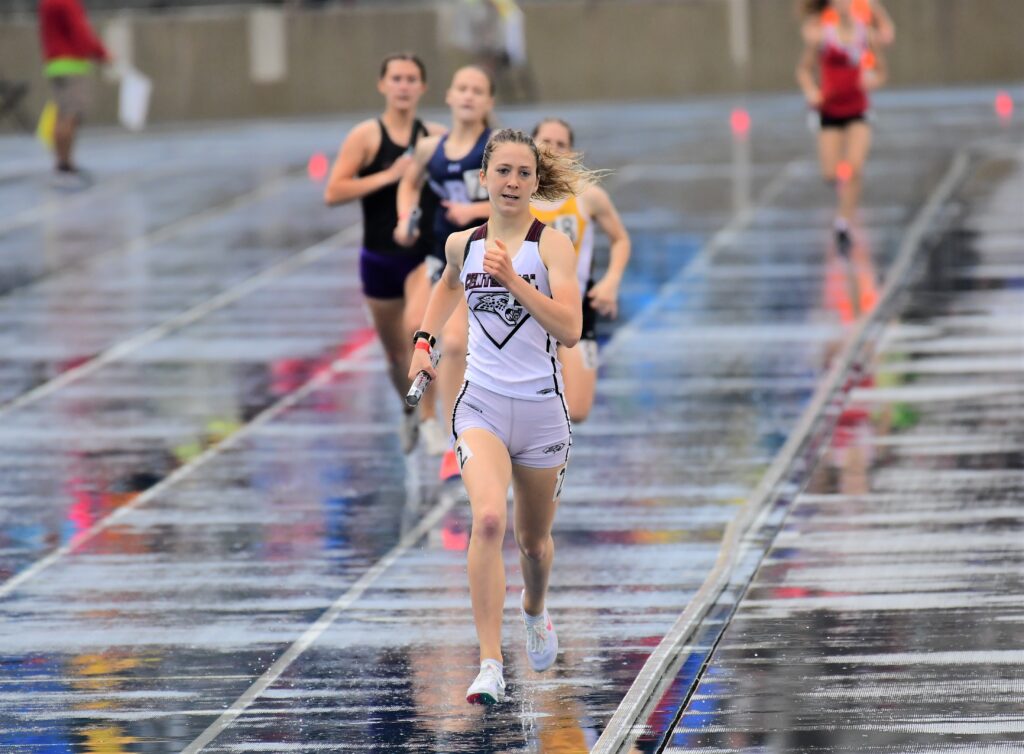 Quass then returned to the track less than two hours later for the 4×800 relay. She teamed up with Josie Bearden, Katie Jensen and Kathryn Vortherms to place third in a time of 9:27.18, which broke the school record by nearly 4 seconds.
"It's awesome," Jensen said. "It feels amazing just to make it to state, and then to be in the top three it's crazy."
Jensen ran the second-fastest second leg in the race, turning in a split of 2:20.79. She passed several runners to put Centennial into third place.
"We definitely wanted to bring our time down from Drake," Jensen said. "And I felt pretty good today."
Vortherms then ran the third leg in 2:17.58, the fastest leg among the 96 competitors in the event. She put the Jaguars into the lead.
"I'm so excited. I didn't think we were going to drop that much time," Vortherms said. "I wasn't going to pass the two runners ahead of me right away, and (assistant coach Eric) Cog(dill) told me not to go after them right away. But I knew I was going to get them by the second lap."
Southeast Polk then battled back to win the race in a time of 9:21.62, edging Waukee by .65 seconds. Jenna Francois ran the anchor leg in 2:19.16 for the Rams.
Ankeny placed 20th in the same event in a season-best time of 9:58.95. Megan Bosch ran the opening leg in a personal-best 2:27.58 before Alex Gloviak, Hannah Loftus and Elizabeth Proctor ran the final three legs for the Hawkettes.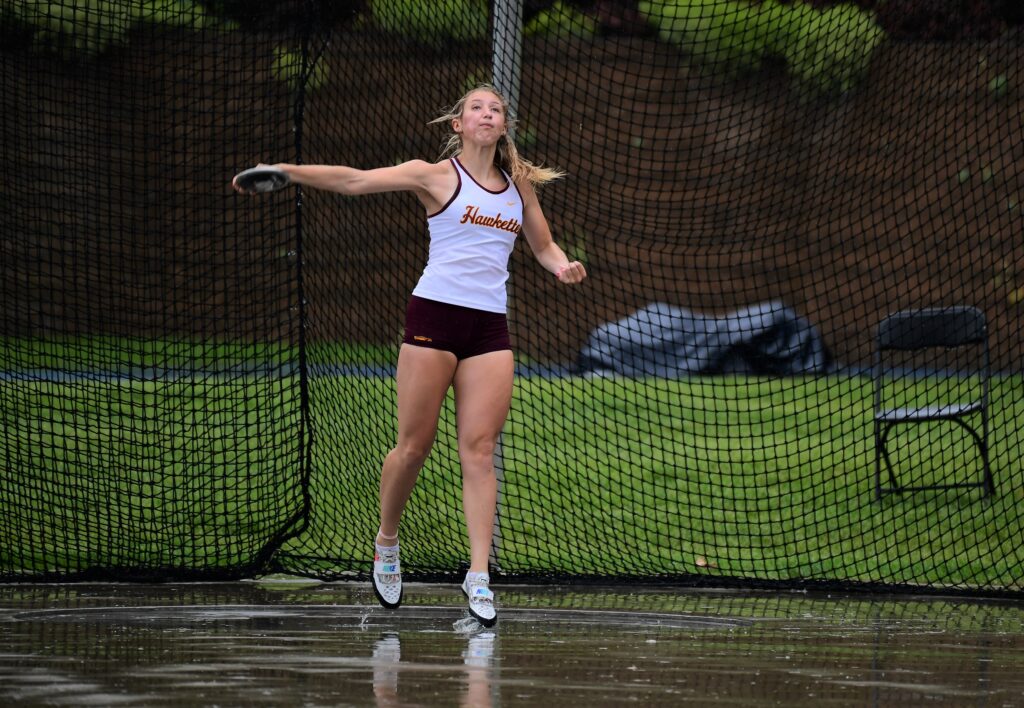 Ankeny picked up an additional point in the discus, where Hannah Baier qualified for the finals before placing eighth with a throw of 114 feet 1 inch. The Hawkettes are tied with Dubuque Hempstead and Johnston for fifth place in the Class 4A team race with 11 points.
Waukee leads with 21 points heading into Friday's action. Centennial is tied with Dowling Catholic for 15th place with six points.
The Jaguars got a 10th-place finish from Kambria Leazer in the high jump. She cleared the bar at 5 feet.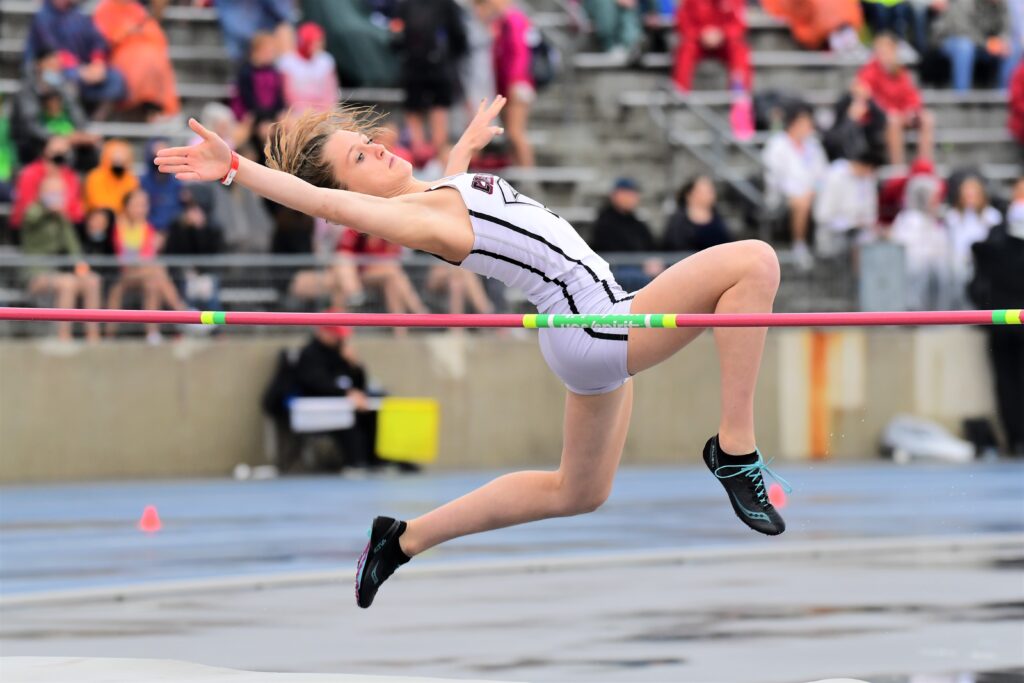 Bearden added a 16th-place finish in the 400. She was clocked in 1:02.81.
Ankeny barely qualified for Saturday's final in the shuttle hurdle relay. The foursome of Ellie Dalton, Madeline Poock, Calyssa Wright and Shelby Romig posted a time of 1:09.10, edging Indianola by .02 seconds for the final qualifying spot.
Centennial placed 14th in the event in a time of 1:10.64. That team consisted of Maraye Breeding, Ella and Jordy Jumper, and Millie Hill.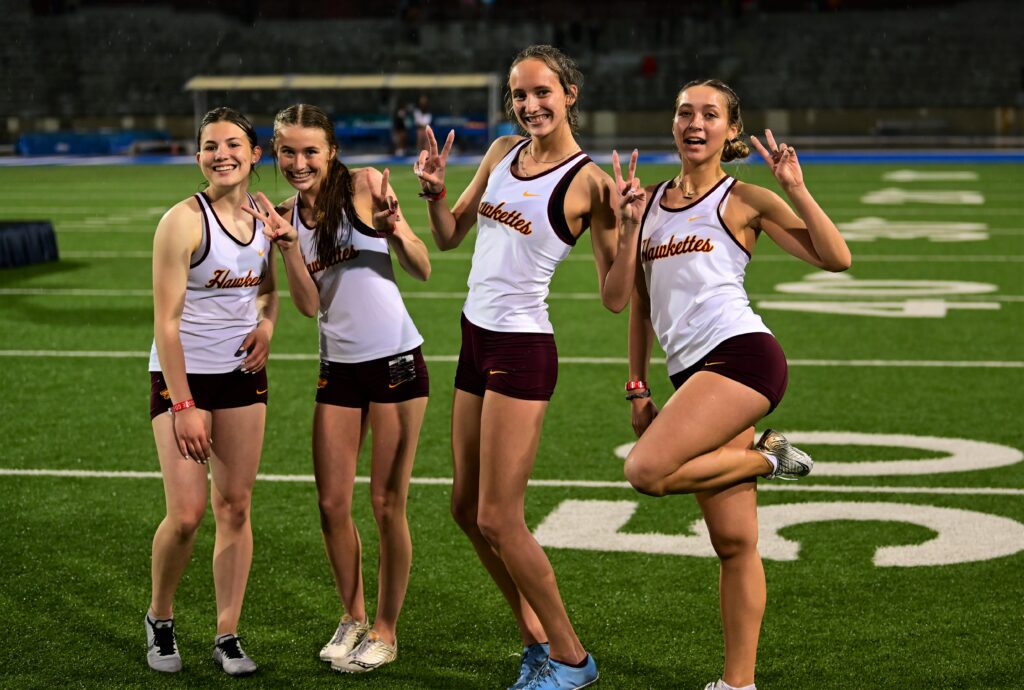 Ankeny's Mytika Mayberry also advanced to Saturday's final in the 100. She posted the seventh-fastest qualifying time of 12.73.
Teammate Lillian Smith finished 16th in the same event. She was clocked in 13.01.
Mayberry also placed 12th in the 200 in 26.70. Teammate Eva van de Mortel finished 16th in 27.05.