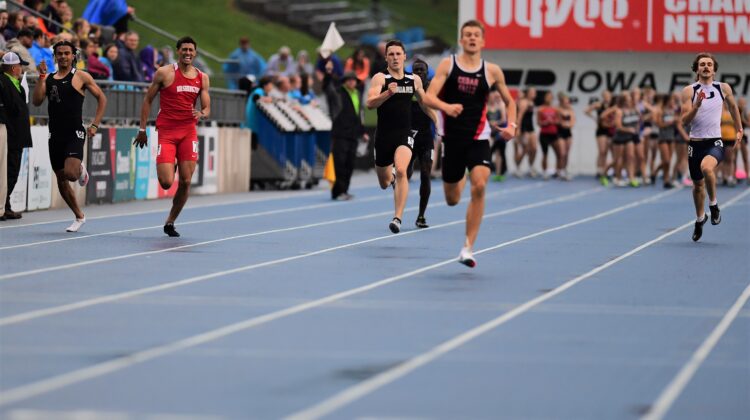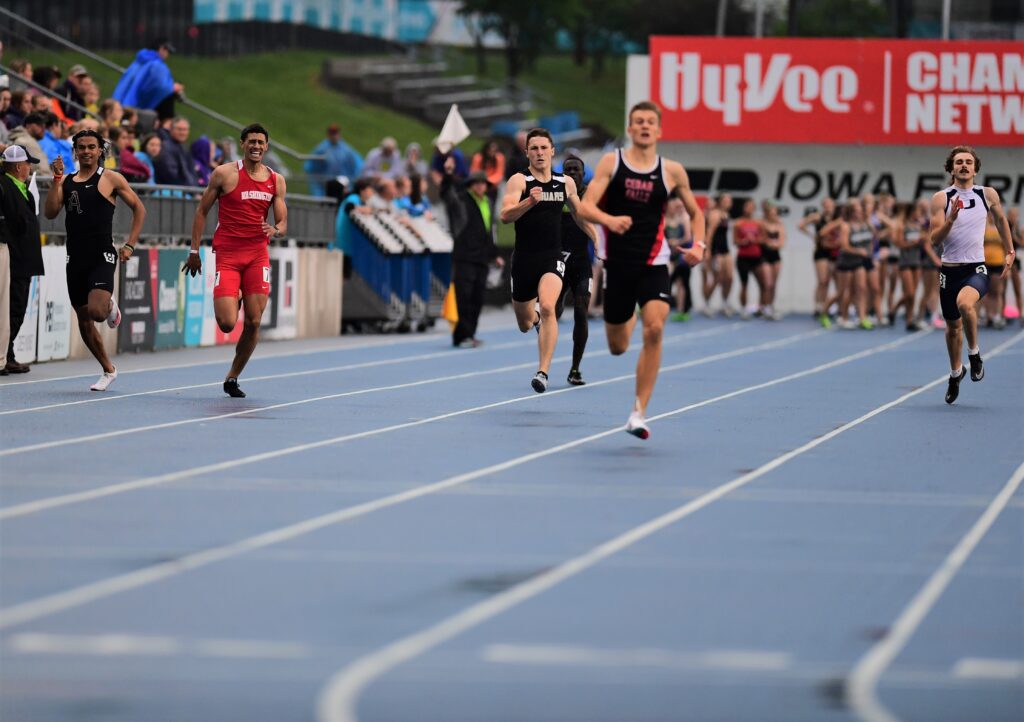 The rainy conditions at Drake Stadium didn't seem to bother Ankeny Centennial's Tommy Collins or Ankeny's Tyrese Miller on Thursday.
Collins raced to a second-place finish in the 400 on the opening day of the boys' Class 4A state track meet. He posted a time of 48.70 seconds, which set a school record.
"We all had to run in (the rain). It wasn't just me," Collins said. "I think everybody was just excited to run fast, and that's what we did."
Miller took third in the same race in 49.16, despite running in Lane 8. He has been nursing a hamstring injury.
"It was all right, but I could probably do better," Miller said. "(My hamstring) felt good up until about the 150-meter mark and then I could feel it again. I just had to push through and finish strong."
TJ Tomlyanovich of Cedar Falls won the race in 47.54. He repeated his victory from the Drake Relays last month, when Miller placed second and Collins finished fourth.
"I'm really happy with the race," Collins said. "I came in knowing that TJ was probably going to smoke me. I kind of accepted that. I really wanted to get him, but I was happy with my time. I PR'd by almost a second. It was fun."
Centennial's Keegen Smith also competed in the 400. He placed 12th in 51.85.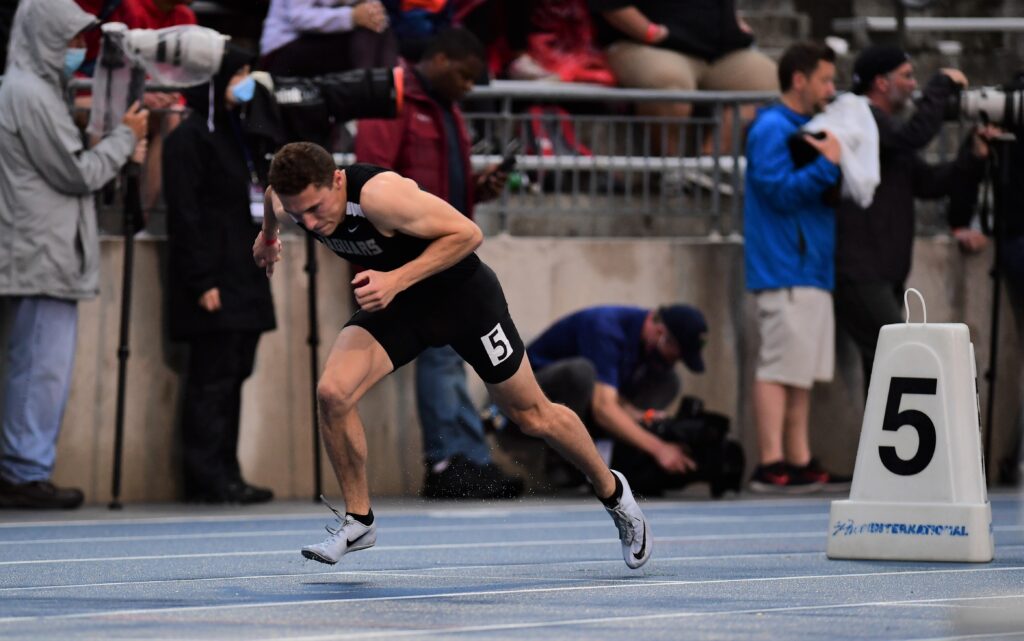 Tomlyanovich helped Cedar Falls take the lead in the Class 4A team race. The Tigers racked up 28 points, 4.5 more than Ames.
The Jaguars are tied with Muscatine for eighth place with eight points. Ankeny is in 11th place with six points.
"I'm super excited about the rest of the races, not only for me but for all the other guys," Collins said. "We're just happy to be here, and we're excited to run fast."
Both Centennial and Ankeny qualified for Saturday's final in the shuttle hurdle relay. The Jaguars tied Cedar Rapids Kennedy for the second-fastest qualifying time of 59.47 seconds.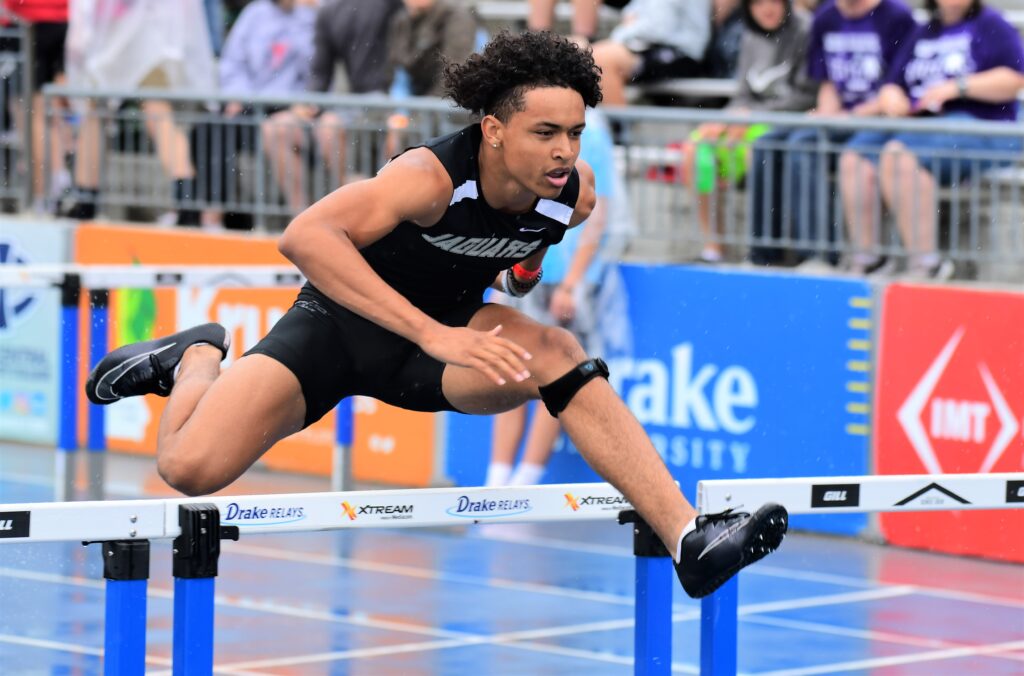 The Centennial team was comprised of Dominic Berry, Kobe Naber, Jack Davis and Tyler Johnson. The Jaguars played it safe on their exchanges in an effort to avoid being disqualified.
"We put tape down this time just to make sure that we were leaning all the way forward and making sure that at least one foot was on the tape," Berry said. "We're expecting to do better in the finals."
The Ankeny team of Mason Thompson, Cael Boyd, Carter Accola and Thomas DeBrower was clocked in 59.67. The Hawks posted the fifth-fastest qualifying time, which puts them in the slower of the two sections in the final.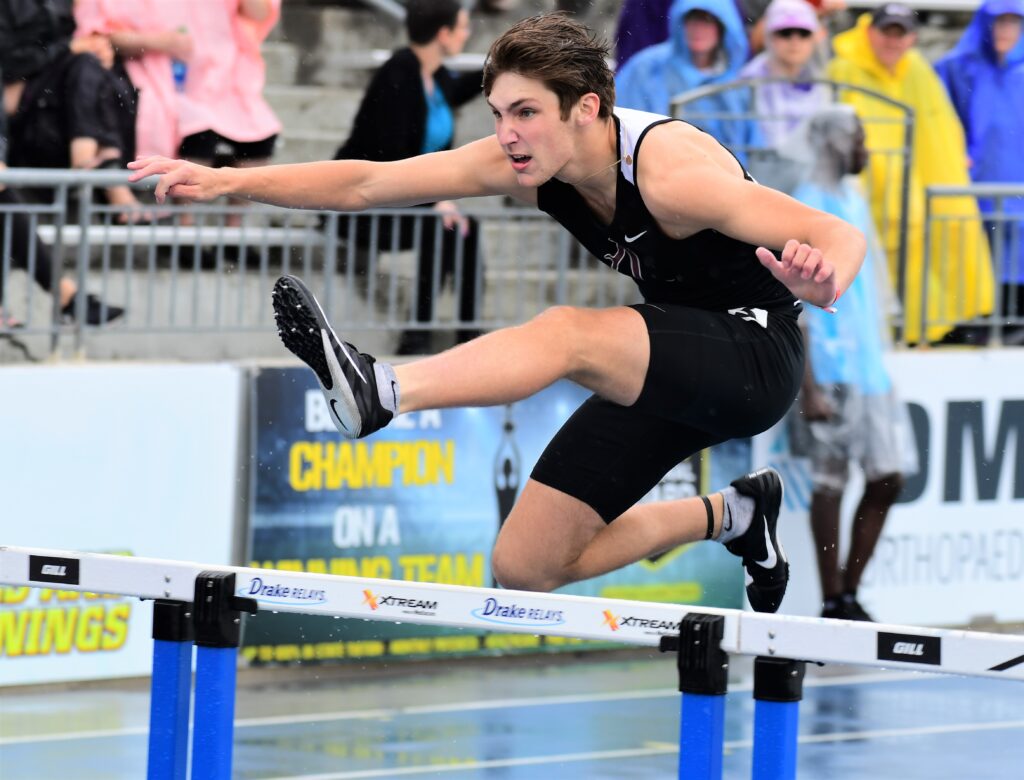 Centennial's D'Eric Smith also advanced to Saturday's final in the 100. He was the top qualifier in 10.81 seconds, edging Drake Relays champion Titus Christiansen of Southeast Polk and another CIML rival, Deonte Dean of Marshalltown.
"To be honest, I was feeling pretty sluggish when I was getting up to the blocks," said Smith, who eclipsed his previous best of 10.84. "But I just had to stretch, and I knew I'd be fine. Deonte beat me at the (CIML Iowa Conference) meet, so I just needed my revenge, you know."
Smith is hoping to break the school record of 10.67 on Saturday.
"I want the record and a state championship," he said.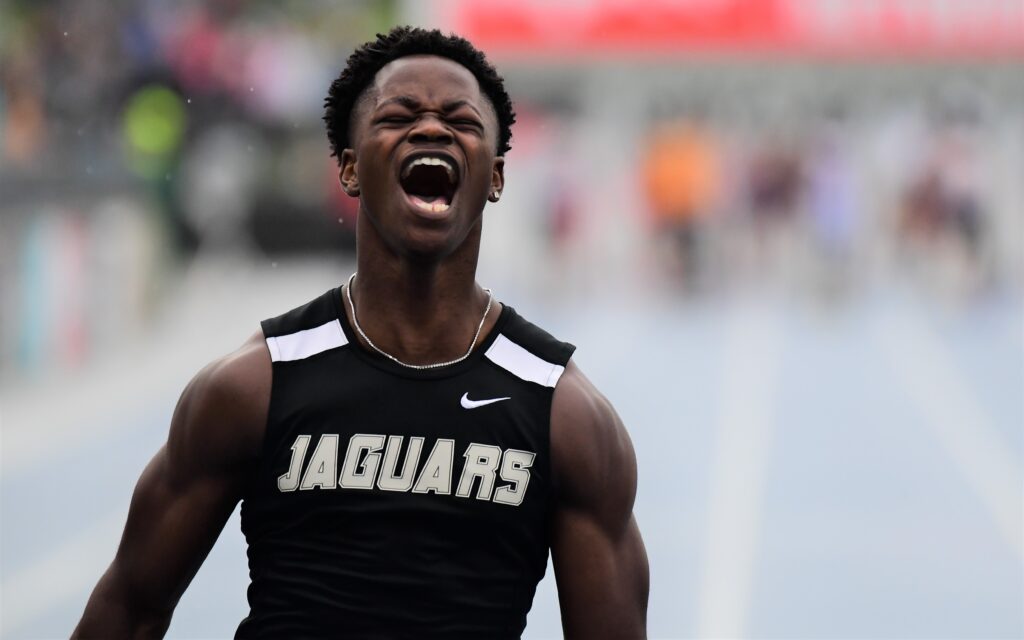 Centennial broke the school record in the 4×800 relay on Thursday. The foursome of Connor Cunningham, Karsten Peters, Nate Jones and Michael Joensen placed 10th in a time of 8:04.53.
Cunningham ran the opening leg in 2:00.01. Joensen nearly matched him with a split of 2:00.40 on the anchor leg.
"We wanted to place and that didn't happen, but we broke our school record of 8:05.9," Cunningham said. "That was amazing and a really fun thing to do."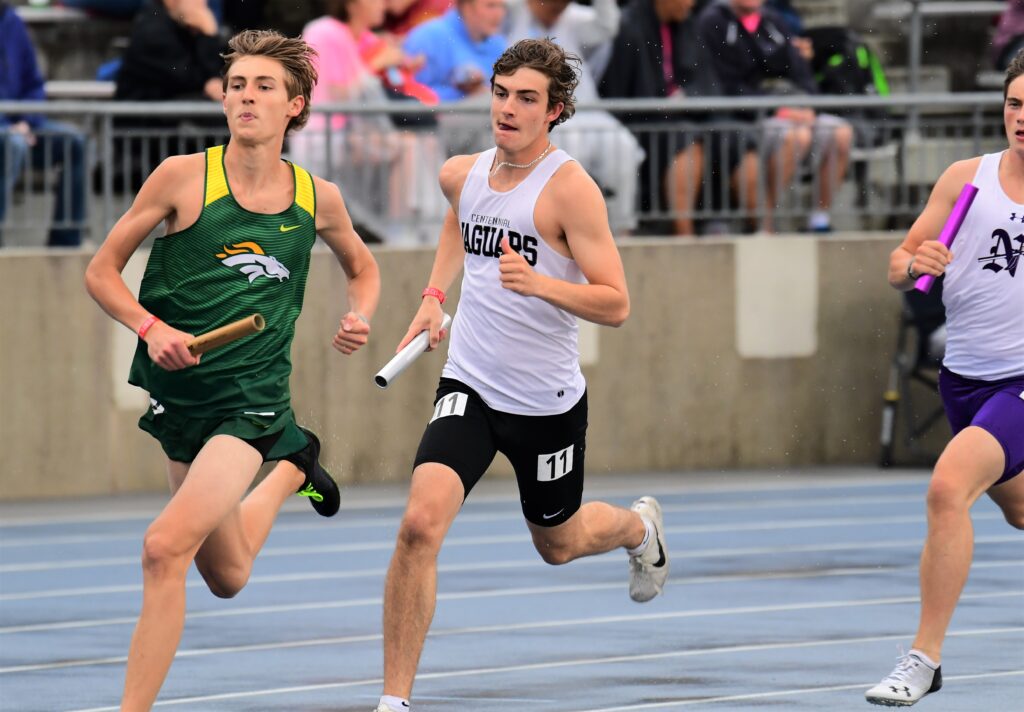 According to Cunningham, the wet conditions on the track weren't too bad.
"I got splashed in the face a few times, but I'd take this over 15 or 20 mph winds any day," he said. "The only thing I didn't like was how bunched the race was. It was hard to get some handoffs in and get positioning with everybody elbowing and stuff."
Ankeny placed 14th in the same event in a time of 8:10.36. Jake Bosch ran the opening leg in 2:00.78 for the Hawks, who had Abel Squires, Andrew Poock and Cael Cox on the other three legs.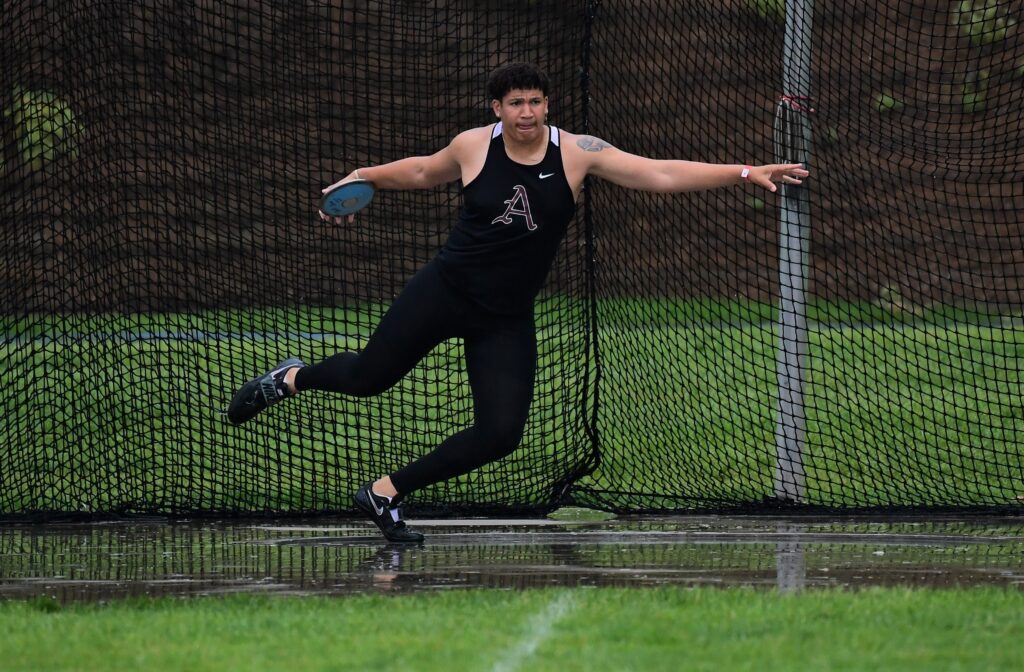 Ankeny got an 11th-place finish from Justice Miller in the discus. He posted a throw of 149 feet 6 inches.
In the high jump, Centennial's Davis and Carter Reddel both cleared the bar at 5 feet 11 inches, and so did Ankeny's Bentor Neyail. Neyail and Davis were part of a five-way tie for 11th place based on fewer misses, while Reddel tied for 19th.
Brody Brecht placed 13th in the 200 for the Hawks. His time of 22.99 was .28 seconds off the cutoff mark to qualify for the final.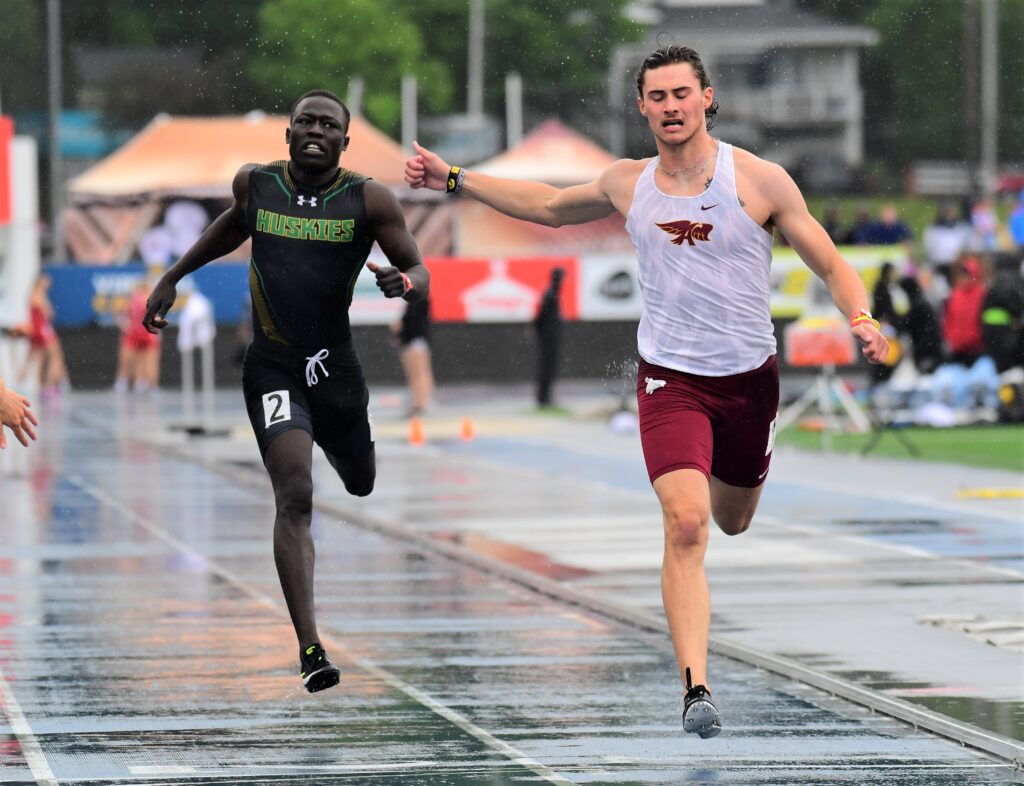 Brecht will be back on the track Friday for the 4×200 relay. He'll be joined on the unit by Miller, who did not run the race at the district meet while nursing his injury.
"We should do well in that one," Miller said.
The Jaguars are also planning to make some more noise on the blue oval.
"I've got two more races on Friday and Saturday, and I'm definitely looking forward to them," Cunningham said.