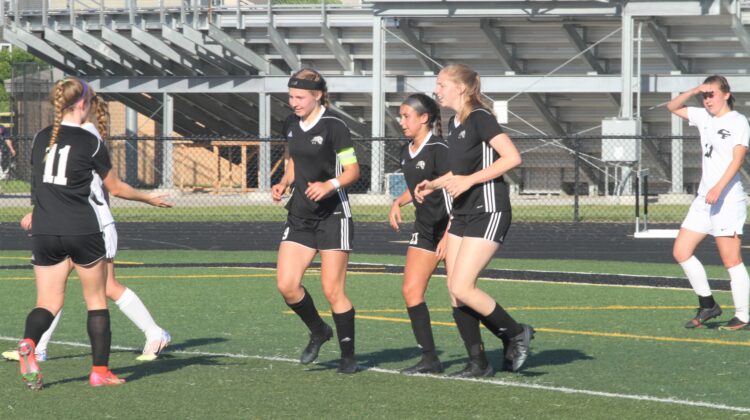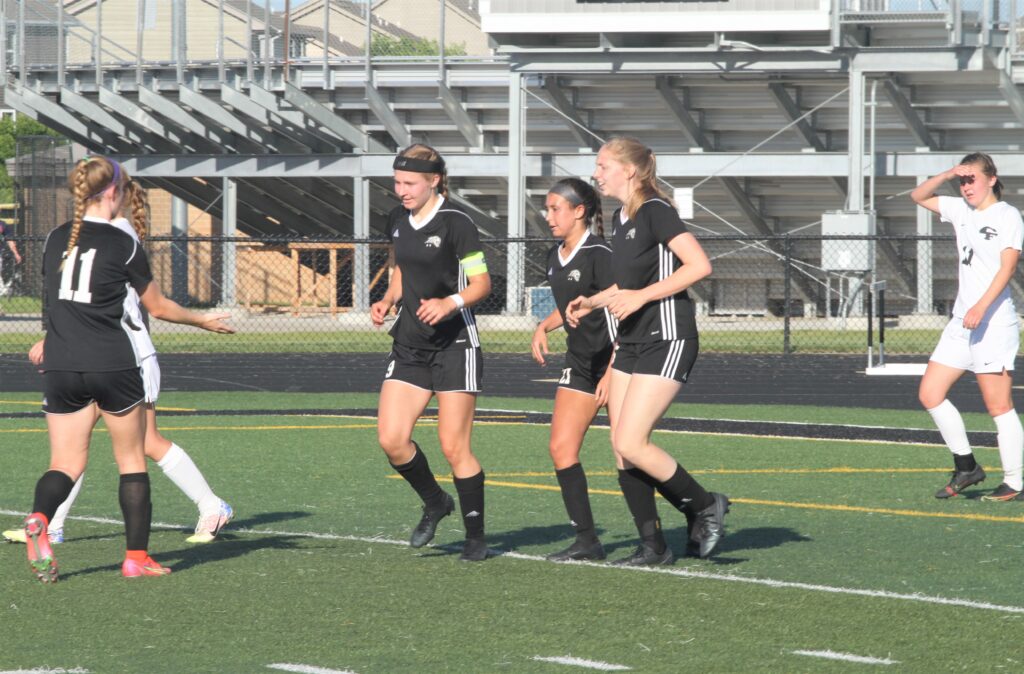 A year ago at this time, Elizabeth Overberg didn't get a chance to play in the girls' state soccer tournament.
The Ankeny Centennial senior didn't want to let her final opportunity go to waste.
Overberg and fellow senior Macy Epp each had a goal and an assist to lead fifth-ranked Centennial to a 3-0 victory over visiting Cedar Falls in a Class 3A regional final on Friday. The Jaguars advanced to state for the fifth straight season–they also qualified from 2016-19 before the 2020 campaign was cancelled due to the COVID-19 pandemic.
"It feels so exhilarating going back to state!" Overberg said. "Going to state two years ago is what we held onto throughout the whole quarantine for motivation and what we kept relying on this season as many people on our team have never experienced a state run. It honestly makes us all so happy to get the chance to play more games with this team."
Centennial (17-2) posted its 14th shutout of the season. Starting goalkeeper Aly Jumper combined with reserves Kate Bergan and Teagan Hall to make just one save.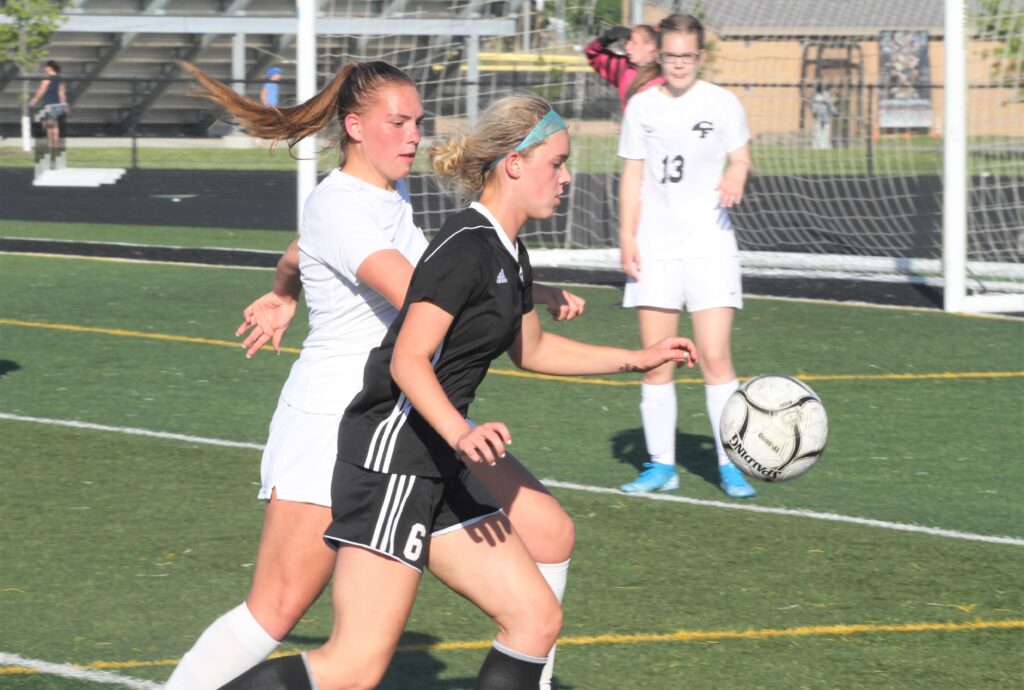 "I was really proud of that effort defensively," said Centennial coach Chris Allen. "If they had a shot on goal, it wasn't a super dangerous one."
Cedar Falls (12-7) packed in its defense in an effort to thwart the Jaguars' attack. The strategy worked for awhile.
However, Cedar Falls' formation allowed Centennial defenders Epp and Elle Street to push forward as part of the attack. After taking a pass from Meghan White, Epp found the net with a strike from the left side in the 19th minute.
"They had a very packed in defense which allowed Elle and I a lot of space up the field," Epp said. "Since it was very packed in, I decided to take a shot outside of the 18 and to capitalize on the space that I had there."
Epp's first goal of the season couldn't have come at a better time.
"Before the game we thought our success would come in the channels, and then Macy's shot from out wide kind of proved that was the case," Allen said. "That was a tremendous shot. It fought the wind all the way in and was well driven."
Centennial later scored a goal in transition to increase the lead to 2-0 in the 34th minute. A shot by Overberg was deflected by Cedar Falls keeper Alena Litzel, but Cady Compton was there for the finish.
Litzel finished with 17 saves, but there was nothing she could do about a corner kick by Epp early in the second half. Overberg headed the ball into the net in the 53rd minute for her team-leading 20th goal of the season.
"The girls did a nice job against a very packed in team," Allen said. "They were in a low block for much of the game even after we were up a goal against the wind. I thought our team did well in that scenario."
The Jaguars will play No. 4 Dowling Catholic (15-3) in the Class 3A quarterfinals on Tuesday. The game will be played on Field 8 at Cownie Park, beginning at 3:15 p.m.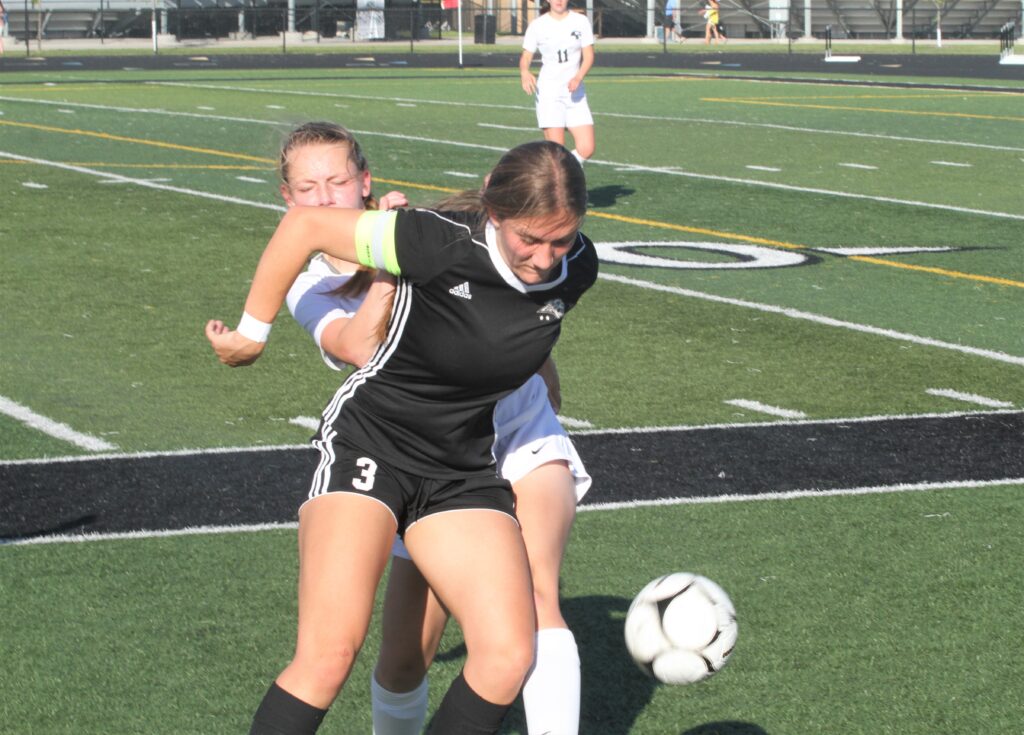 Centennial is seeking its third state title. The Jaguars previously won crowns in 2016 and 2018.
"Our goal throughout the whole season has been to win it all!" Overberg said. "At this point, we know we can't control the rankings, so we just focus on one game at a time and pushing through the fatigue for our teammates. We are just so excited to show the rest of the state what we have seen in ourselves the whole year!"
The Jaguars have won four straight games since losing at Dowling, 2-1, in a shootout on May 18. That loss ended a 12-game winning streak for Centennial, which allowed a goal for the first time since April 13.
Dowling, meanwhile, has been dominant since dropping a 2-0 decision to No. 3 Waukee on May 4. The Maroons have outscored their last seven opponents by a 35-5 margin, including a 5-1 victory over No. 13 Iowa City West in Friday's regional final.
Freshman Ella Anliker leads Dowling with 16 goals. Sophomore Julia Moore has contributed 14, including one in the earlier victory over Centennial.
"I always like knowing about the teams that we play, and that was kind of the headache with Cedar Falls–we couldn't find video of them," Allen said. "And with Dowling, we know what to expect. They're a great team, and we're going to have to bring our top game. It's going to be a tough match, but we're looking forward to it."