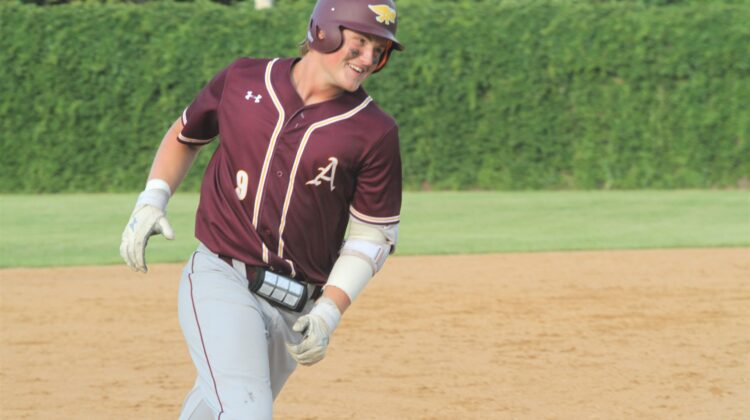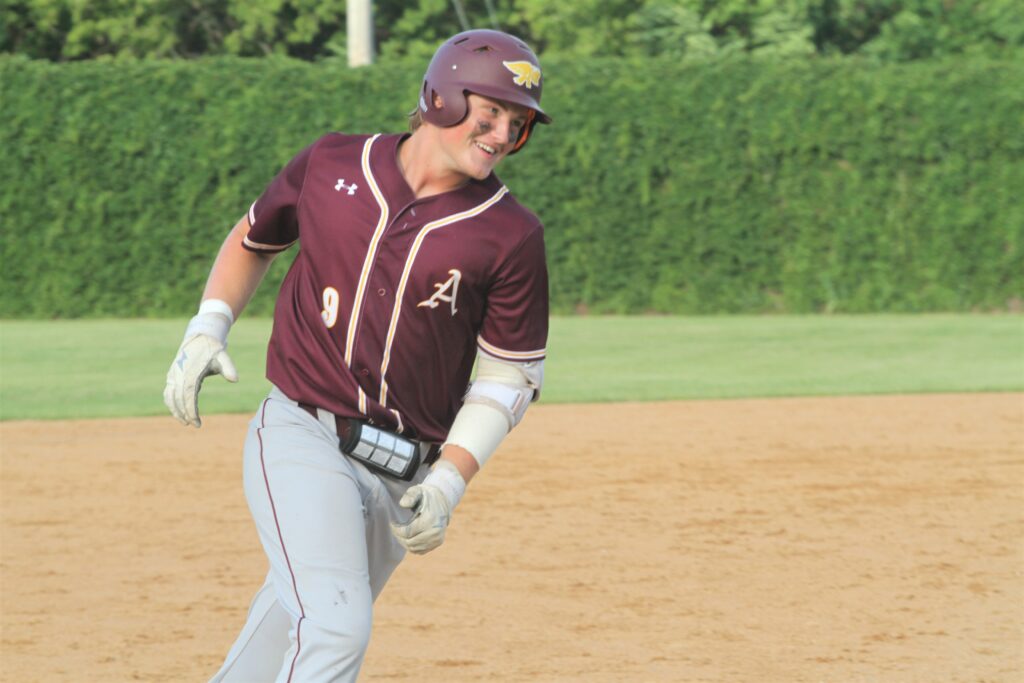 Brody Brecht has been grabbing most of the headlines this season for the Ankeny baseball team.
The rest of the Hawks are pretty good, too.
Brecht had another brilliant performance on the mound, Weston Fulk blasted three home runs and fourth-ranked Ankeny rolled to another doubleheader sweep on Wednesday at Fort Dodge. The Hawks posted a 19-8 victory in six innings in the opener, then completed the sweep with a 9-0 win.
"I think we've kind of found a lineup that flows the way I like it," said Ankeny coach Joe Balvanz, whose team improved to 14-0 in the CIML Iowa Conference and 18-6 overall. "It allows us to use the pop at the plate and the speed on the bases, as well as our pitching and defense. This team can do all of those things."
While Ankeny pounded out 28 hits in the twinbill, Brecht flirted with a no-hitter in the nightcap. Fort Dodge (5-9, 10-14) was held hitless until Christian Davidson lined a two-out single to left-center field in the sixth inning.
"I shook off the fastball," Brecht said. "I kind of wanted to throw a slider and I hung it, and he had a good hit on it. It was unfortunate."
Still, Brecht put on another dazzling display for the MLB scouts who have been flocking to his games this season. He racked up 14 strikeouts before being lifted after the Hawks broke the game open with a six-run seventh inning.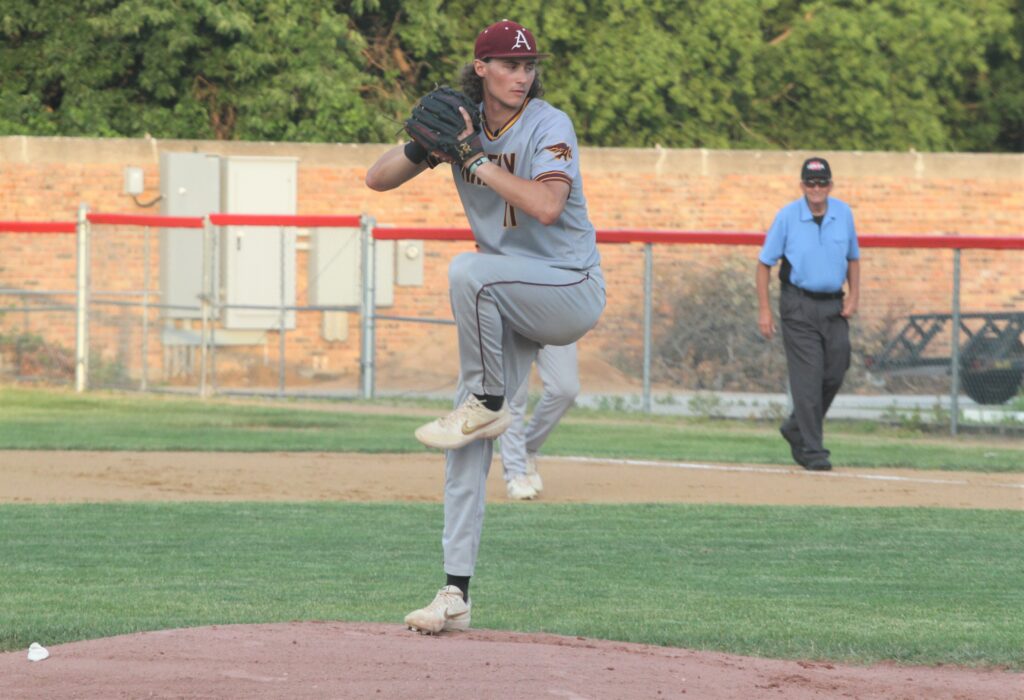 "When Brody gets in a groove, it's amazing to watch," Fulk said. "He's one of the best to do it in the country, and it's really cool when he gets dialed in, you can tell. He's a great pitcher, and everybody knows it."
Brecht has compiled a 5-0 record with a 0.95 ERA. Opponents are batting just .129 against the hard-throwing righthander, who is averaging more than two strikeouts per inning.
"I'd say this is definitely the best stretch of my career," Brecht said. "I've had ups and downs in all my games, but I'd have to say I'm feeling pretty good right now. I think once I establish my fastball and get in a good rhythm I think that's the biggest thing. Once I establish that, then I can throw my slider and curveball."
Likewise, Fulk has found a groove at the plate. He went 4-for-5 with a pair of homers, a double and five RBIs in the opener, then went 2-for-3 with another homer and four RBIs in the second game.
"I've been hot," said Fulk, who ranks among the state leaders with seven home runs and 39 RBIs. "I've really been working on hitting middle away or staying up the middle. It's been forcing me to put the ball on a line and hit it out of the park, which is pretty nice."
Ankeny trailed in the first game, 6-4, after two innings. The Hawks picked up a run in the third, then erupted for eight runs in the fifth and six more in the sixth.
"We're not too scared (when we get behind)," said Ankeny second baseman Carter Smith, who went 2-for-4 with a pair of doubles and three RBIs. "I think we all know what we're capable of, even when we're down. There's still a lot of baseball to be played. We're going to come back."
Ryan Crandall went 2-for-4 with a homer, a double and three RBIs. Jase Bauer went 2-for-5 with a homer, a double and two RBIs.
Ankeny finished with 16 hits, 10 of them for extra bases. Cael Boyd went 2-for-4 with a double and drove in three runs.
"It's fun to watch these guys," Smith said. "At any moment they can just rip the ball out of the park. It's just really fun."
Dylan Schlee (3-2) tossed four innings of relief to earn the victory. He allowed two earned runs on four hits and had four strikeouts.
In the second game, Bauer went 3-for-4 with three doubles and knocked in a run. Crandall went 2-for-4 with a double and one RBI.
Brecht went 2-for-3 and drove in a run to help his own cause.
"When you hit balls hard, good things happen," Balvanz said. "We did that up and down the lineup."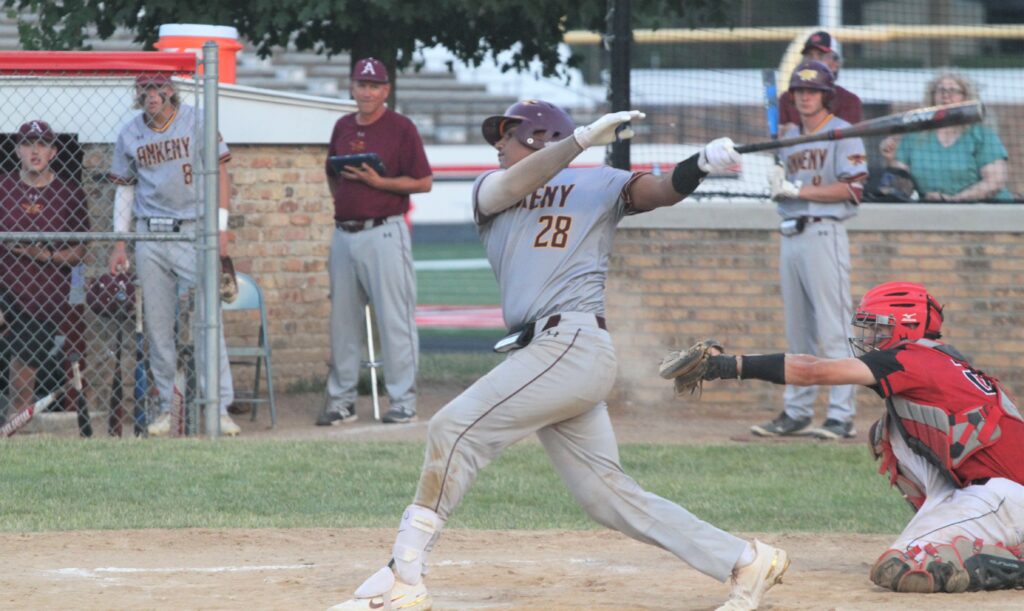 Nobody had a bigger offensive night than Fulk, who launched a two-run homer in the seventh inning to put the game out of reach.
"It was a big night at the plate for me," Fulk said. "It's good for my confidence. At the beginning of the year I was struggling a little bit. It's good to get in a groove, and it's fun playing with these guys."
Brecht enjoyed watching the Hawks' seventh-inning outburst from the dugout.
"It's fun watching Wes and Jase hit home runs left and right," he said. "They're all great hitters–the whole lineup. They're doing a great job. It's nice going out there and knowing you have some bats behind you."
Reliever Easton Dunwoody came in to get the final three outs. Brecht started icing his arm after throwing 92 pitches.
"I didn't really need him at 105 or 110," Balvanz said. "He wants to throw again on Monday against Ankeny Centennial, and I'm good with that."
Ankeny will host two games in the Brent Prange Classic on Saturday before hosting the doubleheader against the Jaguars on Monday. The Hawks will face Bettendorf (5-15) at noon and Sioux City Heelan (15-7) at 4:45 p.m.