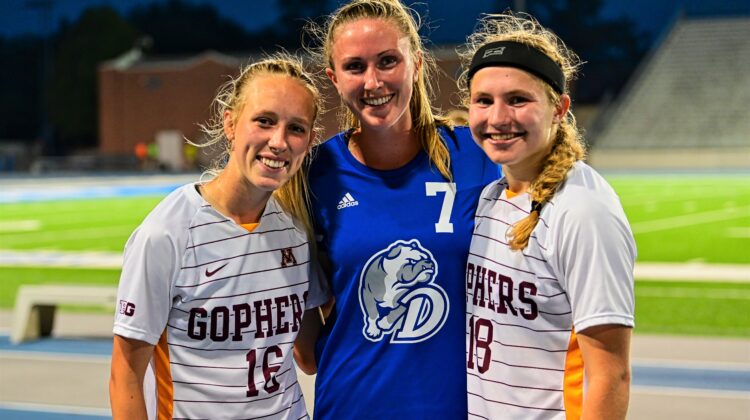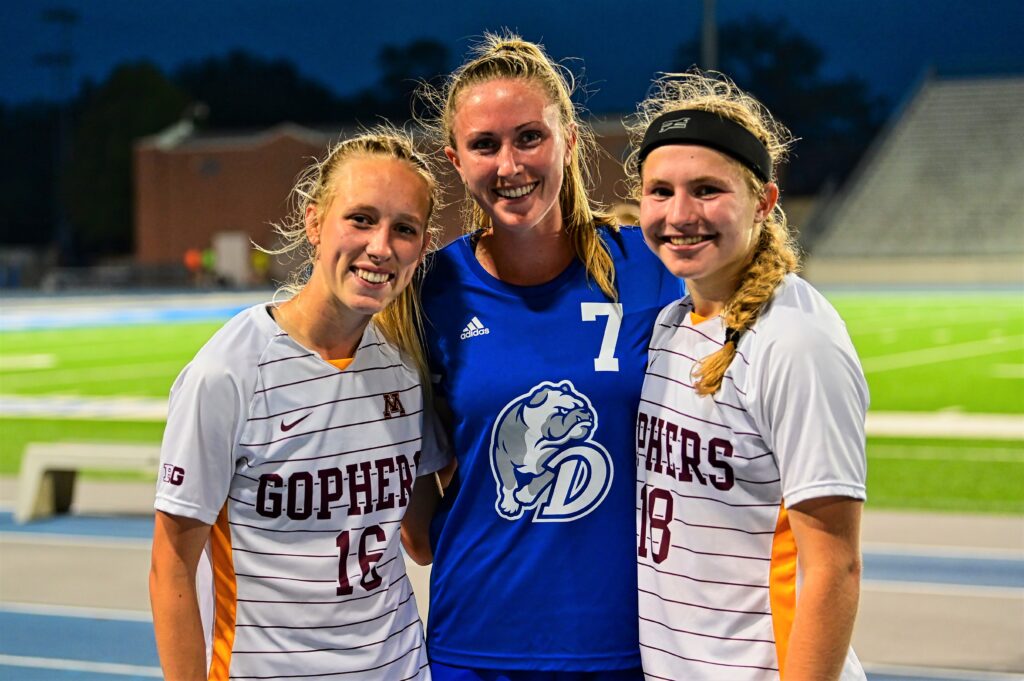 Back in 2018, Megan Gray and Tori Ubben played key roles as the Ankeny Centennial girls' soccer team captured the Class 3A state title.
On Thursday at Drake Stadium, the former teammates found themselves on opposite sides of the pitch.
Gray and another former Centennial star–Elizabeth Overberg–helped visiting Minnesota to a 1-0 victory over Ubben's Drake squad in a non-conference game.
"We actually caught up on the field," Gray said. "(Ubben) just said, 'Sup Meg?', during the pre-kick so it was good to catch up with her since we couldn't shake hands after the game."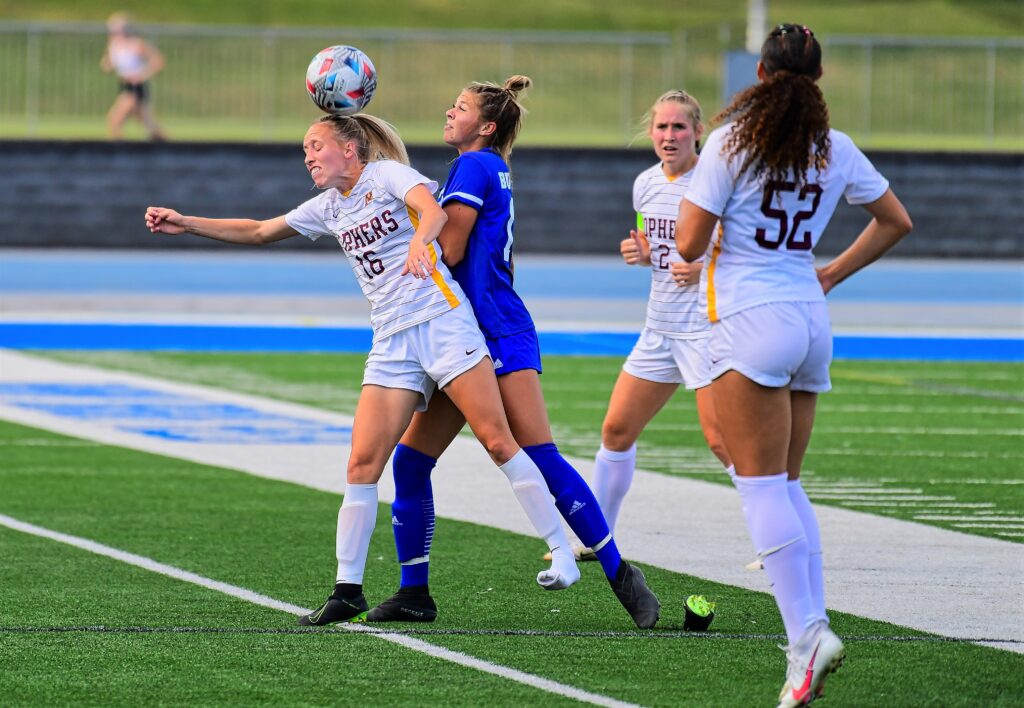 Minnesota (2-0-1) remained unbeaten with its third straight shutout. Drake (0-2-1) is still seeking its first win.
"It's good to see them doing well," Ubben said of the Gophers. "I was out there and able to say hi to (Gray) and make a few comments really quick. It was great."
Gray set up the game's only goal when she sent a dangerous cross into the box that struck the hand of Drake midfielder Libby Helverson about 5 minutes into the match. The handball led to a penalty kick by Delaney Stekr, who booted the ball past diving goalkeeper Kelsie Stone for the first goal of her career.
"Originally, I thought the ball was going to go to one of the forwards and it went over their heads so I just continued my run," said Gray, a senior midfielder. "I tried to serve in a ball and it ended up hitting her hand, and I went kind of crazy because penalties are few and far between in soccer so it was really exciting to get an early goal."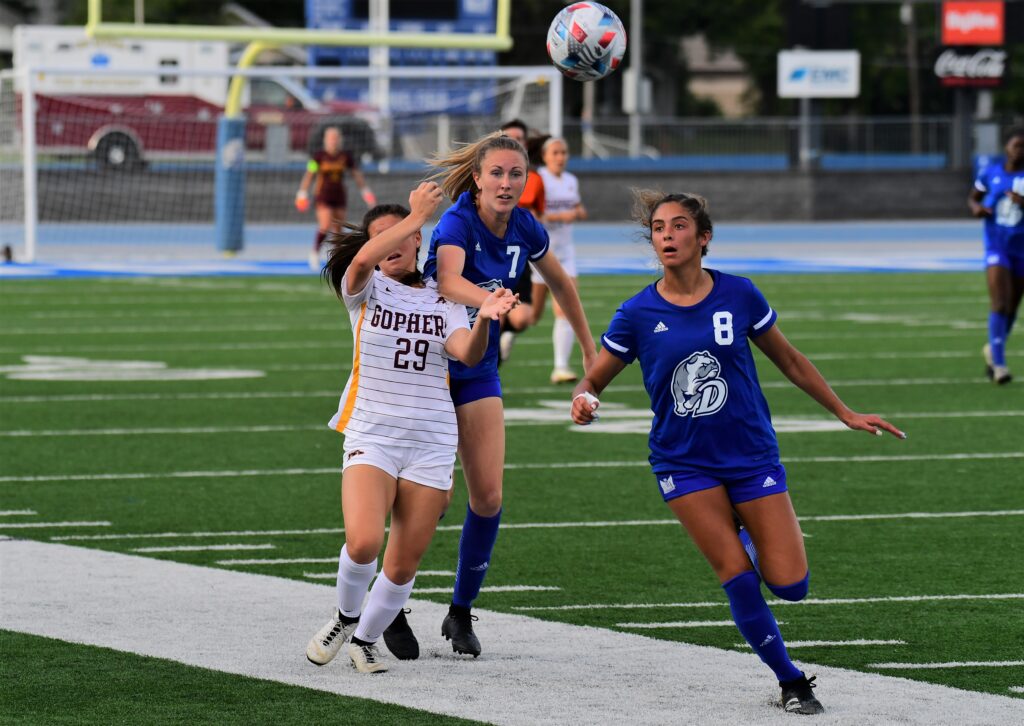 Later in the first half, Drake's Lily Overstreet received a red card after tackling Minnesota's Patricia Ward as the two players sprinted down the field. Overstreet stopped a potential goal, but the Bulldogs were forced to play with 10 players on the field for the rest of the game.
"I'd say we played really well being a man down of course," said Ubben, a senior defender. "We put on a really big performance, and I'm really proud of our team and everyone that came into the game. I think it definitely got us ready for our conference games coming up."
The Gophers outshot Drake by a 16-5 margin. Gray had three of her team's shots.
Overberg, a freshman, played the entire game for Minnesota. After starring as a midfielder in high school, she has become a defender for the Gophers.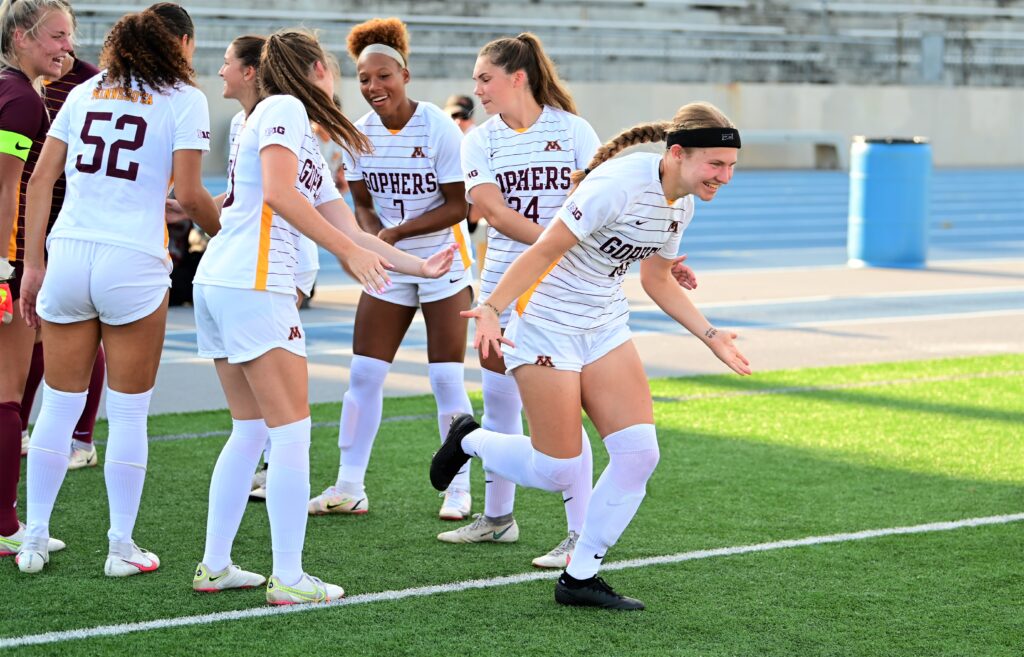 "It's been so much easier with the help around me," Overberg said of the transition to a new position. "My teammates are just talking so much that it's easier to know where I'm supposed to be."
Both Overberg and Gray had a lot of family and friends in the crowd.
"It's fun to see some old faces and know that you have a lot of home supporters when you come play an away game," Overberg said. "And my old club was here, so it was nice to see some friendly faces in the stands."
Gray estimated that she had 30 supporters in the crowd.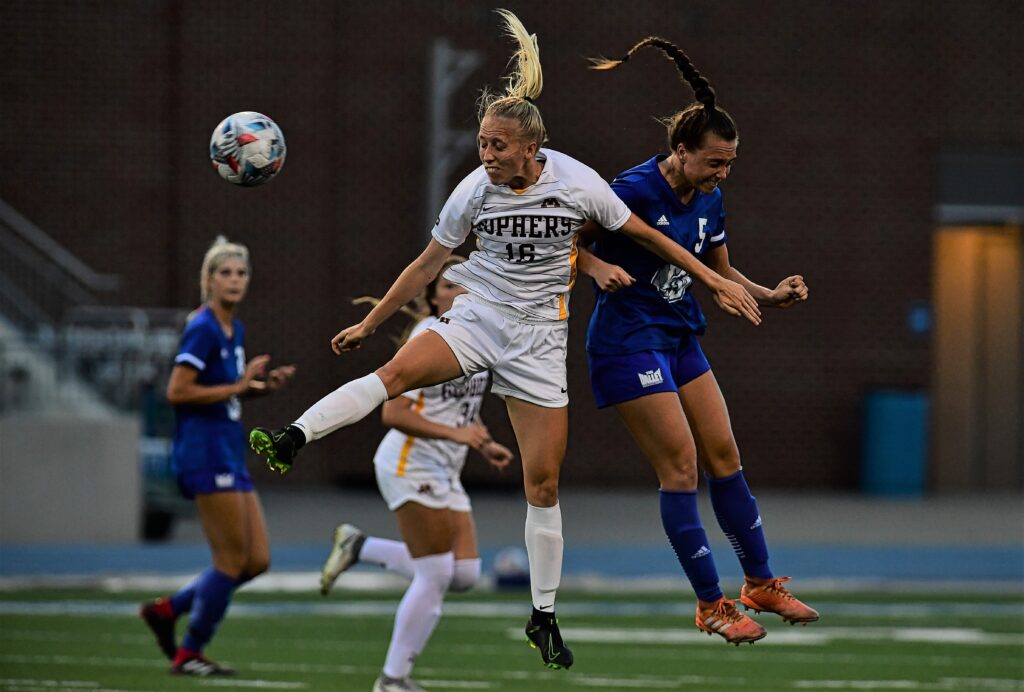 "Sometimes Minnesota is a bit of a trek, so it was nice to be able to play locally and have some family and friends here," she said. "It's awesome to have that much support."
Both Gray and Ubben could return next season, but they have elected to pursue graduate degrees. Gray is planning to become a physical therapist, while Ubben will go to veterinary school.
Gray, though, is expecting some big things from the Gophers in 2021.
"This is the most cliquey I've felt with the team and most cohesive I have felt," she said. "It's been awesome just to get to know the freshmen and be able to get some wins under our belt at the beginning of the season."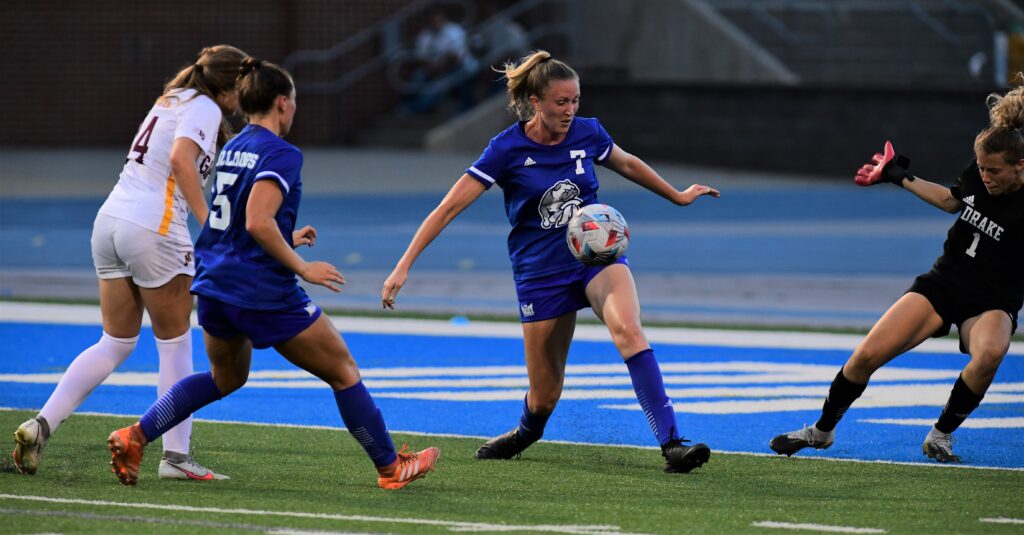 Ubben, meanwhile, has had an up-and-down career with the Bulldogs. Her playing time has been limited, but she has maintained a positive attitude.
"I've faced a lot of adversity, but I think it has helped me build character," Ubben said. "I've brought a different role to the team, just always being a good leader on and off the field. So overall, it's been a great experience."
Drake was picked to finish seventh in the Missouri Valley Conference.
"That put a chip on our shoulder, and I think we're ready to bring it," Ubben said.