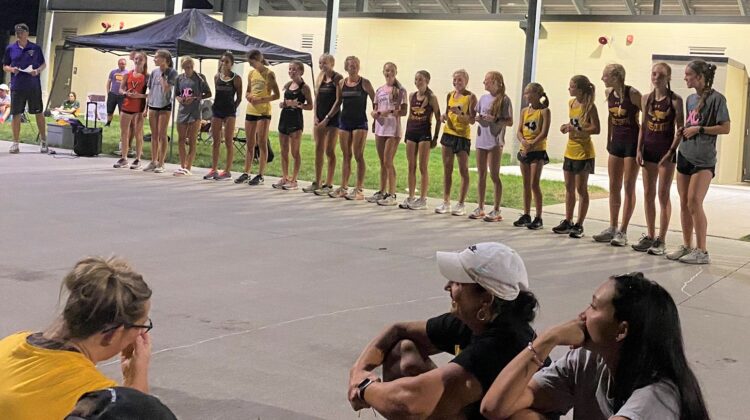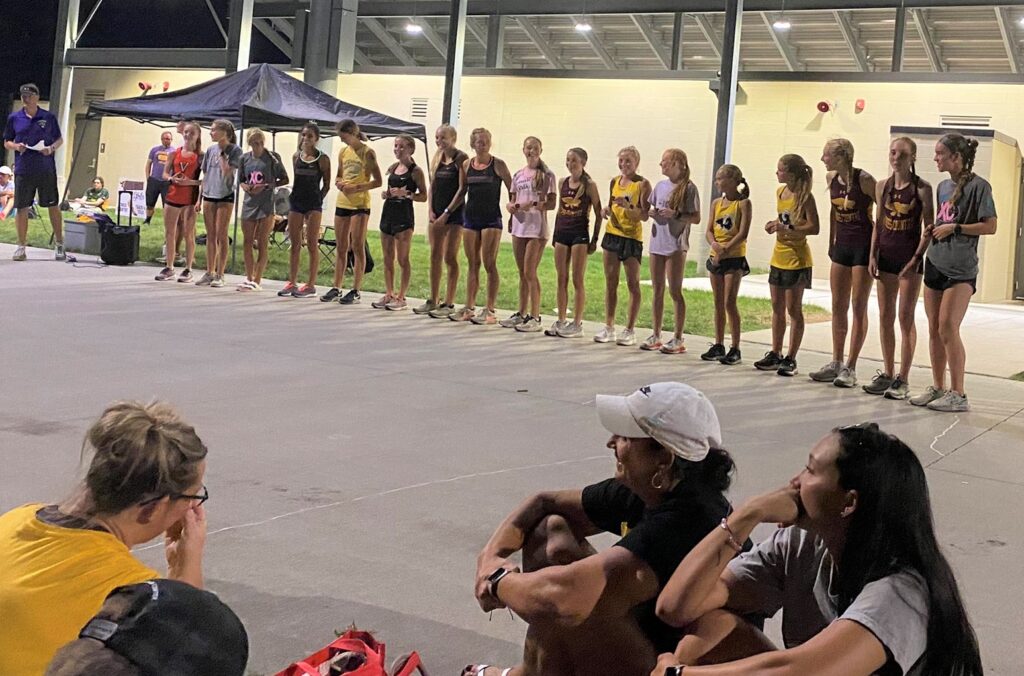 It appears that the Ankeny boys' and girls' cross country teams may have been underrated in the Class 4A preseason rankings.
Both squads opened their season on Saturday night by placing second in the Dragon Twilight Invitational at Johnston High School. The Hawks and Hawkettes defeated multiple higher-ranked teams, including Ankeny Centennial.
"I'm really glad our kids had the opportunity to compete tonight," said Ankeny boys' coach Jon Lindaman. "This was the first year of the meet, but it received pretty good reviews from our athletes. It was hot and the course was a bit bumpy, but overall we had a really solid meet. I feel like our guys never settled and kept attacking throughout the 5k. I think the kids are excited because they know there is still so much room for improvement for us as a team."
Johnston won both team titles on its home course. In the girls' division, the No. 4 Dragons scored 51 points to finish 10 points ahead of No. 13 Ankeny.
Valley's Kamryn Ensley won the 5k race, edging teammate Addison Dorenkamp at the finish line. Both runners were clocked in 18 minutes 57 seconds.
The Hawkettes were led by freshman Alli Macke, who made a sensational debut in her first varsity race. She placed third in a time of 19:20.
"This meet was a spectacular display of teamwork by each of our top seven runners," said Ankeny girls' coach Eric Klingensmith. "Alli set herself up with a speedy start just like we discussed before the race. While she and most of the freshmen were nervous, they all kept pace and ran gut-filled races."
Drew Beason, another freshman, also earned a top-10 finish. She placed 10th in 20:32.
Beason's sister, Paige, took 12th in 20:47. Savannah Gage was 17th in 20:53, Lauren Jackson placed 19th in 20:54, Talia Dosh took 20th in 20:54, and Gwen Briggs finished 61st in 22:52.
Four of Ankeny's five scoring runners are freshmen.
"The Beason sisters, Savannah, Lauren and Talia all worked together to ensure a solid performance at the meet," Klingensmith said. "We weren't sure what to expect, but knew that our summer and the beginning of the season training was solid. However, our ladies displayed mental toughness and grit beyond our expectations. We talk about our 40 percent rule and our cookie jar all the time, and they demonstrated exactly how to use each of those strategies to their advantage. We are excited, but want to continue progressing over the course of the season to improve even more."
No. 7 Centennial placed sixth in the nine-team field with 117 points. The Jaguars were led by junior Rondi Quass, who took fifth in 19:49.
Bella Hodges placed 25th in 21:16. Anja Peck was 27th in 21:26, Tillie Smith took 28th in 21:26, Anika Mohrhauser was 32nd in 21:38, Kendall Jorgensen placed 37th in 21:44, and Cora DenHartog finished 56th in 22:37.
"This was a fun atmosphere for the first meet of the season, though more racing was done in the dark than I was comfortable with," said Centennial girls' coach Eric Cogdill. "The darkness also made it so we haven't had a chance to reflect with our girls yet as we did not get to do conventional cool-down conversations. My early reflection is our girls aligned with our past season debuts and we look forward to our historical leaps of improvement in the two weeks that follow that first race which we treat as an organized time trial. We got to see some pack running emerge, got a first race experience in for half our team, and also learned more about our youthful squad. Our top training group was shorthanded three girls as well. We will see those three girls slide in over the coming month."
Like Ankeny, Centennial boasts a young squad. Four of the Jaguars' top seven finishers were freshmen.
"All four of them came through 2 minutes faster than their eighth grade 2-mile PRs, which is exciting about where they are headed," Cogdill said. "I see lots of growth ahead."
In the boys' division, No. 13 Johnston easily captured the crown with 31 points. No. 15 Ankeny scored 81 points, while No. 11 Centennial finished fifth in the nine-team field with 115.
The Johnston duo of Carter Eckhoff and Aidan O'Connor swept the top two places. Eckhoff won the race in 16:53, finishing 6 seconds ahead of O'Connor.
Ankeny sophomore Jake Bosch placed sixth in 17:11. Teammate Levi Hill was ninth in 17:25.
"Jake and Levi did what they needed to do," Lindaman said. "They should be with the top pack in any race this season."
Truman Patterson placed 17th for the Hawks in 17:52. Christian Rathje took 23rd in 18:04, Ethan Zuber was 26th in 18:15, Abel Squires was 27th in 18:17, and Levi Stember finished 30th in 18:26.
"Truman and Christian both ran solid races, but know they have a lot more," Lindaman said. "Our top seven was rounded out by three underclassmen, and the night really belonged to these three. This was the first-ever cross country race for Ethan and Abel, and it was the first varsity race for Levi. I think we will continue to see them gain experience with each race and get better as the season unfolds."
Centennial had three runners in the top 20. Tyler Schermerhorn placed 14th in 17:43, Cooper Majors was 15th in 17:45, and AJ Schermerhorn finished 19th in 17:54.
"It's a starting point for us," said Centennial boys' coach Chad Fickbohm. "I know the top finishers know they got a lot more in them. But some of our younger kids ran well–AJ looked pretty good."
Carter Lust placed 28th for the Jaguars in 18:18. Noah Segar was 39th in 18:59, Brendan Owens took 43rd in 19:13, and Parker Lundberg placed 46th in 19:30.
Karsten Peters, who was expected to be one of Centennial's top runners, collapsed near the finish line.
"The heat really did take a toll on the kids," Fickbohm said. "Karsten kind of got some assistance across the finish line, and that disqualifies you. But if you throw Karsten in where he was and Carter's our fifth (runner), our spread is 30 seconds and that's encouraging."
Fickbohm said it will be important for the Jaguars to run as a pack this season.
"We know what we've got–a team that doesn't have a front-runner," he said. "So we've got a pack of five or seven runners. And if those 8 through 12 guys can stay close to the top seven, that would make us a lot better."
All four of the Ankeny and Centennial teams will be back in action on Thursday, competing in the Kirk Schmaltz Invitational at the Iowa State cross country course in Ames.