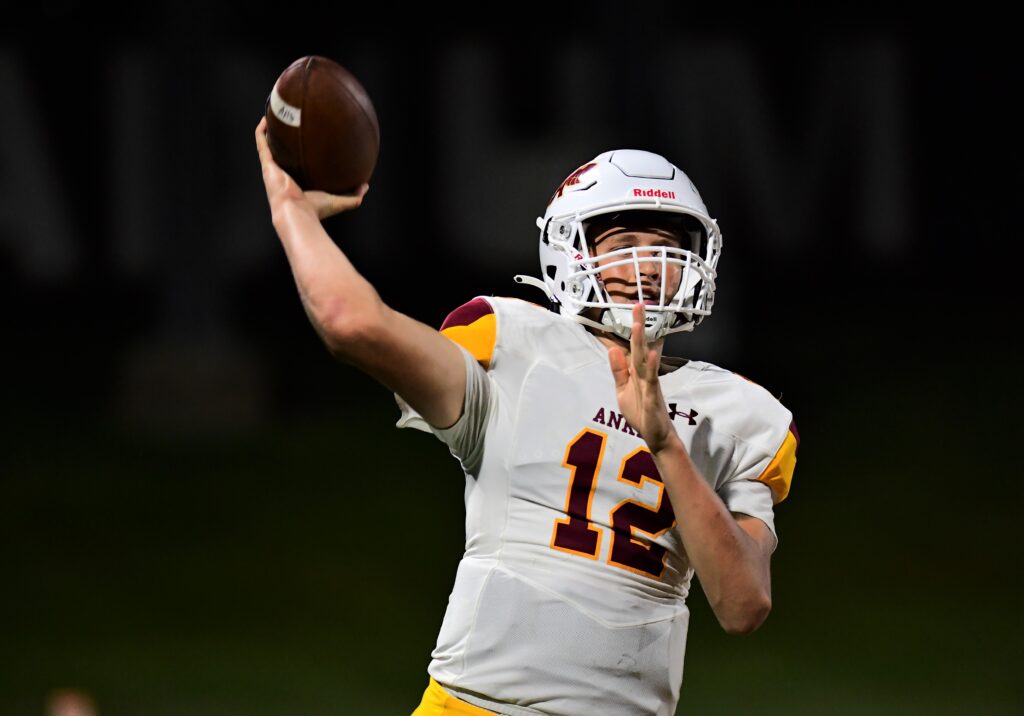 JJ Kohl and the Ankeny football team had something to prove.
Kohl tossed four touchdown passes, three of them to Brady McCullough, and the sixth-ranked Hawks bounced back from last week's loss to Ankeny Centennial with a 27-13 victory over No. 2 Dowling Catholic on Friday at Valley Stadium. It was a rematch of last year's Class 4A semifinal that was won by Ankeny in double overtime.
"I think last week motivated everyone," said Kohl, who completed 13-of-15 passes for 150 yards. "Everyone was hungry and wanted to win this week really bad. I think tonight was a true testament to how good our team really is."
The Hawks (2-1) avoided the costly penalties that plagued them in the loss to Centennial. Dowling, which won seven consecutive state titles before Ankeny snapped the streak last season, dropped to 1-2.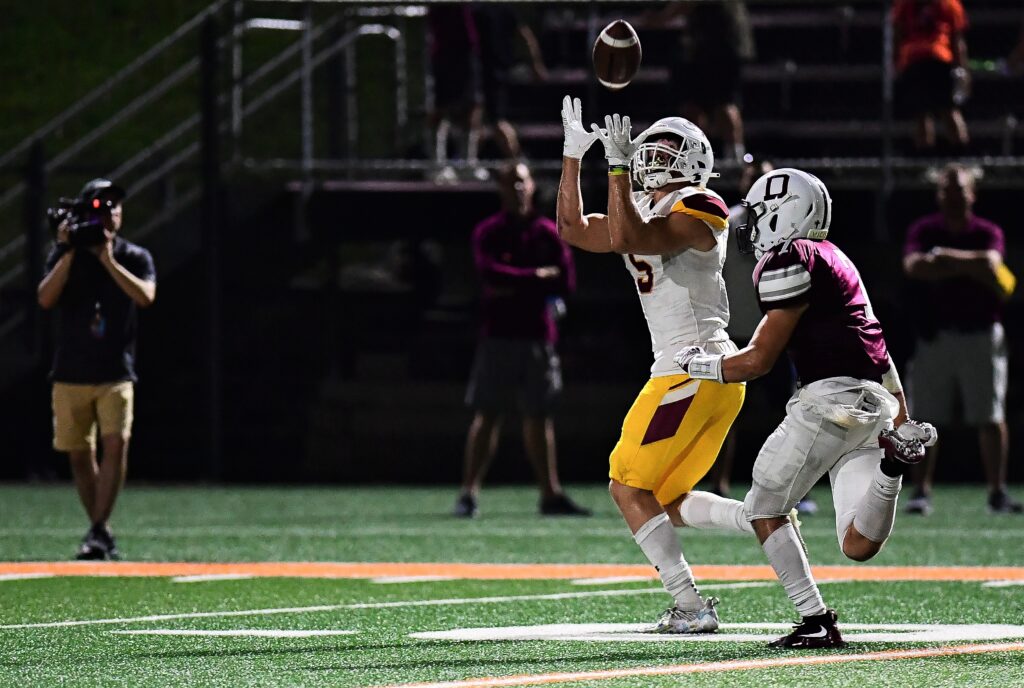 "It was a big win, and we needed it after last week," said Ankeny coach Rick Nelson. "I'm sure the first two games we led the state in penalties, so that didn't help us. We just talked to the kids about being more disciplined and more focused. We just did the little things that helped JJ out."
Kohl completed just 8-of-23 passes for 66 yards against his former team a week ago, but he looked like a different quarterback on Friday. He threw a scoring pass to Colin Kadolph less than 5 minutes into the game to give Ankeny an early lead.
Nelson said the Hawks simplified their offensive attack.
"Our offense is really different from what JJ had done before," he said. "I think we dumped too much on his plate, to be honest, the first couple weeks. So we scaled it back a lot, and he played really well."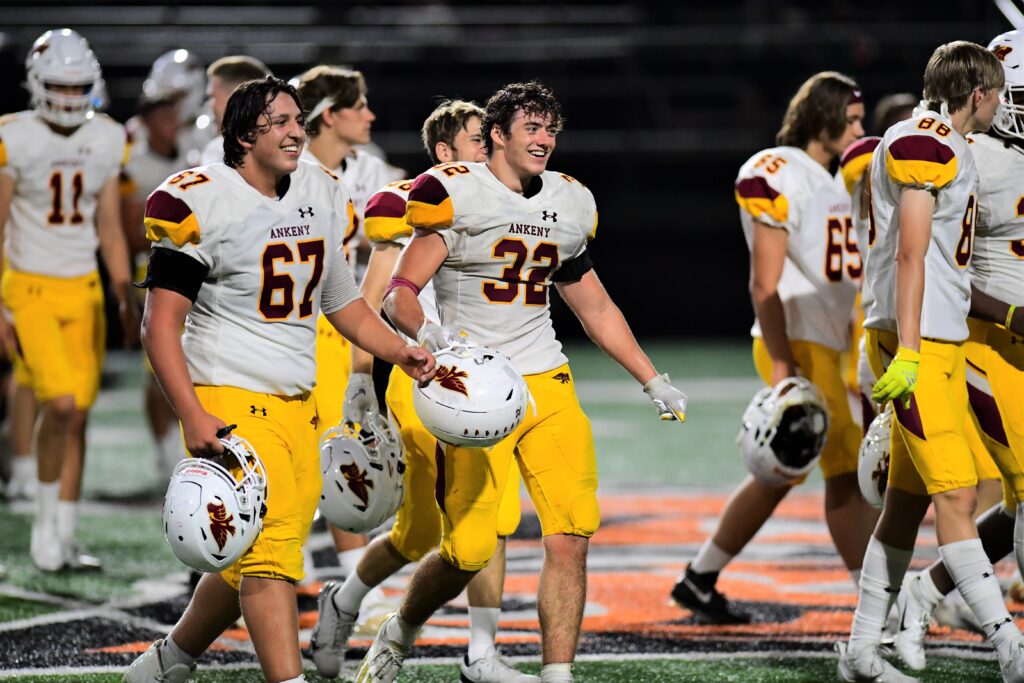 Kohl connected with McCullough for a touchdown in the second quarter to make it 14-0. The duo combined for another score in the third quarter to increase the Hawks' lead to 21-3.
"I definitely think we played with a whole lot more confidence this week," said McCullough, who had eight catches for 128 yards. "Our defense played really well, as always, and I feel like that just gave us so much confidence and when we got the first points on the board and started extending our lead, I think that gave a lot of the players faith in each other to make plays."
Kohl turned a botched play into seven points on one of the first two scoring passes to McCullough.
"I think JJ can be an exceptional quarterback," Nelson said. "On that one play, we weren't really synched up together. That was actually supposed to be a naked call the other way, and he went the wrong way and made a play. I was really excited to see him do that. So if someone was scouting us, I don't even know what that play is."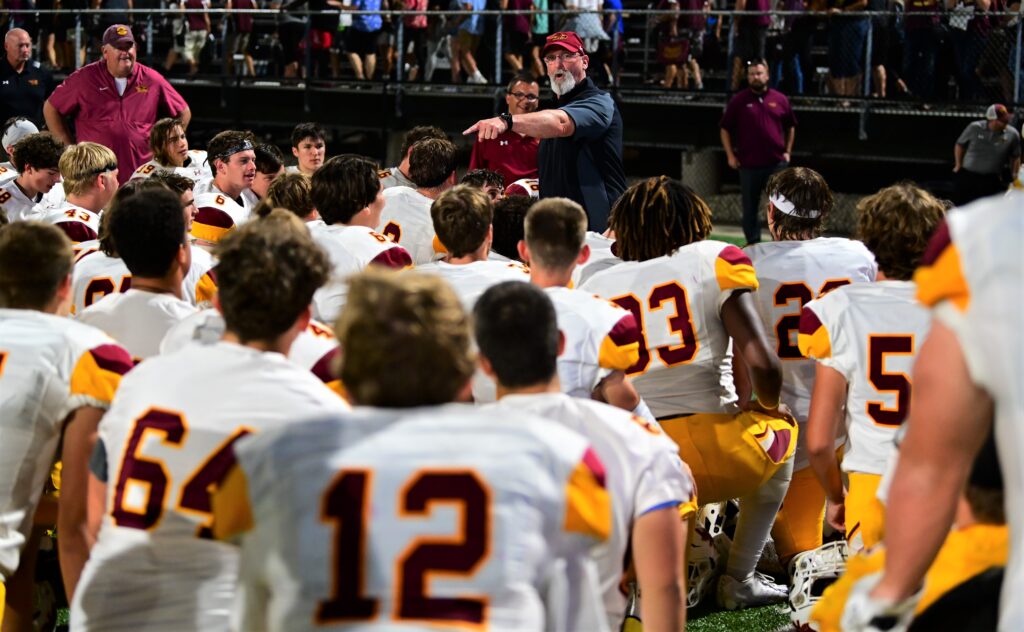 In the fourth quarter, Kohl threw a 45-yard touchdown pass to McCullough to make it 27-6.
"I definitely think JJ felt more comfortable back there," McCullough said. "I can't give enough credit to our line. They are really good and do a very good job of making him feel comfortable and protected. We're back."
Tamden Webb-Tate made six tackles to lead Ankeny's defensive effort. Jackson Penningroth added 5.5.
Ryan Crandall and Reid Johnson each had an interception, while Brock Adamson recovered a fumble. Crandall also saw some action on offense as a receiver, catching three passes for 18 yards.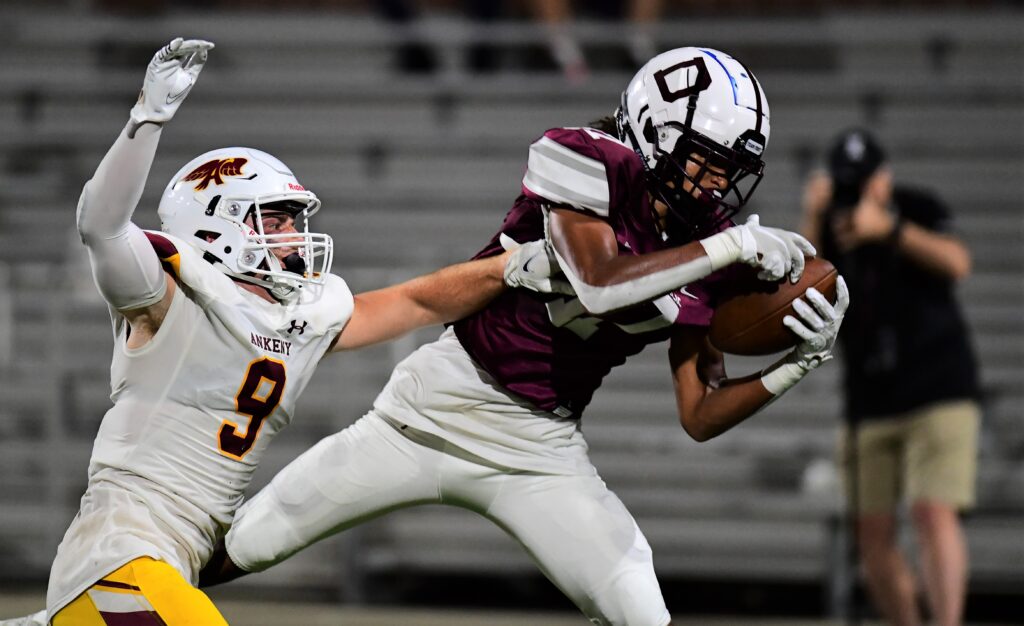 "He's a really good athlete," Nelson said of Crandall. "He probably played 20 snaps on offense, and he did a nice job."
Kadolph added 122 yards rushing on 26 carries. He has already rushed for 487 yards in just three games.
The Hawks will face another huge challenge on Friday when No. 1 Southeast Polk (3-0) visits Ankeny Stadium. The Rams will be looking to avenge last year's 42-14 loss in the Class 4A title game.
"I think we've always believed in our abilities as a team, and tonight it showed," Kohl said. "I think it was a good team win for everyone. We're going to learn from this game and move on to the next. We have a big game next week."