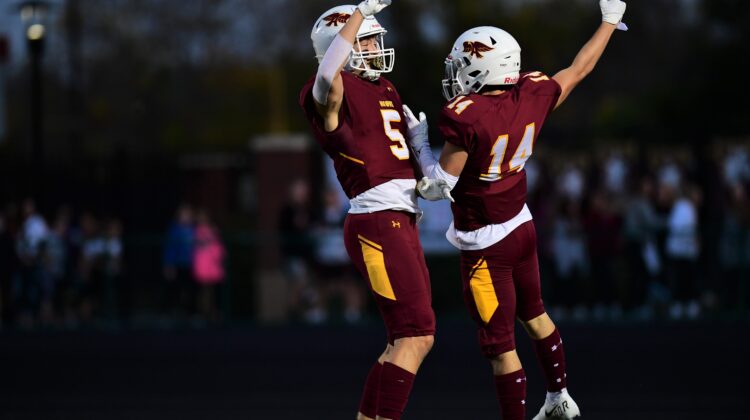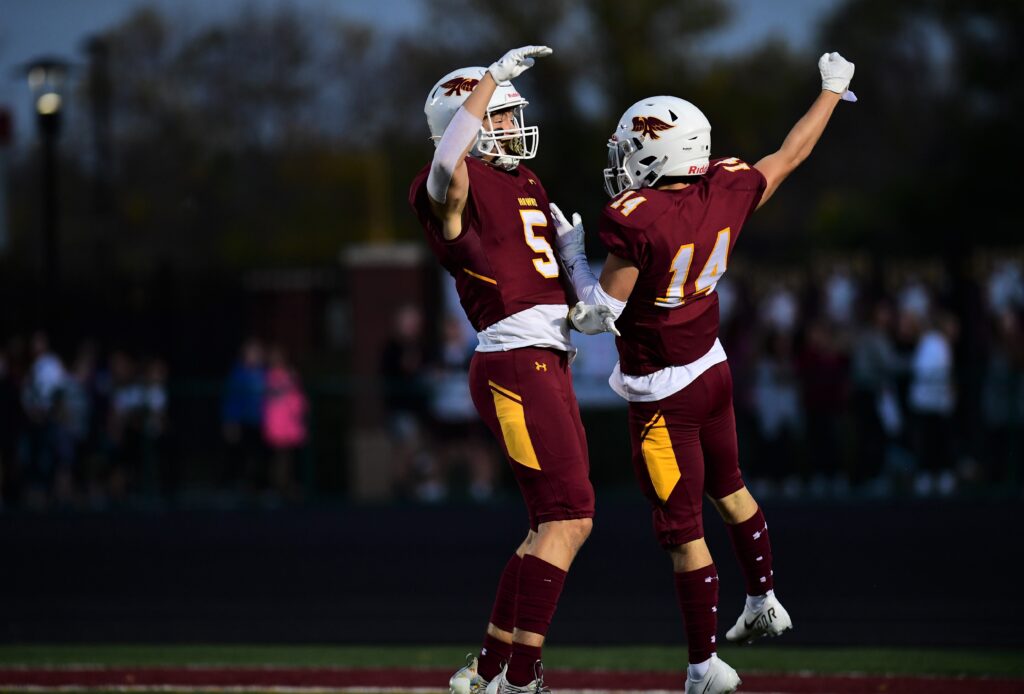 The entire first half of Friday's football game at Ankeny Stadium was played on one end of the field.
Second-ranked Ankeny took advantage of great field position to build a 42-0 halftime lead and went on to defeat No. 10 Des Moines Roosevelt, 49-6, in a matchup of Group 1 teams in the new Class 5A.
"I'm not shocked," said Ankeny coach Rick Nelson. "But we came out and played really well."
The average starting point for Ankeny's six first-half drives was the Roosevelt 44-yard line. Only once did the Hawks start in their own territory, and that was at the 49-yard line.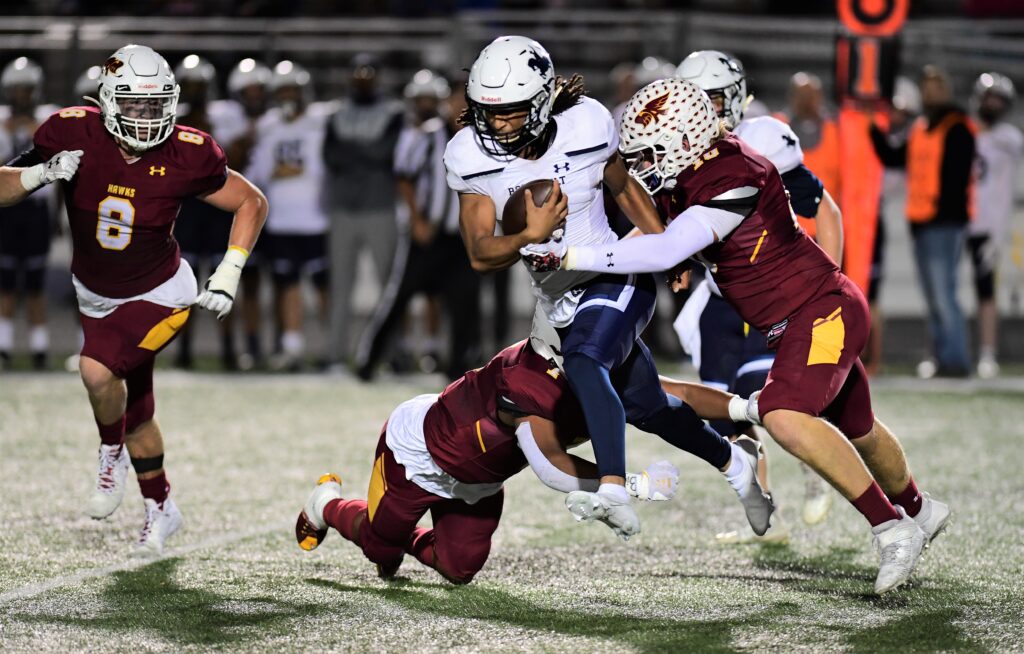 All six drives resulted in touchdowns.
"The last couple of weeks we've came together as a team, and it's really cool to see how guys are continuing to grow and continuing to gain their confidence," said Ankeny quarterback JJ Kohl.
Kohl enjoyed a spectacular game, going 17-of-19 through the air for 271 yards and four touchdowns. All but three of his completions came in the first half.
"It was really nice to see JJ step up and throw the ball. It was really good," Nelson said. "Roosevelt blitzes a lot, so I was really proud of our kids up front protecting. I think we got the ball to a lot of kids who hadn't caught a ball this year, so it was just a neat team win."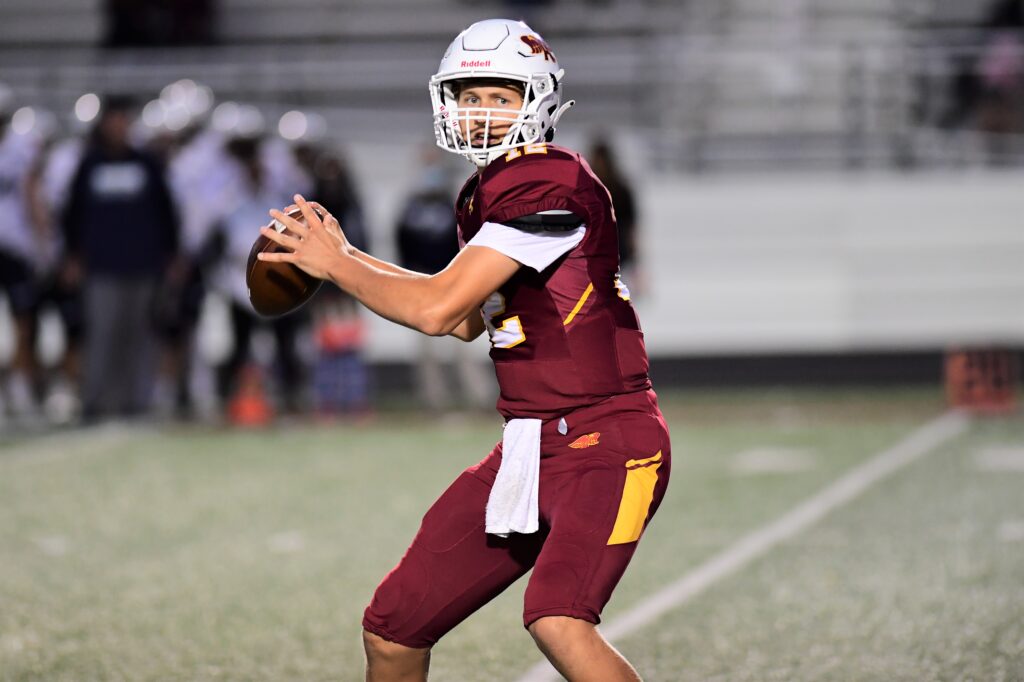 Kohl completed passes to five different receivers, but Brady McCullough was his favorite target. McCullough caught nine passes for 146 yards and three touchdowns–all in the first half.
"I have the same expectation every game, and that's to win," McCullough said. "It all starts up front with the line, and I can't thank them enough. JJ just has so much time in the pocket to really read out his options on either side of the field, and I think that's what he did. He just found the open guy every time."
Maddox Ward caught three passes for 69 yards. He opened the scoring with a 32-yard reception from Kohl on the Hawks' second play from scrimmage.
That touchdown followed an interception by Ankeny defensive lineman Nick Eaton, who picked off a tipped pass from Roosevelt quarterback Jamison Patton.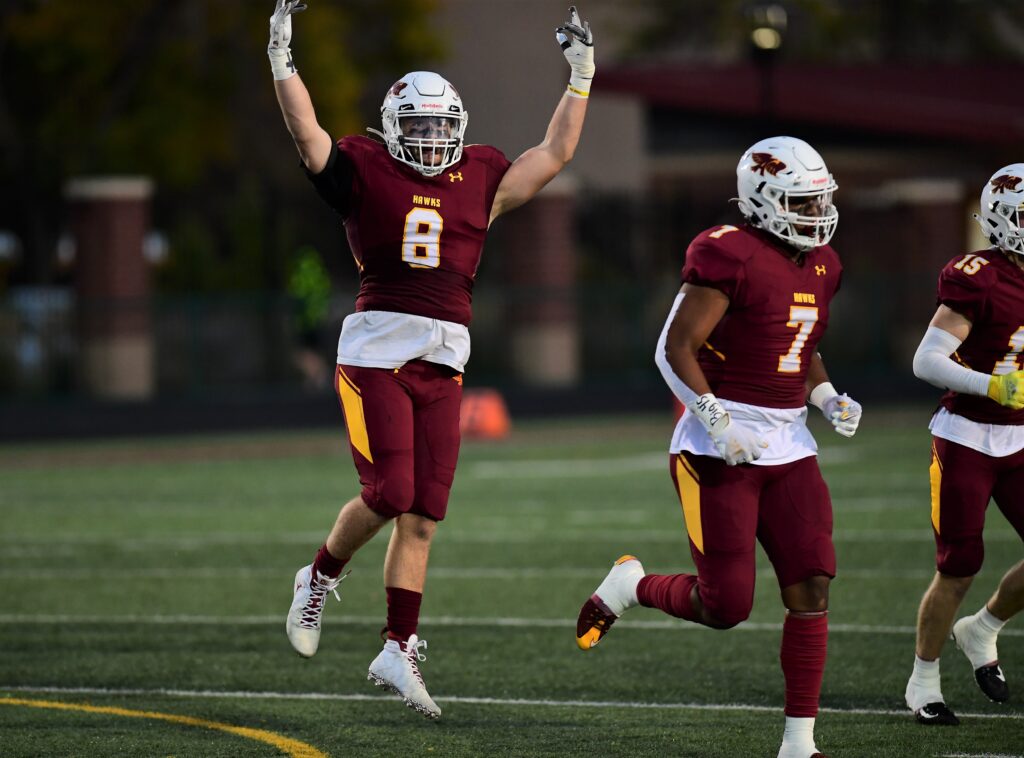 "Jamison's a killer athlete. He can do it all," Eaton said. "He made a couple of us miss, but we just had to pursue to the ball. Trust our brothers, trust one another, and just fly around and make plays. On the interception, I got off (the block) and just pursued to the ball, and the right thing happened. I was in the right place."
Ankeny's next drive ended with a 3-yard touchdown run by Colin Kadolph. He ran 10 times for 73 yards and three scores.
Kohl rolled to his right and found McCullough in the end zone for a 7-yard touchdown pass later in the first quarter.
"(McCullough) uses his body really well and he knows the field really well, and so does Maddox," Kohl said. "Those guys are really good. They don't get enough credit. They're working hard day in and day out, and I think they're going to be really big for us (the rest of the season)."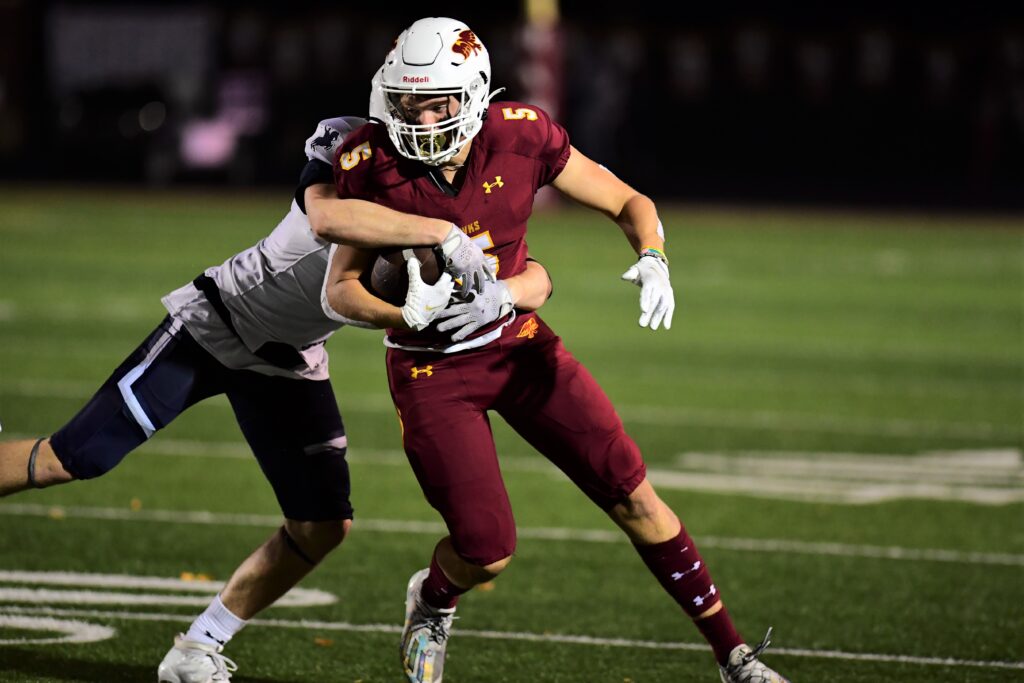 After Roosevelt turned the ball over on downs, Kohl completed passes of 23 and 24 yards to McCullough on Ankeny's next drive. Kadolph then ran 5 yards for a touchdown to make it 28-0.
The Hawks' final five plays of the first half consisted of passes from Kohl to McCullough. The duo connected on a 13-yard scoring pass with 6:02 left in the half, putting the running clock into effect.
McCullough was called for an unsportsmanlike conduct penalty after he celebrated the touchdown with Ward.
"For the most part, we were penalty-free," Nelson said. "The celebration–we should have gotten one the first time–so the second time they made sure (to call it). I want kids to have fun, but I don't like penalties."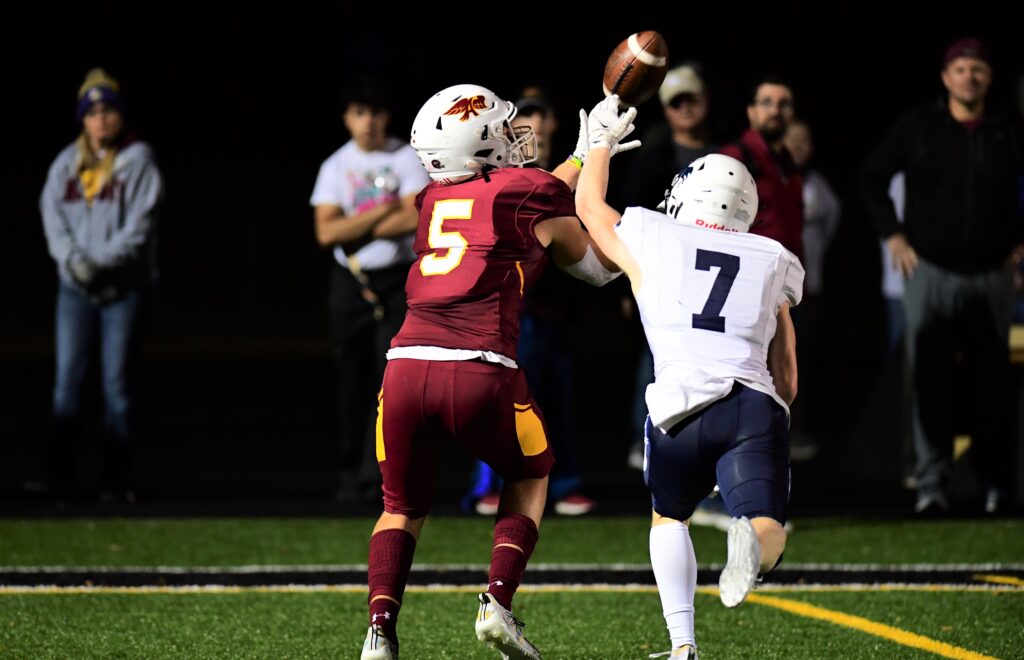 After a Roosevelt punt, Kohl threw passes of 14 and 6 yards to McCullough before the duo connected again on a 27-yard scoring play along the left sideline.
"I was (bracketed) the last game–the linebacker and safety would leak over to my side a little bit," McCullough said. "But this game I was mostly 1-on-1 with the corner or the safety, so that really helped a lot getting those yards and receptions."
Kadolph added an 11-yard scoring run in the third quarter for the Hawks, who are now 4-1 on the season. Roosevelt (3-2) got a late touchdown against Ankeny's reserves to avoid its second straight shutout.
"Our defense is solid," Eaton said. "We take it one week at a time. It's a key for us to not overlook anybody. Just take it slowly one week at a time, and we'll be all right."