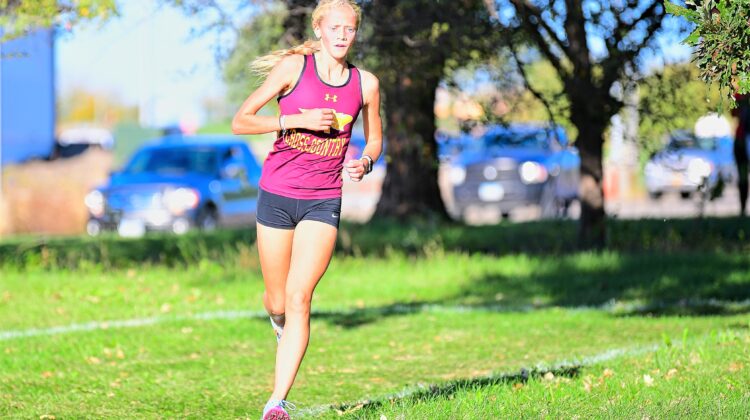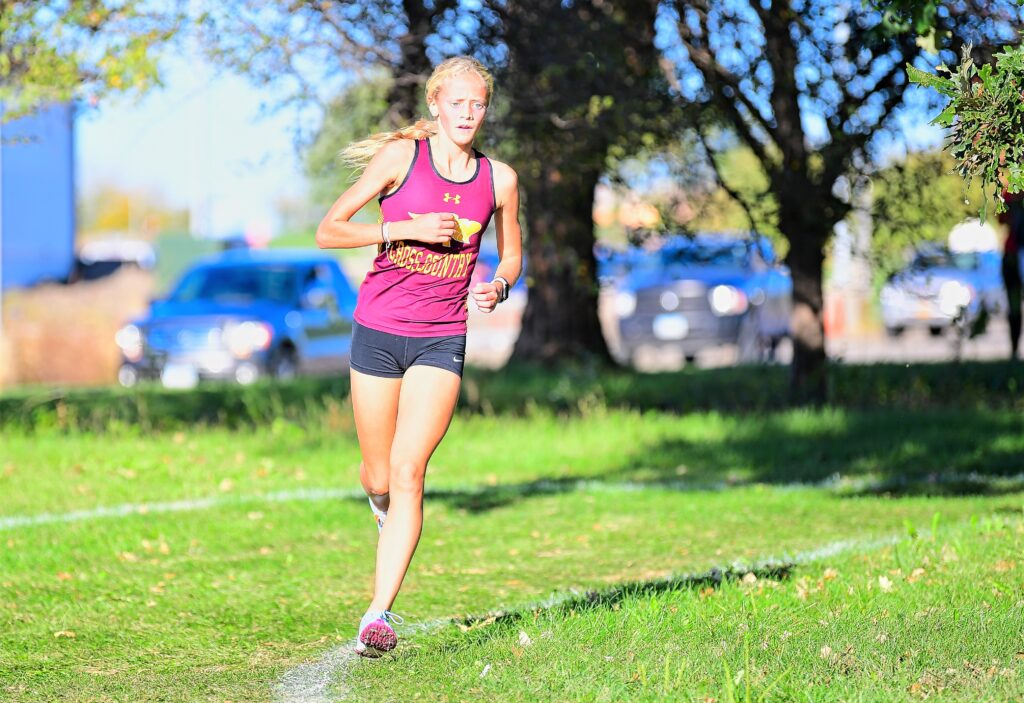 Thursday's CIML Iowa Conference meet was an important one for the Ankeny and Ankeny Centennial girls' cross country teams.
Next week's state qualifying meet will be even bigger.
"I think we can do really well," Centennial junior Rondi Quass said of Wednesday's meet. "I think we can even be the top team with how we're running against Ankeny and Valley right now."
Quass led seventh-ranked Centennial to a second-place finish on Thursday at DMACC. The defending champion Jaguars scored 44 points, finishing nine points behind No. 2 Ames.
"It was a great day to close out the season," said Centennial coach Eric Cogdill. "Our girls, top to bottom, put together their best meet of the season. Our ladies ran terrific with 39 girls registering lifetime bests. We nearly took two perfect scores (top 5 individuals) in both sub-varsity races. Then, the varsity gave Ames a run for the title. If not for Ames' regular fifth runner having a career day and finishing a minute ahead of her usual placement on the team, we may have gotten them. The varsity continues to trend in the right direction, and we went through a full load of training this week still so we should continue to sharpen."
No. 8 Ankeny took third with 51 points behind individual champion Alli Macke.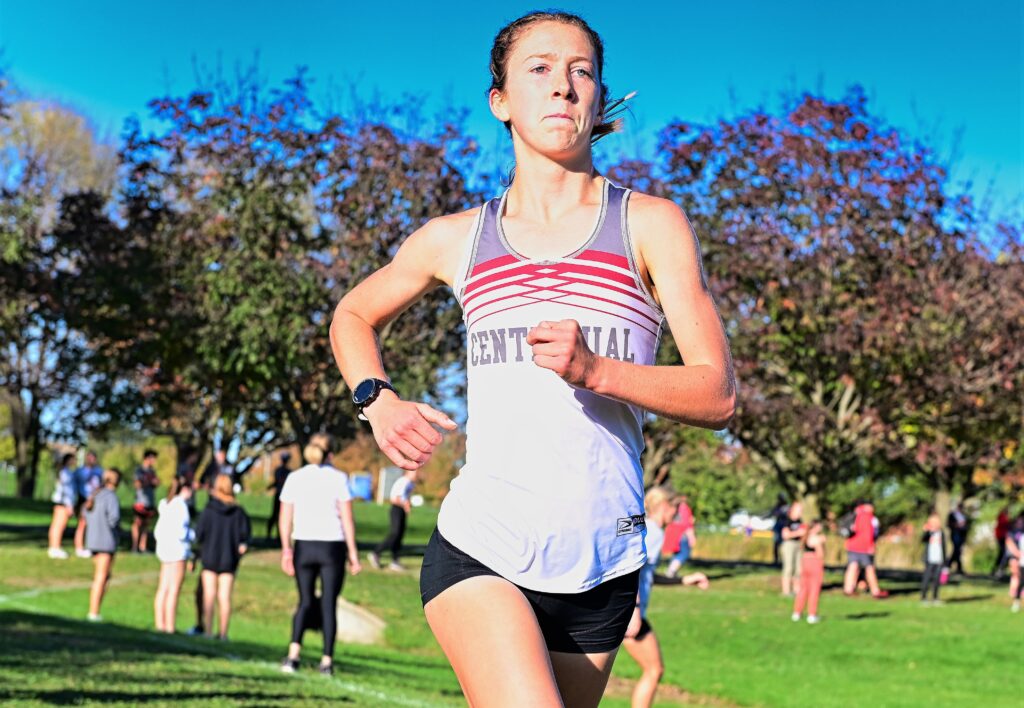 "Our goal was to place in the top two," Macke said. "We were hoping to beat Centennial or Ames today."
Macke won the 5k race in a time of 18:40. She pulled away from fellow freshman Claire Helmers of Ames to win by about 8 seconds.
"I was just going for place today. My times haven't been how I've wanted them, so I'm pretty satisfied with how I ran today," Macke said. "(Helmers) started really fast, so I was just going to try to stay with her and keep my own pace. And then she started falling behind, so I kept with my pace and I felt fine."
Macke became Ankeny's second consecutive individual champion. Lauren McMahon won last year's race and is now competing for Iowa.
"Alli ran with Claire for the first mile and a half of the race, then separated from her to cruise to the win," said Ankeny coach Eric Klingensmith. "It was a very smart race for her tonight."
Quass placed third in a time of 18:59 to lead the Jaguars. She moved into second place at one point before Helmers rallied with a strong finish.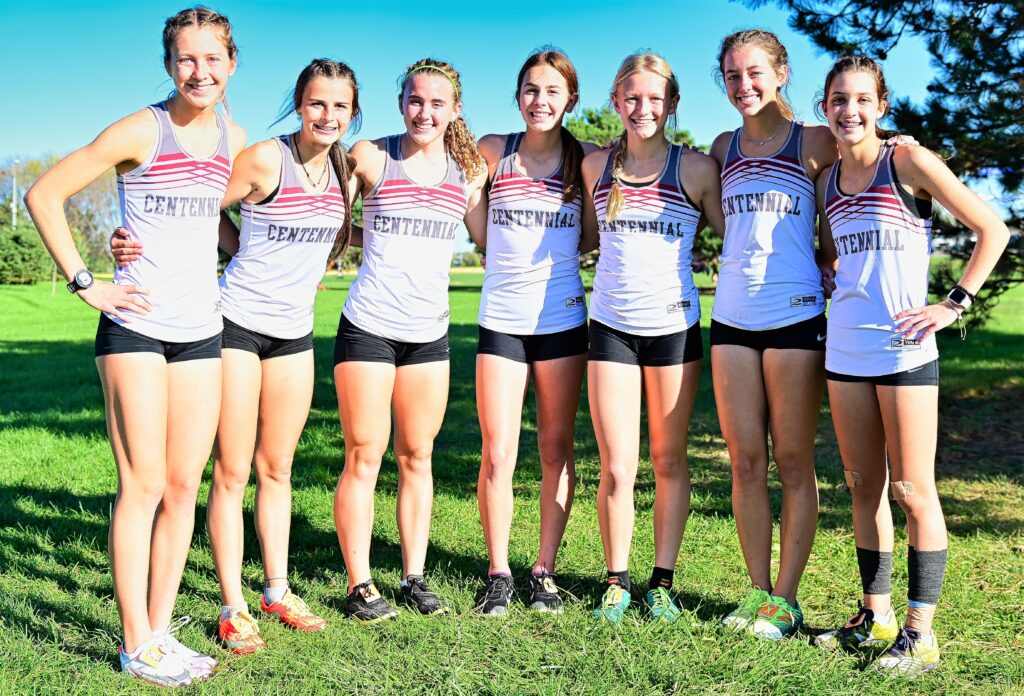 "She must have (got a second wind), but I think I'm finally starting to close that gap on her," Quass said of Helmers. "I was pretty happy with my race."
Ankeny got a fifth-place finish from freshman Drew Beason. She was clocked in 19:31.
"Drew came out tonight with a mission and succeeded with a top-five finish, beating (Marley) Turk of Ames," Klingensmith said. "She's been a solid competitor for us who comes through with her placement when we need it most."
Centennial placed three other runners in the top 10. Bella Hodges took eighth in 19:52, Anika Mohrhauser was ninth in 19:55, and Tillie Smith finished 10th in 19:58.
"Our goal was to run our pack really strong," Quass said. "My goal was to hang in with the top three, and then we'd see where we ended up."
Ankeny's Lauren Jackson placed 12th in a time of 20:11, while Savannah Gage took 15th in 20:15. Sandwiched between them was Anja Peck of Centennial, who also earned all-conference honors by placing 14th in 20:12.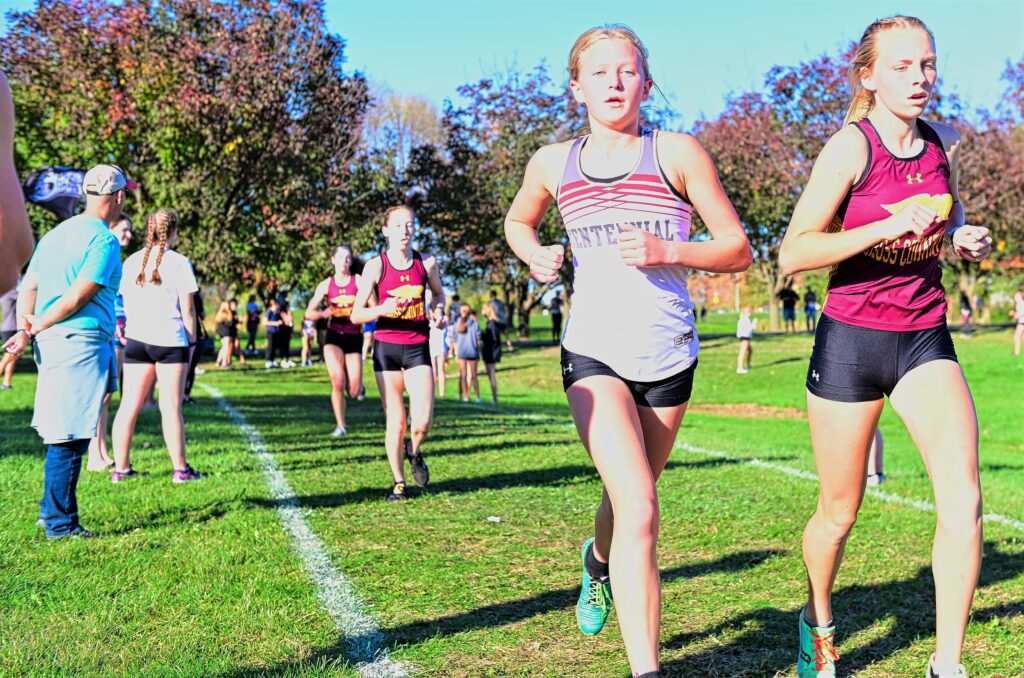 "Lauren and Sav got caught behind a group of Waukee Northwest runners–slowing them down from Centennial's pack–but were able to make up the time to close the gap on some of them, leaving a few girls to finish just ahead of us," Klingensmith said.
Julia Flick placed 17th for the Jaguars in 20:23. Kendall Jorgensen took 19th in 20:28.
"Julia ran with a new strategy this race and was rewarded with a 30-plus second lifetime best, finishing one spot out of all-conference," Cogdill said. "Kendall was terrific, too, in one of her top three all-time performances."
Talia Dosh was Ankeny's fifth scoring runner, placing 18th in 20:27. Paige Beason was 21st in 20:44, and Brylee Moyer finished 27th in 21:27.
"Our Hawkettes made a great effort tonight to earn third place among our two higher-ranked conference adversaries," Klingensmith said. "We ran several PRs and garnered an individual champion with Alli's superb performance. In addition, solid performances from Talia and Paige rounded out our top six, making us hungry to compete again next week to fight for a district title. We know we have more to give, and we're ready to run after it."
Both Ankeny and Centennial will be back on the DMACC course Wednesday for the state qualifying meet. No. 9 Valley will be the only other top-10 team in the field.
"Next week is a big one," Macke said. "We're just focusing on that one now."