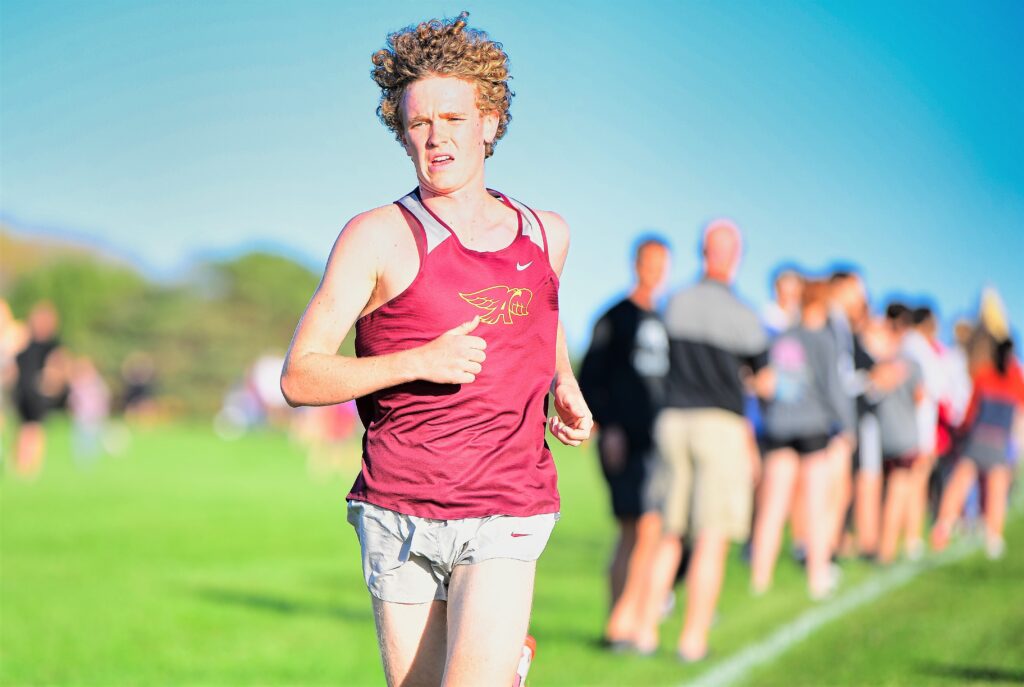 All season long, the Ankeny and Ankeny Centennial boys' cross country teams have taken turns defeating each other.
On Thursday, the crosstown rivals waged their closest battle yet in the CIML Iowa Conference meet at DMACC.
In the end, 11th-ranked Centennial and No. 12 Ankeny both finished with 51 points to tie for second place behind No. 9 Waukee Northwest, which claimed the title with 47 points. The Hawks earned the runner-up spot on a tiebreaker–their No. 6 runner, Levi Stember, finished ahead of Centennial's No. 6 runner.
"Our goal was to win it," said Ankeny junior Levi Hill, who was the individual champion. "We've been back and forth with (Centennial) all year, and Waukee Northwest has definitely been in our sights, too. We were just aiming for them and trying to do what we can."
Ankeny and Centennial had split four previous meetings this season.
"It was certainly disappointing to lose on the tiebreaker, but Ankeny had a nice race," said Centennial coach Chad Fickbohm. "It was a great night to race–perfect for the last race of the season for most of the team, and that led to a lot of lifetime bests."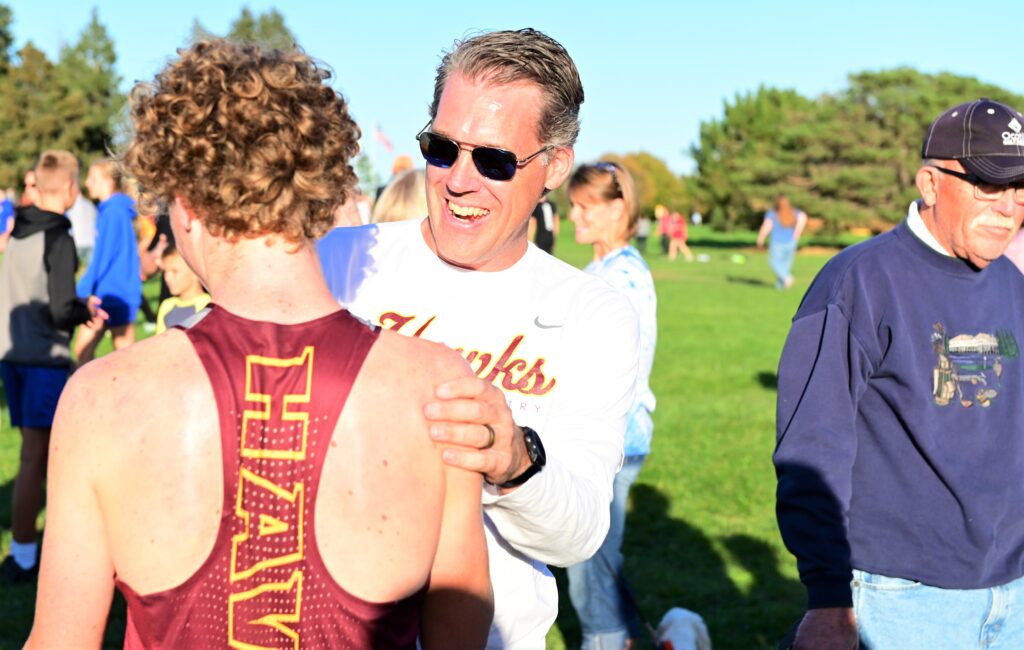 Hill came from behind to win the 5k race in a time of 16:18. He finished 6 seconds ahead of Marshalltown's Conner Smith, who led much of the way.
"I think I went out a little slower in the first mile and building off that definitely helped me to finish stronger," Hill said. "Going out slower, having that extra energy toward that third and fourth (kilometer), definitely helped me to reel those top two guys in."
Hill became Ankeny's first conference champion since Tim Sindt won back-to-back Central Conference titles in 2017-18. Sindt went on to win a pair of state titles and is now competing for Iowa State.
"Levi has really run solid for us all season, but I know he wasn't quite satisfied with his last couple races," said Ankeny coach Jon Lindaman. "The kid is a gritty competitor, and he really went out and showed the state what he is capable of at conference. It's a pretty great honor for a well-deserving kid to be crowned conference champion. We tweaked a couple parts of his race, and he did an outstanding job of getting focused and mentally preparing for championship racing."
Jake Bosch placed fifth for the Hawks in 16:50. Abel Squires was 10th in 16:55, and Christian Rathje finished 16th in 17:15.
"Jake and Abel have been so consistent and did what they have done all season long," Lindaman said. "I know they each wanted to pass a couple more jerseys in this race, but they will be ready to compete next week at districts. Christian had a really strong final mile to his race and ended up being our fourth runner to earn all-conference honors."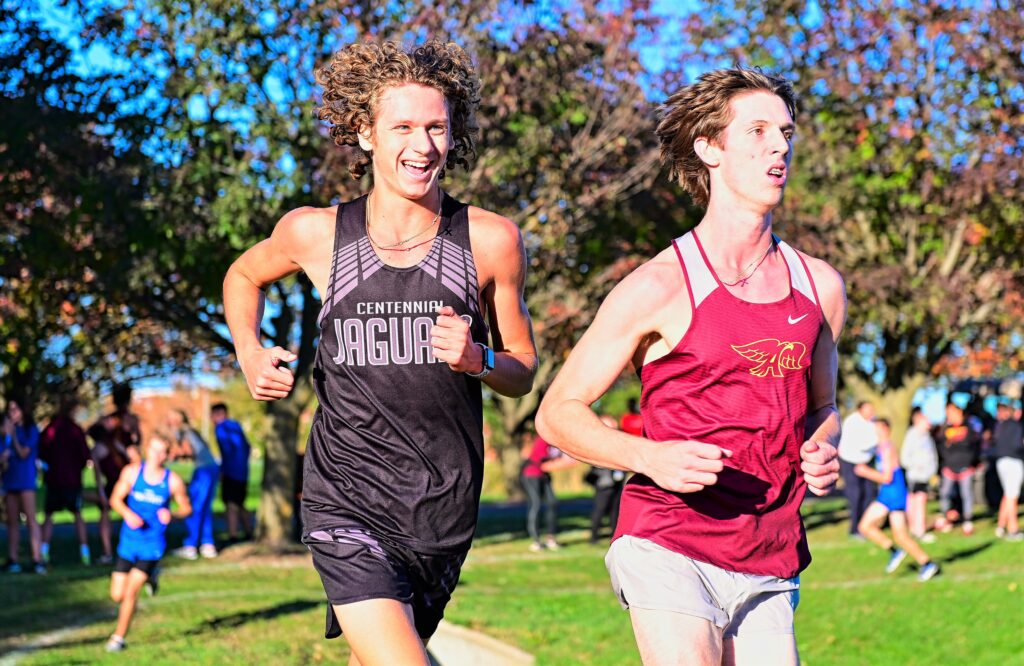 Truman Patterson was Ankeny's fifth scoring runner, placing 19th in 17:21. Stember was 20th in 17:24, and London Schuchart finished 21st in 17:35.
"It was a great opportunity for our kids to get to run the conference meet at DMACC," Lindaman said. "Our varsity top seven are generally the kids that get the press, but this was really a great team effort from our guys. We talk all year about how our 9/10 and JV squads set the tone for our meet. To have our 9/10 team go out and get a perfect score against some good teams was pretty special for those kids. Our JV followed that up with some strong performances as well. They got our varsity team excited to race, and it is a great sign for our future."
Centennial was led by senior Tyler Schermerhorn. He placed third in a time of 16:39.
"I was really happy with my race," said Schermerhorn. "To be honest, we didn't think we were going to be as close to (Ankeny) as we were. The race was just to get a good feel for this course so that we know what we have to do next week at districts."
Three other Jaguars earned all-conference honors. Cooper Majors took sixth in 16:51, Karsten Peters was seventh in 16:52, and AJ Schermerhorn finished 11th in 16:58.
"Tyler had a great race tonight with Cooper getting back up where he knows he can race," Fickbohm said. "Karsten and AJ both had nice races as well."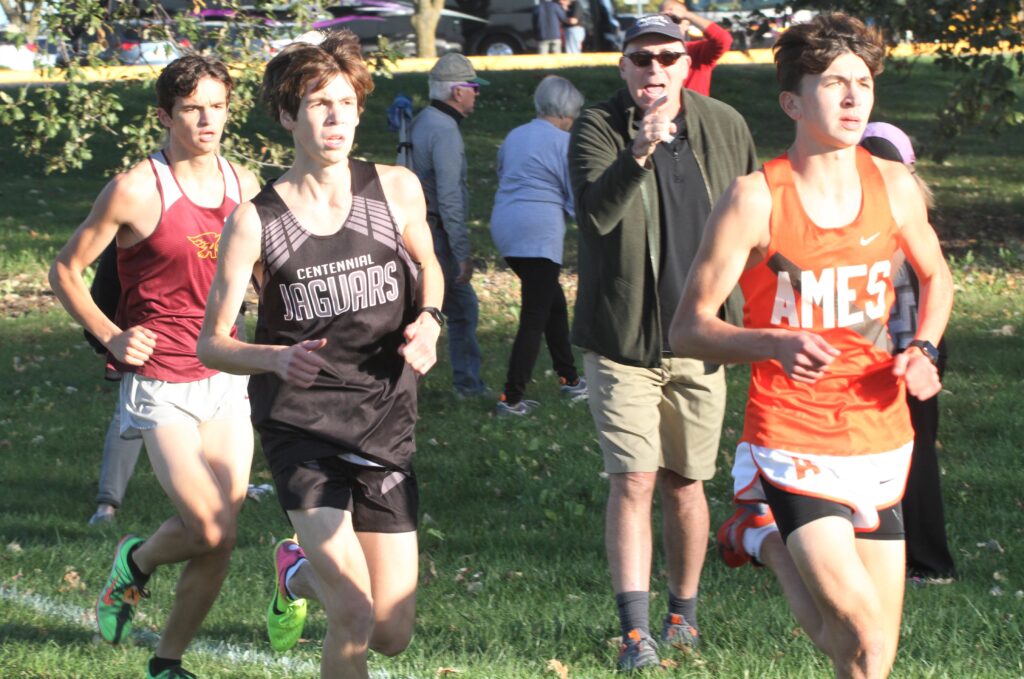 Carter Lust was Centennial's fifth scoring runner, placing 24th in 17:44. Noah Segar was 26th in 17:45, and Parker Lundberg finished 29th in 17:59.
"We got a good look at the new course," said Tyler Schermerhorn. "We know what we need to do now, and we're really excited with what we did today."
Both teams will be back at the DMACC course on Wednesday for a Class 4A state qualifying meet. No. 1 Sioux City North will be among the teams in the field.
"It's great to have this as a home course," Hill said. "It definitely works as an advantage for us. Knowing the turns and knowing the straightaways, and when you can make your moves. That's definitely an advantage going into districts and trying to get to state."
Ankeny is seeking its first trip to the state meet since 2018. Centennial will try to qualify for the second year in a row.
"We are all focused on the race next week to get back to state," Fickbohm said. "The guys know what they have to do and are excited to get out and do it again."