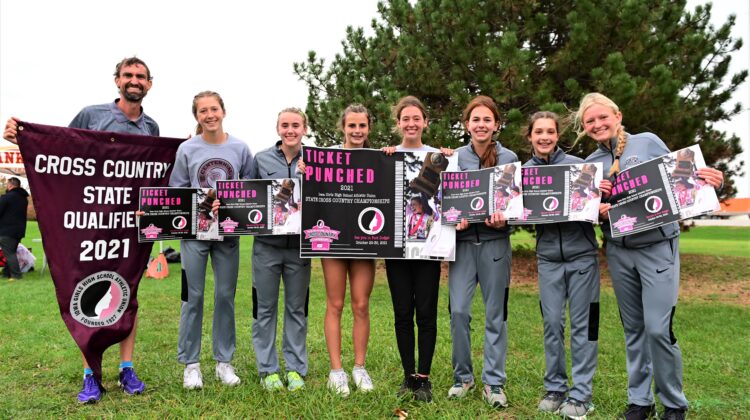 For only the second time in school history, the Ankeny Centennial girls' cross country team is headed to the state meet as a regional champion.
The eighth-ranked Jaguars won a Class 4A regional meet on Wednesday at DMACC with 47 points, edging No. 10 Valley by one point. They qualified for the state meet for the eighth time in nine years while also earning their first team title since 2016.
"I was really proud of our girls tonight," said Centennial coach Eric Cogdill. "This team puts an awful lot of trust in their training, and they fully believe that the end of October is when they will shine. These girls also put a lot of trust in their teammates and have confidence that working as a group will be stronger than the sum of its parts. The whole team was dialed in on the individual placement targets they were given, and they worked within the team strategy to help each other meet those.
"We've had three great meets in October and one (more) to go," he added.
No. 9 Ankeny also qualified for the state meet by placing third in the seven-team field. The Hawkettes finished with 58 points.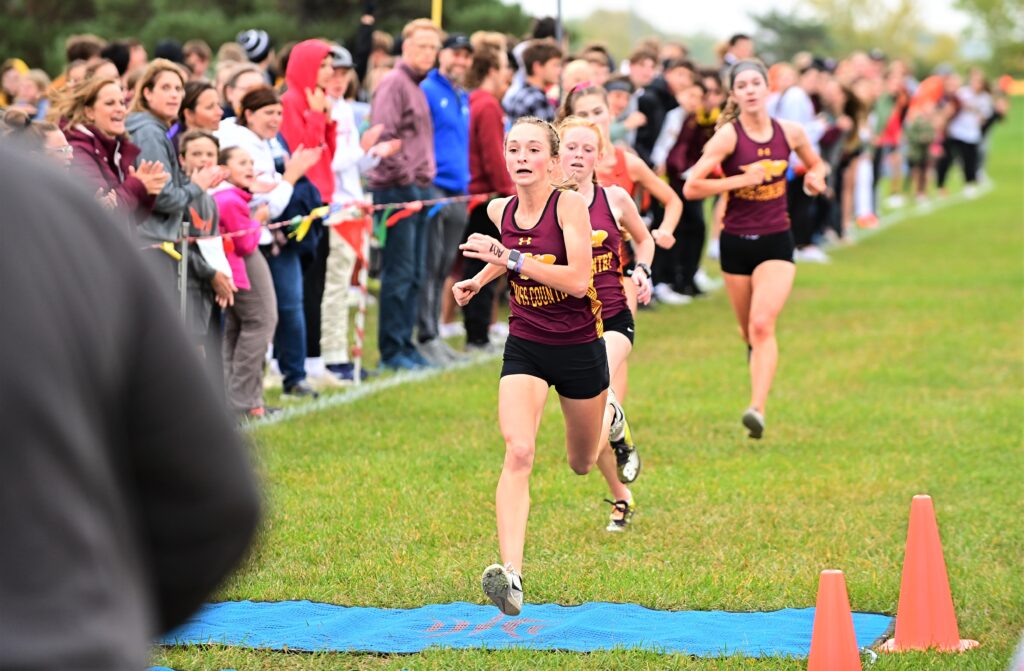 "Like every year, our goal is to earn a state meet berth, and this year was as exciting as it gets with three individual qualifiers along with our team qualification, so we are happy but still not satisfied," said Ankeny coach Eric Klingensmith. "As a team we ran smart strategies that pushed us to four individual PRs, and we are hungry for one more chance to prove ourselves."
Centennial was led to the victory by junior Rondi Quass. She placed sixth in the 5k race with a time of 18 minutes 32 seconds, which broke her own school record.
"The team did really well," Quass said before the final results had been announced. "I think we got a win, and that was our goal today."
Six of the Jaguars' seven runners set personal records. Freshman Anika Mohrhauser placed seventh in 19:13, dropping 42 seconds off her lifetime best.
"She moved up from the 19th to the fourth fastest Jaguar ever," Cogdill said.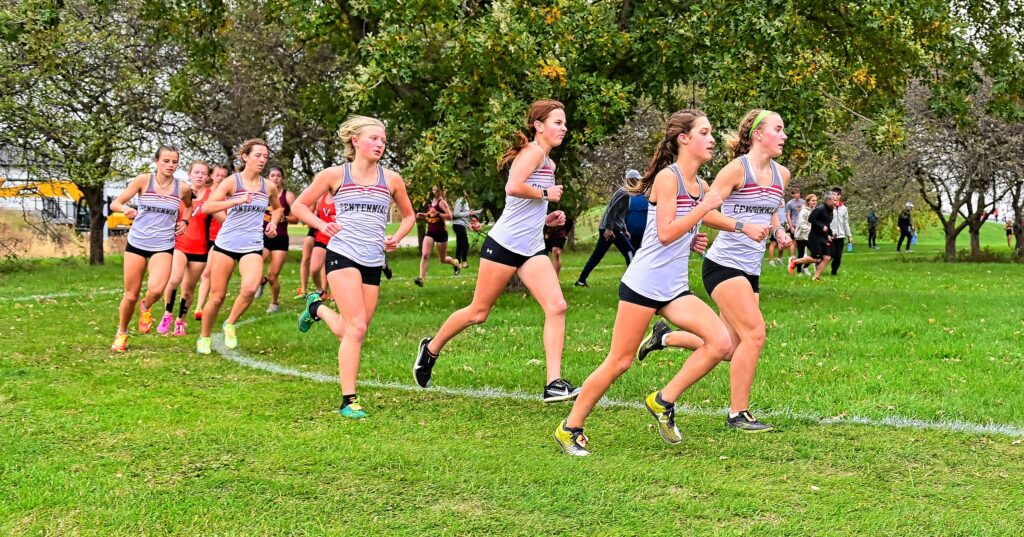 Centennial's Bella Hodges took ninth in 19:34. Anja Peck placed 12th in 19:43, Tillie Smith was 13th in 19:49, Julia Flick took 17th in 20:05, and Kendall Jorgensen finished 18th in 20:08.
"Bella and Tillie made some great passes at the end to push our team score a little lower and having Anja finish among them gives us a very strong scoring five," Cogdill said. "Julia continues her massive time slide, dropping another 18 seconds and nearly a full minute since October started. Kendall nearly made it 7-for-7 in team PRs tonight and is likely the fastest seventh runner in the state. The girls had great efforts top to bottom, and we're looking forward to one more race!"
Centennial relied on its depth to capture the regional crown. Flick and Jorgensen–the Jaguars' non-scoring runners–finished ahead of Valley's No. 5 runner, adding two crucial points to the Tigers' total.
"I shared with the girls my estimates that the top three teams were separated by about eight points and also shared that we could finish third in this small meet," Cogdill said. "So picking up a meet win tonight was an outstanding bonus. I also conveyed confidence to the squad that our seven-runner depth would make us stronger in the much larger state meet. We expect our 6 and 7 finishers to add points to several teams next week."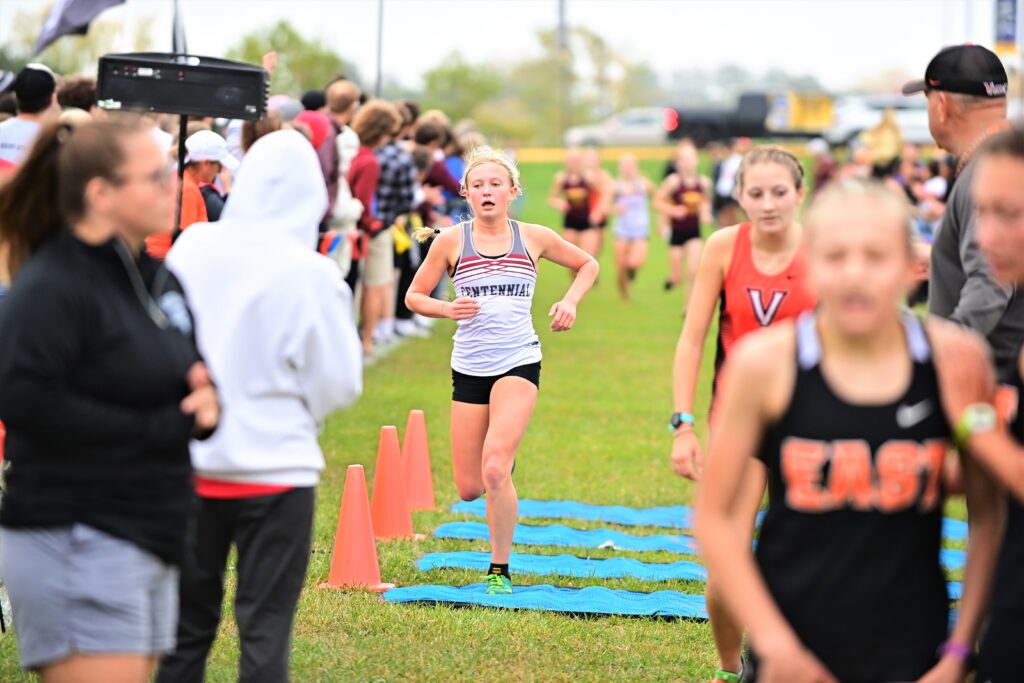 Ankeny got a third-place finish from freshman Alli Macke, who was clocked in 17:58. Valley's Addison Dorenkamp won the race in 17:42, finishing 12 seconds ahead of teammate Kamryn Ensley.
"I wasn't trying to stick with (the Valley girls) so much," Macke said. "I just want to save everything for state for sure. But I was really glad, just being able to keep them in my sights and not be too far off from (Ensley) at the finish, so that was good.
"I was really satisfied. The weather was actually really nice. A little windy, but it was just a great day to race and a great race overall," she added.
Drew Beason took fifth for the Hawkettes in 18:32. She ran side-by-side with Centennial's Quass throughout most of the race and edged her crosstown rival at the finish line.
"I didn't think I could run with her, but I did," Beason said.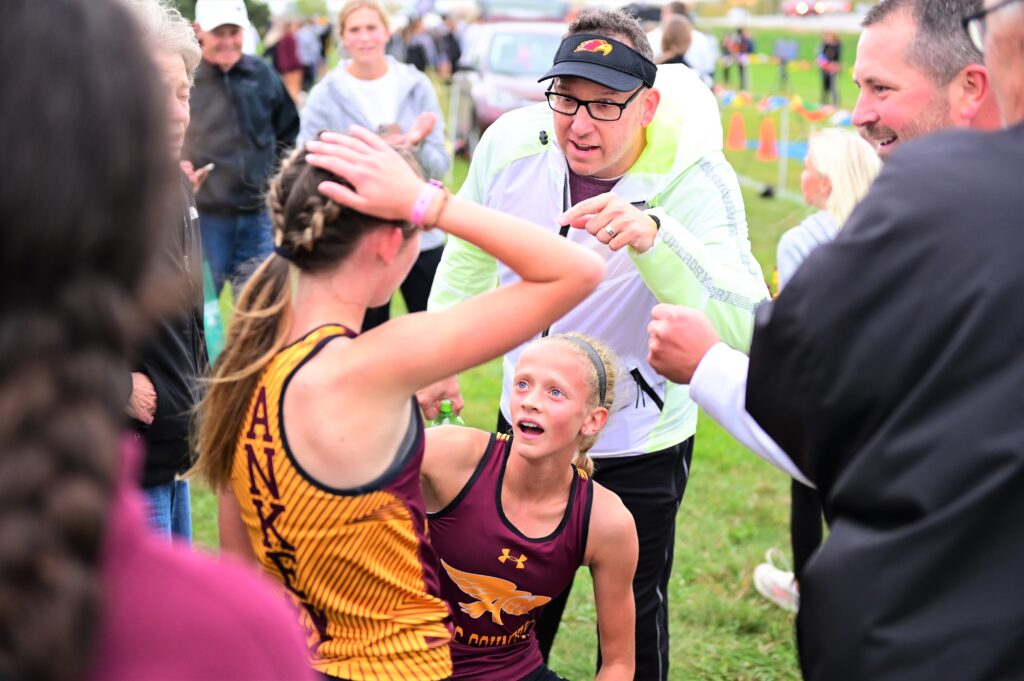 Klingensmith was elated with the performance of his top two freshmen. While Beason outdueled Quass to the wire, Macke pulled away from Sioux City East's Kaia Downs to earn her third-place finish.
"It was a phenomenal race for Alli and Drew as each of them held their own against two seasoned runners in Kaia and Rondi," Klingensmith said. "Both ladies ran close to their opponents to gain an advantage at the end, outkicking them to the finish."
Ankeny's Lauren Jackson placed 14th in 19:50. Savannah Gage took 16th in 19:51, Sophia Graber was 20th in 20:19, Paige Beason took 21st in 20:20, and Talia Dosh finished 23rd in 20:20.
"Sav and Lauren both ran smart as well, staying within striking range of Centennial's 3, 4 and 5 runners in an attempt to break them apart," Klingensmith said. "In the process, both ladies earned a sub-20 PR, which is exciting for both."
The state meet will be held on Oct. 29 at Lakeside Golf Course in Fort Dodge.