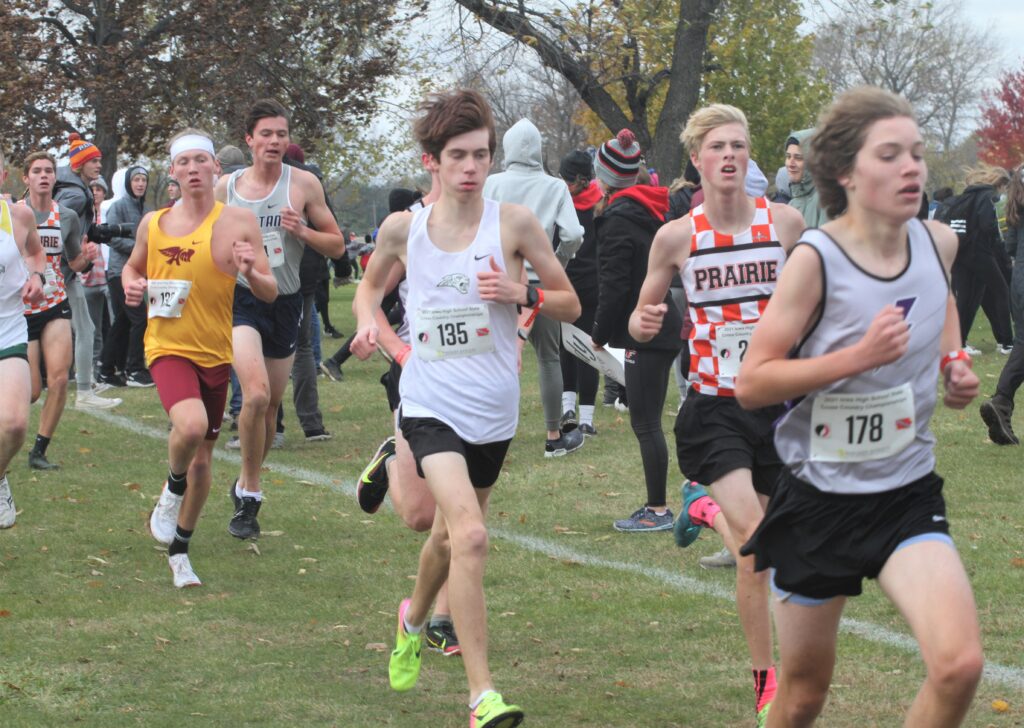 The Ankeny and Ankeny Centennial boys' cross country teams were both hoping to earn top-10 finishes in the Class 4A state meet on Friday.
In the end, the two squads waged a close battle for 13th place at Lakeside Golf Course in Fort Dodge. Twelfth-ranked Ankeny finished with 299 points to edge No. 11 Centennial by eight points.
"We're happy about it," said Ankeny sophomore Jake Bosch. "But our coach always says that we don't base our success off of Centennial. As long as we run our own race, it's a success."
The crosstown rivals met for the seventh time this season. They alternated victories along the way–with Ankeny coming out on top at four of the seven meets.
After Centennial edged Ankeny by six points for second place at last week's district meet, the Hawks gained some revenge on Friday.
"That was a goal coming into the race," said Ankeny junior Levi Hill. "We're definitely happy about that, but it's not everything. We were hoping for top 10… that was kind of our goal. But (beating) Centennial was definitely a positive."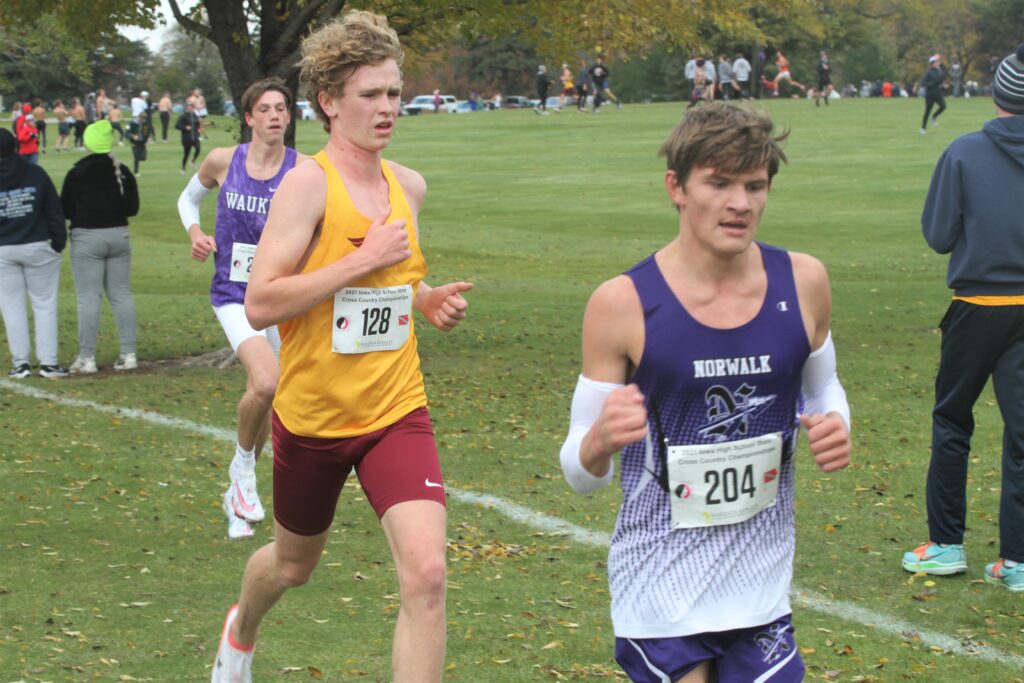 Second-ranked Dowling Catholic claimed the Class 4A crown with 56 points. No. 1 Sioux City North, the defending champion, was second with 62 points.
Dowling's Jackson Heidesch won the 5k race with a time of 15:24. He finished 7 seconds ahead of runner-up Alexander McKane of Iowa City West.
The meet was held on a soggy course with windy conditions. Both Ankeny and Centennial posted an average time of 17:18.
"Everybody's running in the same conditions," said Ankeny coach Jon Lindaman. "I think some of the guys were shocked at how fast the state field goes out. When you have a meet like this, there's no bad runners. It's hard to move and pass in the middle of the race because everybody here is good."
Hill was Ankeny's top finisher for the seventh consecutive meet. He placed 41st in 16:51.
"I wasn't super happy with it," Hill said of his race. "I was hoping for top 25–somewhere around there was my goal. But we'll be back next year."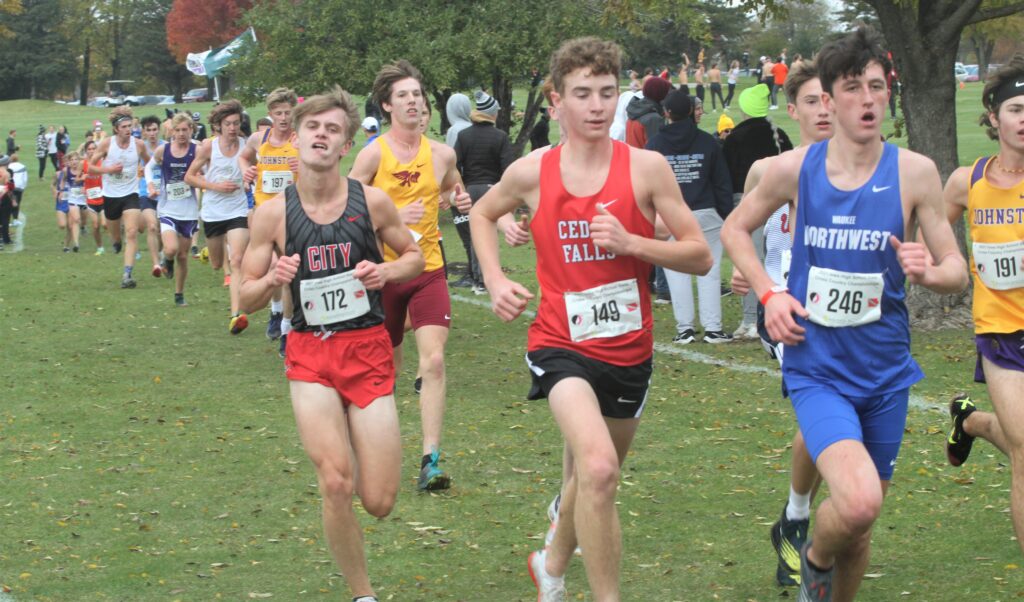 Hill said the Hawks maybe weren't prepared for the tough conditions, but was not making any excuses.
"Everyone's dealing with the same thing," he said. "We haven't had a meet quite this cold this season, so that was something we needed to adapt to. We'll just have to plan a little better next time."
Bosch took 44th in 16:54. It was the closest he has been to Hill at the finish since the Bobcat Invitational on Sept. 9 at Marshalltown, where the gap was just 2 seconds.
"My coach wanted me to have Levi in my sights," Bosch said. "He's obviously a great runner, so as long as he's up there running his race and I can see him, then we're all set up to have a great race."
Bosch said the Hawks tried to adapt to the wet conditions before the race.
"It was tough, but honestly I think it made for more of an exciting race," he said. "We came out and we were laughing just thinking of the memories we were going to have with our wet feet after running in some puddles before the meet. We got used to it.
"I was happy (with my race). The atmosphere–I've never been in something like that during a race. It was fun," he added.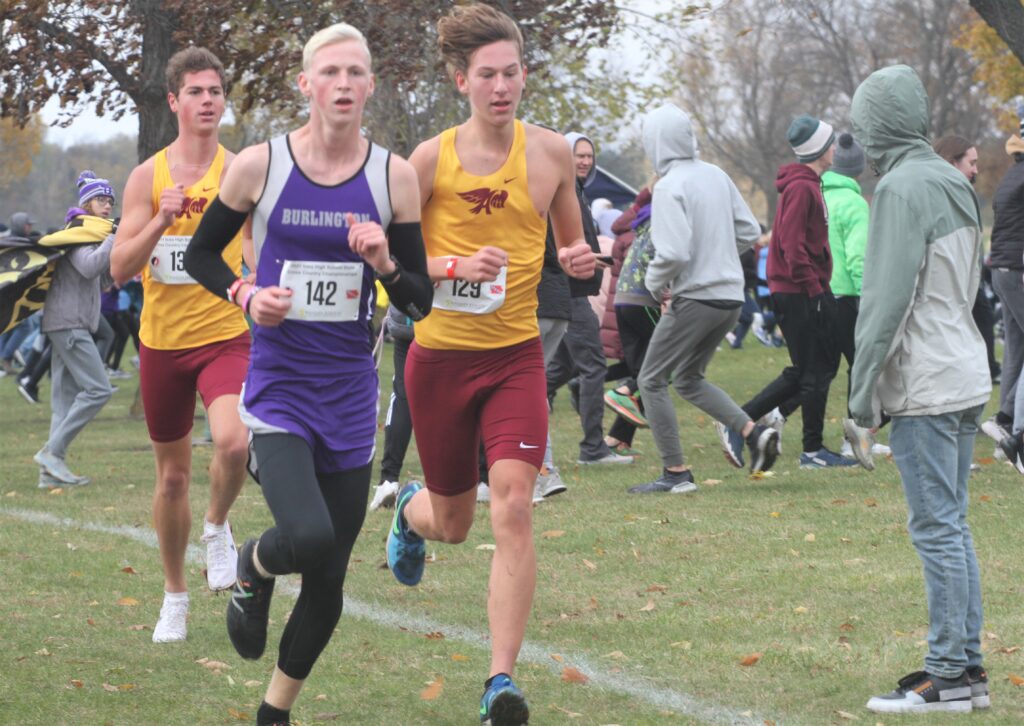 Ankeny's Abel Squires placed 82nd in a time of 17:24. Christian Rathje took 87th in 17:27, London Schuchart was 110th in 17:58, Levi Stember placed 112th in 18:05, and Truman Patterson finished 120th in 18:41.
The Hawks had a spread of 1:07 among their top five runners.
"Not a single one of our runners had any state-meet experience, so we're going to use this as a learning experience," Lindaman said. "We've got a lot of young guys coming back. Our seniors kind of laid a strong foundation for us, and they're really awesome kids and awesome leaders. They kind of set us up to have some success in the years to come."
Centennial had a spread of just 50 seconds, the sixth-smallest gap in the field. But the Jaguars didn't make up ground throughout the race, which is often their strategy.
"We did go out in the first mile like we wanted to," said Centennial coach Chad Fickbohm. "But then I guess we just didn't keep up the second half of the race. I don't know if we weren't focused or what. The guys are a little disappointed."
Tyler Schermerhorn led Centennial with a 49th-place finish. He posted a time of 16:56.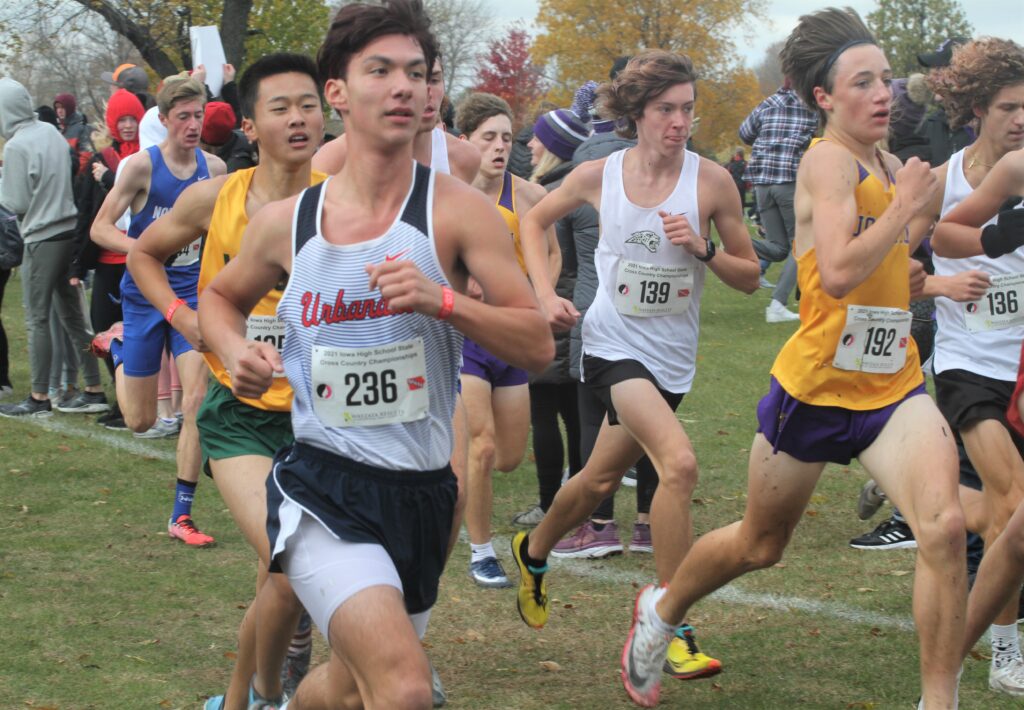 "It's disappointing not having the race we wanted to," said Schermerhorn. "I felt like Karsten Peters and I packed up well, and Cooper (Majors) was right with us. I know AJ (Schermerhorn) was disappointed not being able to stick with our pack, but the large (field) and soggy course definitely affected him. But I know he will learn from his experience today and be ready for next year."
Peters took 57th in 17 minutes. Majors placed 65th in 17:08, and AJ Schermerhorn finished 97th in 17:39.
"AJ did say he got boxed in a couple of times, and he couldn't quite get up with (the pack)," Fickbohm said. "But we knew the field was going to be fast. You're not going to reel people in like we've been able to, and it showed."
Centennial's Carter Lust placed 105th in 17:46. Noah Segar was 115th in 18:11, and Parker Lundberg finished 119th in 18:40.
Fickbohm refused to blame the conditions for his team's subpar performance.
"This is the best weather we could have for a state meet–because at least we're here," he said. "It's just a disappointing end to a good season, but hopefully we'll be back next year."