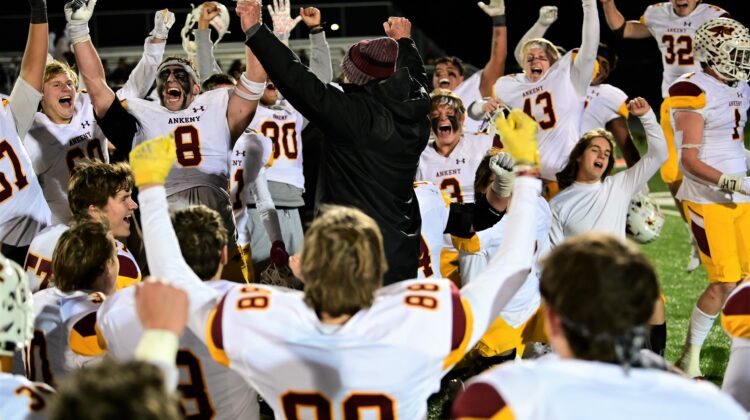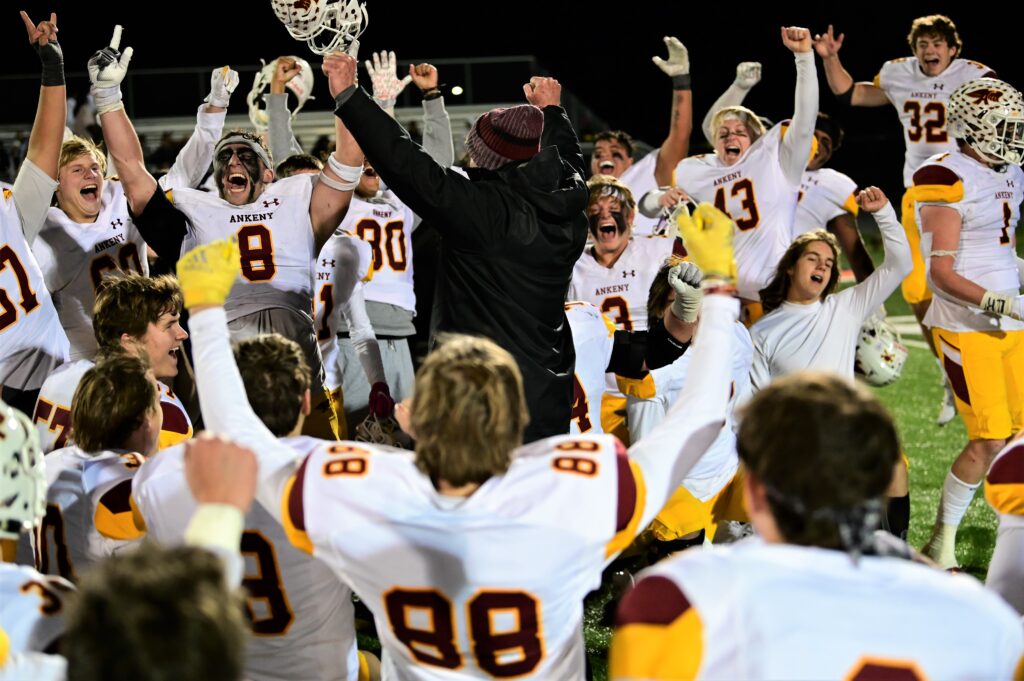 On a windy night in Cedar Rapids, the Ankeny football team turned to its power running game to earn another trip to the UNI-Dome.
Colin Kadolph rushed for 78 yards and a pair of touchdowns in the second half, and the fifth-seeded Hawks dominated the final two quarters to defeat fourth-seeded Cedar Rapids Prairie, 37-7, in the Class 5A quarterfinals on Friday.
"We ran the power," said Ankeny coach Rick Nelson. "I told them (at halftime), 'We're going to run the freaking power.' That was it. We're running the power, and we did.
"I was proud of our team. I'm happy for our school, and I'm proud of our coaches. Go Hawks, baby!"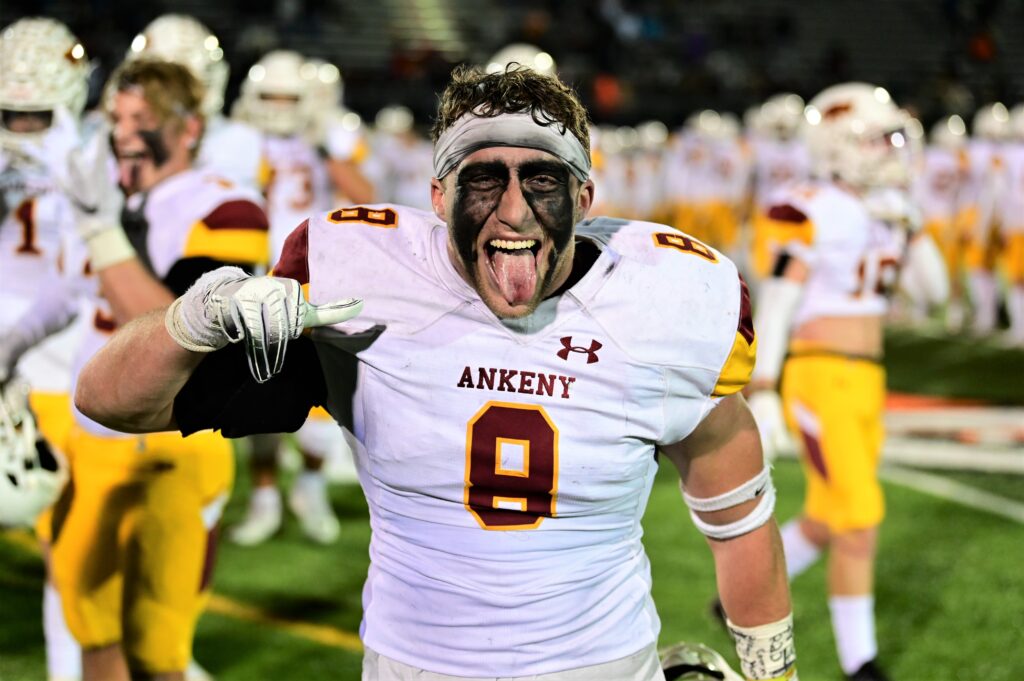 Ankeny (9-2) advanced to the semifinals for the second straight year. The Hawks, who won the Class 4A crown last season, will play third-seeded Valley (9-2) on Friday at 4 p.m.
Top-seeded Southeast Polk (10-1) will play Iowa City High (10-1) in the other semifinal at 7 p.m.
"It feels good," said Ankeny defensive back Ryan Crandall, who had an interception on Prairie's third play of the game. "Going to the dome…it's something we always dream of."
Cedar Rapids Prairie (8-3) lost despite outgaining Ankeny by a 284-241 margin. Prairie moved the ball well at times with its veer offense, but Ankeny recorded five sacks and also forced three turnovers, including an interception by defensive back Will Cornwell that he turned into a pick-six.
"We watched a lot of film," said Cornwell. "I just think our linebackers did it all. They really read their guards well. We knew a lot of it was going to be on our linebackers. If they could read it right and do their job, we could get some pressure on them. Tamden (Webb-Tate) was in the backfield on every single play. It was a great game by him."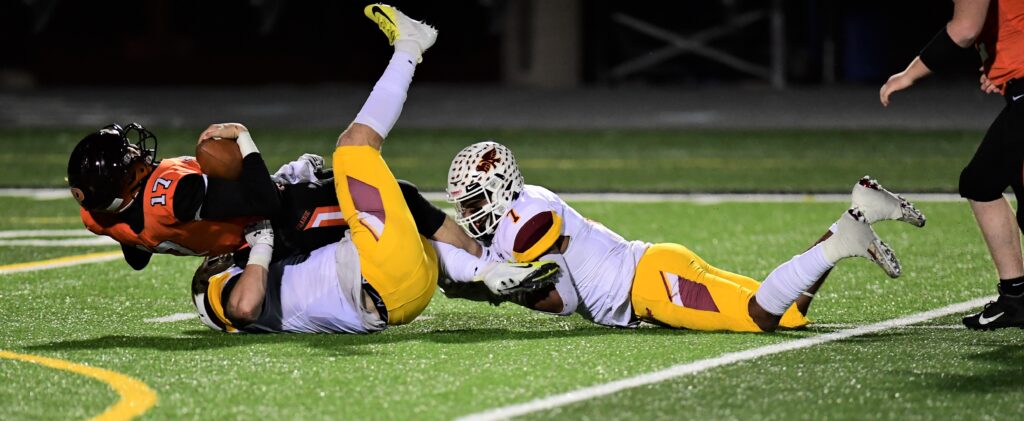 Ankeny led by just 7-0 at halftime. The two teams combined for just 153 yards of offense in the first half.
The Hawks drove 57 yards in eight plays on their second possession of the game. A touchdown pass from JJ Kohl to Brady McCullough was wiped out by a penalty, but the duo then connected for a 20-yard scoring pass on the next play.
"We knew that was going to happen all night with that high safety coming down like that and me having 1-on-1 with the corner," said McCullough, who caught three passes for 36 yards. "So we took advantage of that every chance we could."
Prairie tried to answer on the ensuing drive. Quarterback Brandon Vicko completed a 25-yard pass to Trey Peterson after an incredible scramble to avoid a heavy Ankeny rush, then later tossed a 43-yard scoring pass to Jake Walter early in the second quarter.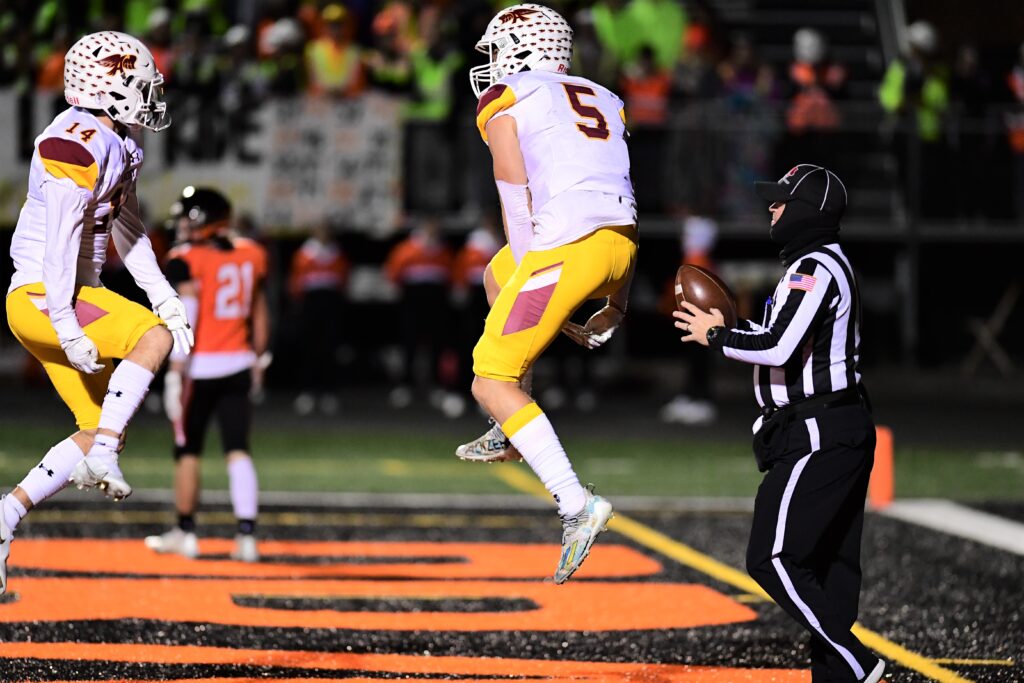 However, the touchdown was nullified by a holding penalty, and Prairie was eventually forced to punt.
Prairie was also unable to take advantage of a fumble by McCullough late in the half. Prairie took over at Ankeny's 49-yard line, but the drive stalled after the Hawks got a pair of sacks sandwiched around an unsportsmanlike conduct penalty against Prairie.
"Our defensive coaches had a great game plan," said Crandall, who led the Hawks with 10 tackles. "No one did what we did. I'm really proud of our defensive line. They got a lot of penetration on a big offensive line."
In the second half, Ankeny's offensive line took over. The Hawks drove 69 yards in just five plays to open the third quarter.
After Kohl fired a 37-yard pass to Maddox Ward, Kadolph ran 7 yards up the middle and then dashed 23 yards to the end zone on the next play, spinning away from a couple of tacklers along the way.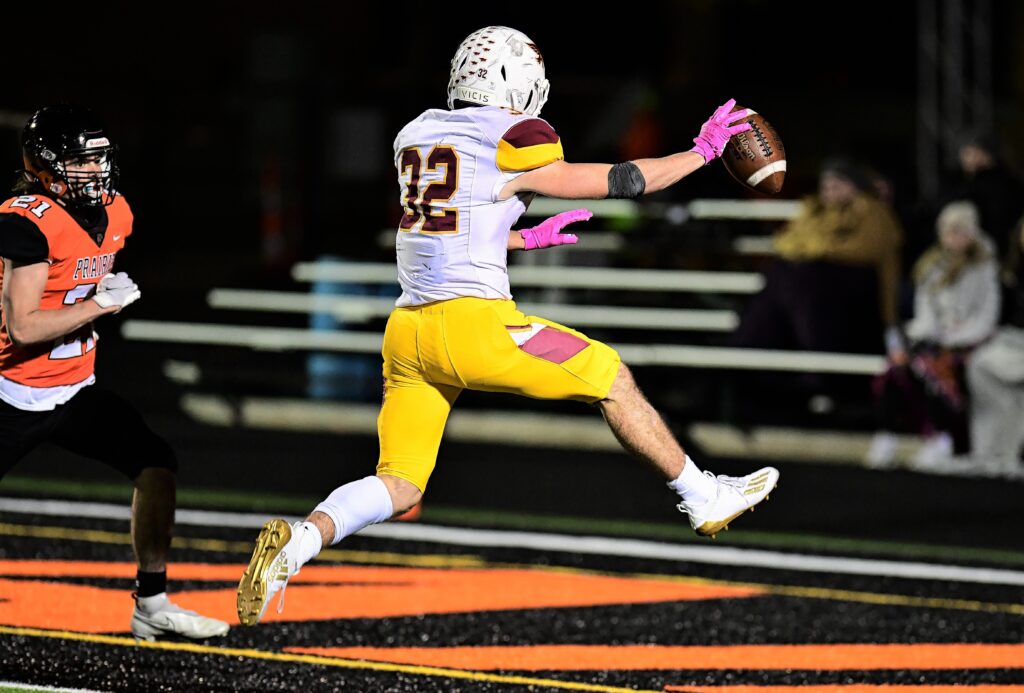 "We noticed that our power was working, so we kept running it," said Kadolph, who finished with 116 yards on 18 carries.
Following a short Prairie punt into the wind, Ankeny needed just three plays to go 39 yards on its next possession. Kohl threw a 16-yard pass to Will Hinrichs, then Kadolph followed with runs of 11 and 17 yards to make it 21-0 with 6 minutes 45 seconds left in the third quarter.
"Once we establish the running and passing game, it's pretty hard to beat our offense, especially with the defense that we have," McCullough said.
Prairie followed with a long drive into Ankeny territory before a pass from Vicko slipped through Peterson's hands and into the arms of Cornwell, who then raced 66 yards down the sideline for his first career touchdown.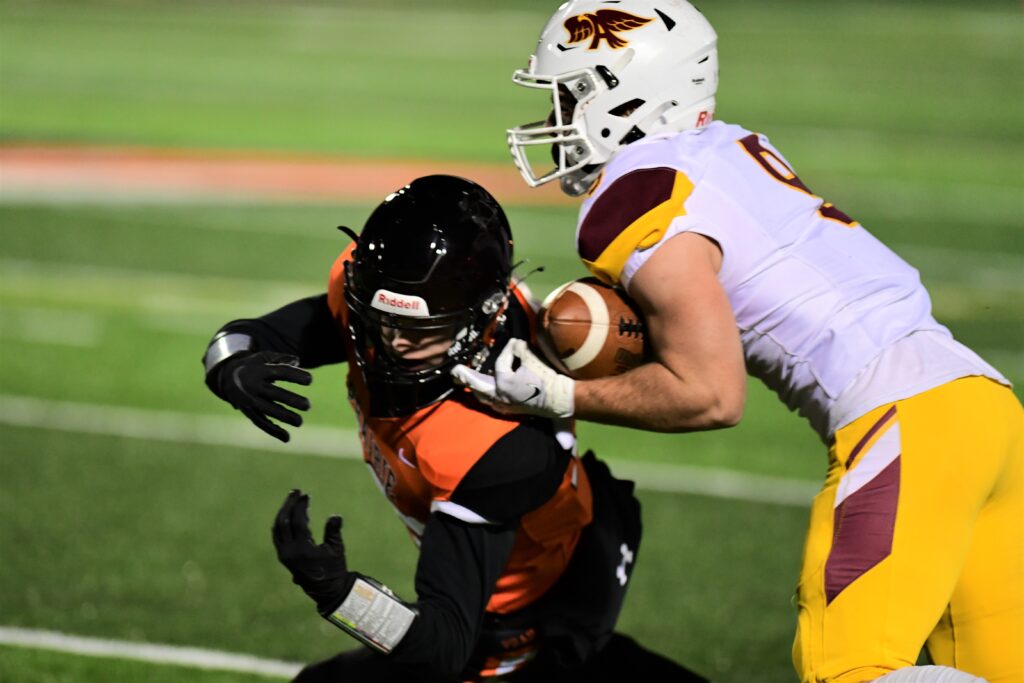 "I saw (Peterson) coming up, and I thought he was going to keep going on a wheel route," Cornwell said. "But then he just kind of sat, and I went for the ball and it just came to me."
Prairie's lone touchdown came on a 49-yard pass from Vicko to Elijah Ward with 2:10 left in the third quarter. It capped a six-play, 80-yard drive.
Ankeny has allowed just 24 points in its last five games since dropping a 38-35 decision at Valley on Oct. 1.
"Our defense played great," Nelson said. "I was proud of them. That's a tough team to defend, and nobody's done that to them all year."
Ankeny recorded a safety with 9:20 left in the game when Prairie snapped the ball out of the end zone on a punt attempt. The Hawks then drove 49 yards in six plays on the ensuing drive and capped the scoring on a 9-yard run by backup running back Nate Nessa.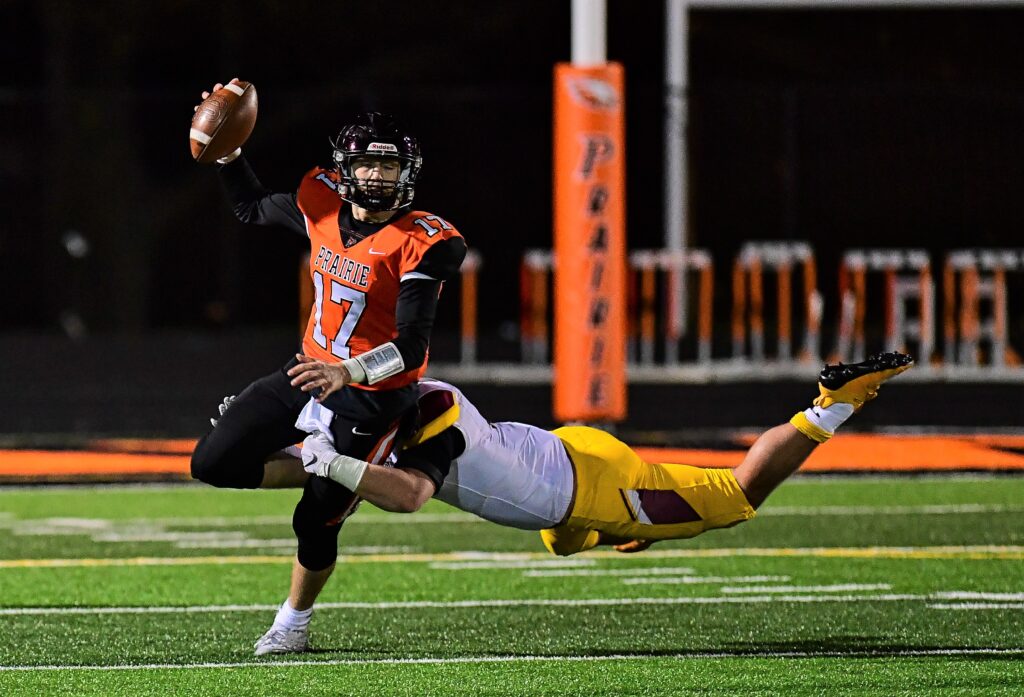 Ankeny will now get a chance to avenge one of its two losses. Valley advanced to the semifinals with a 40-14 victory over Pleasant Valley.
"It's an unexplainable feeling to get to go play in that dome," said McCullough, who is headed to Northern Iowa next year. "I'm excited and really looking forward to it."
Last year, Ankeny knocked off seven-time defending champion Dowling Catholic in double overtime in the semifinals before routing Southeast Polk in the championship game.
"We loved it so much that we decided to do it again," Cornwell said. "What can I say?"