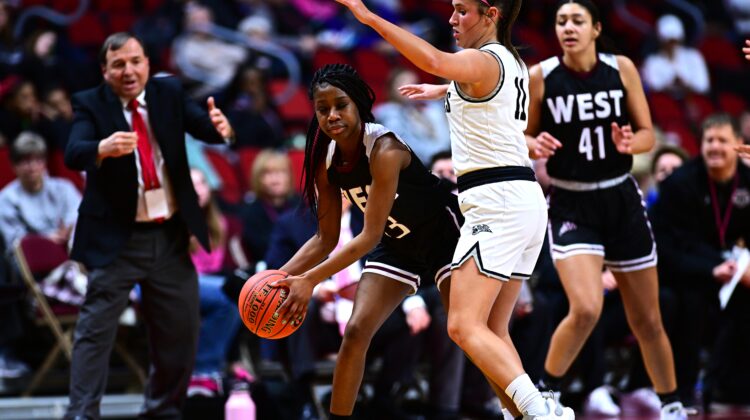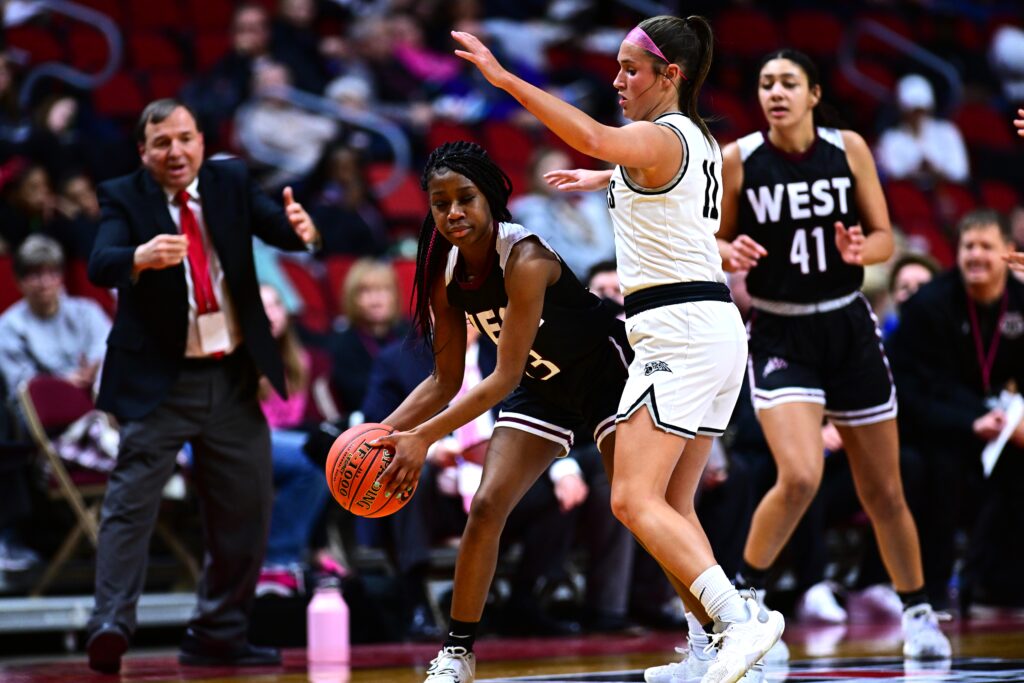 Before they coached against each other on Monday at Wells Fargo Arena, girls' basketball coaches Scott DeJong of Ankeny Centennial and Dr. Anthony Pappas of Waterloo West had a few moments to reminisce.
It was 25 years ago that the two coaches battled in an epic state tournament game at Veterans Memorial Auditorium, which was also known as "The Barn".
DeJong, who was in his fourth season at Ankeny at the time, guided the Hawkettes to an 85-81 victory over Pappas' Waterloo West squad in the Class 4A semifinals of the 1997 tournament. It took a record five overtimes to decide the outcome.
"I think about that game all the time," said Pappas. "I've got all the stat sheets in my filing cabinet. That was the greatest game in five-player history in the state of Iowa."
Ankeny held a 28-21 lead at halftime before the Wahawks rallied to tie the game, 59-59, at the end of regulation. Both teams scored six points in the first overtime and nine in the second extra period, leaving the game tied at 74-74.
Neither team scored in the next two overtimes. Both teams held the ball for a final shot and were unable to convert.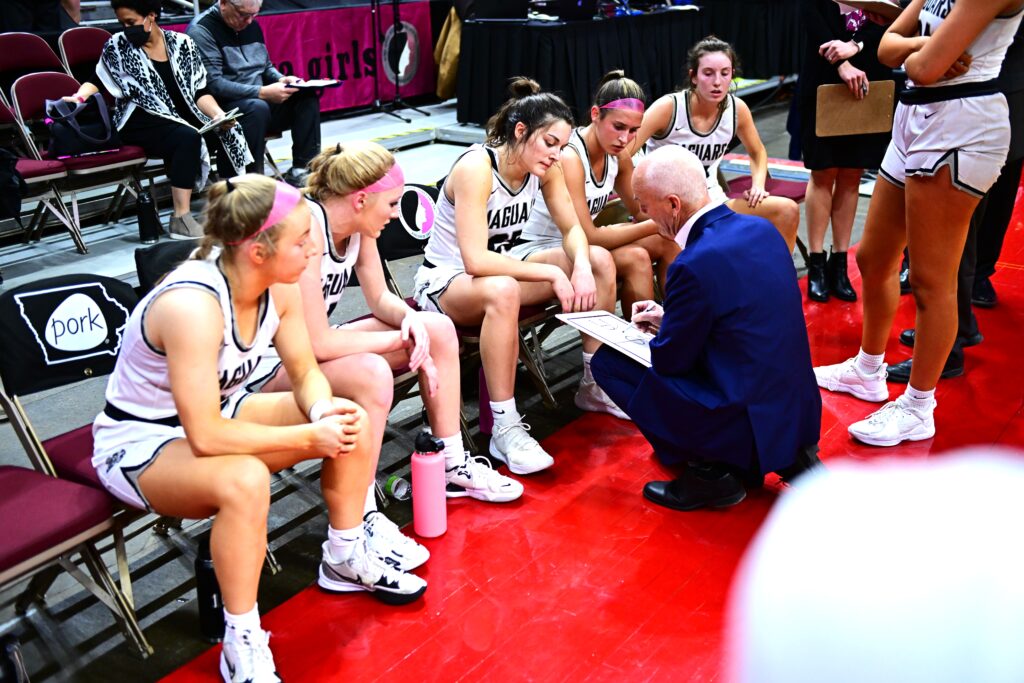 "It was a game that came down to, I can't remember how many, last-second shots for the win or the loss," Pappas said.
Ankeny finally took control in the fifth overtime. The Hawkettes outscored West, 11-7, to end the marathon contest.
"For that year, they didn't jump at the overtimes–they flipped a coin," said Centennial assistant Dennis Albertson, who was also DeJong's assistant back then. "I won the third and fifth flips so I guess I won the right one at the end."
Sophomore Erica Junod, who went on to play for Iowa State, led Ankeny to the win. She scored 20 of her 26 points in the five overtime periods.
Junior Traci Jones–a future Creighton player–had 25 points for the Hawkettes, who went on to post a 44-43 victory over defending champion Dowling Catholic in the title game.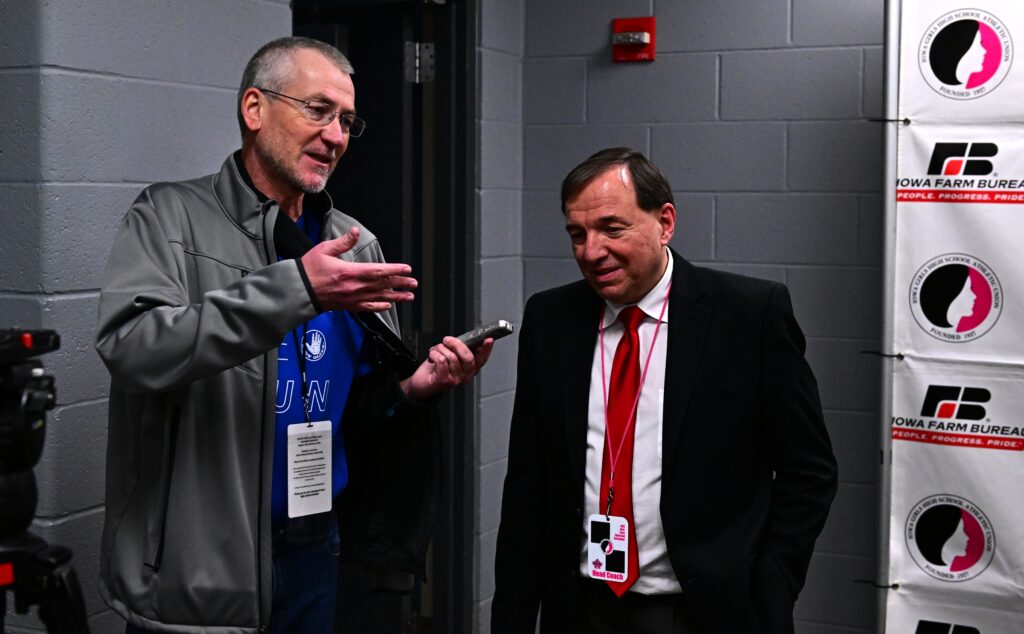 "That was an outstanding ball game all the way around," Albertson said. "(There were) tremendous players on both sides, and we were real lucky (to win). What I really remember is we worked so dang hard to win that ball game, and that wasn't the final. The next night everybody thought we wouldn't have any legs left, but we came back and won it."
It was the first state championship for DeJong, who won another crown at Ankeny in 1999 when the Hawkettes rallied from a 13-point deficit to beat Waterloo West, 42-37. Ankeny then won a record four state titles from 2002-05, which included a 29-27 win over West in the 2002 championship game and a 49-39 victory over the Wahawks in the 2003 semifinals.
DeJong moved across town to Centennial in 2013 and won his record seventh state title in 2016. He owns 667 career wins, which trails only West Marshall's Fred Zeller on Iowa's career victory list of active coaches.
Pappas ranks third on the list with 631 wins after the Wahawks defeated Centennial, 67-59, in the Class 5A quarterfinals.
"We've both been coaching a long time, and we were reminiscing before the game," Pappas said. "That was an epic game back in 1997, but today we played a great game against a great team in Centennial. We were just determined not to lose, and we didn't. We came out on top."
Pappas can earn his 600th victory at West on Thursday in the Class 5A semifinals against Valley.