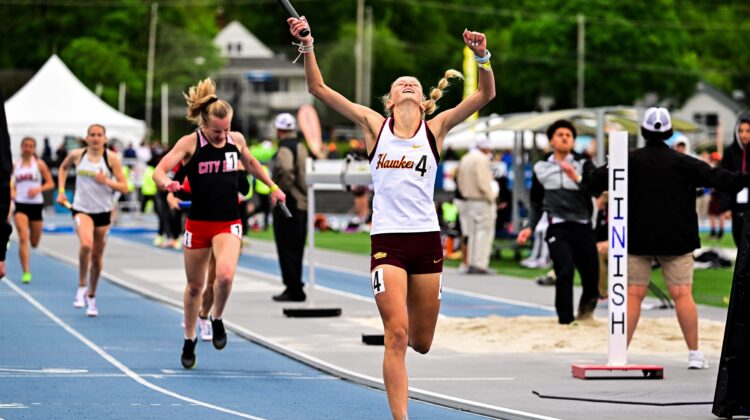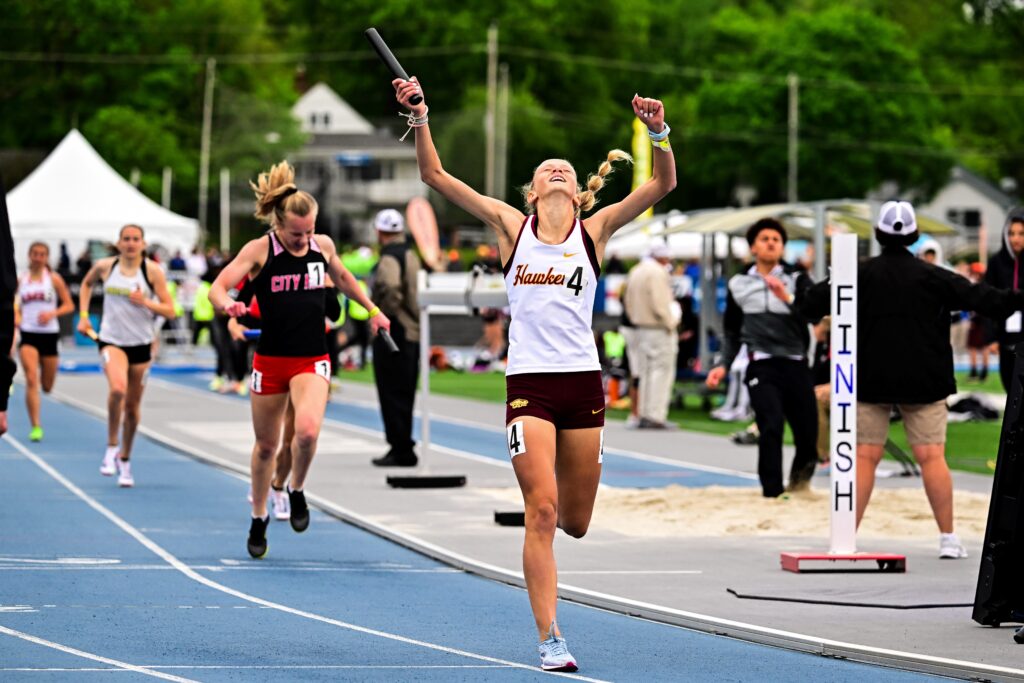 When the Ankeny girls' distance medley relay team stepped on the track Friday morning at the Class 4A state meet, the Hawkettes were not only racing against some of the state's top squads in the final section of the event.
Ankeny was also racing the clock.
Defending champion Cedar Rapids Prairie got a 2:13.39 anchor leg from Gabby Cortez and won the second section in a time of 4:07.96.
"When I saw their time posted on the wall, I was nervous but I knew we had the full potential to compete with that time," said Ankeny senior Eva Fulk. "I was excited to see what we could do, and I think we really proved ourselves today."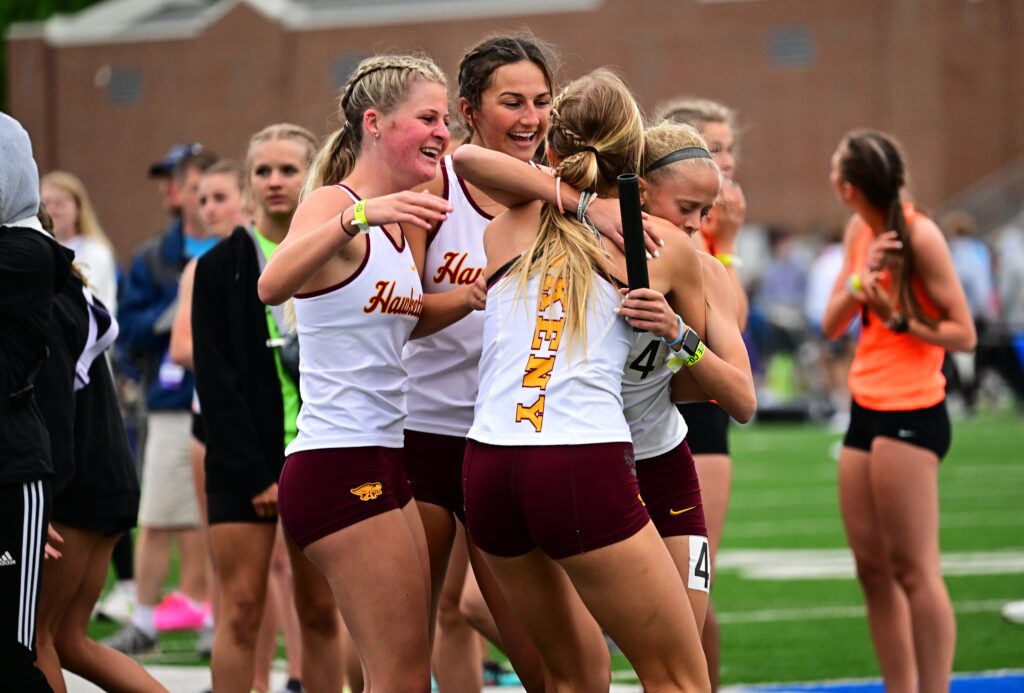 Ankeny captured its first-ever state title in the event by winning the final section in 4:05.44. The foursome of Lillian Smith, Zoe Shadravan, Fulk and Alli Macke broke a school record that had stood for 43 years.
"The race went just about as we had planned," said Ankeny coach Thomas Cotter. "Prairie would throw down a time that we would have to go chase, and we felt our 800 runners were comparable and it would likely come down to who had a faster front end. Lillian, Zoe and Eva all did a tremendous job."
Ankeny was in first place when Fulk handed the baton to Macke, the Hawkettes' star freshman.
"I was fully confident she'd be able to take it home," Fulk said. "She's such a great competitor and an amazing contributor to the Hawkettes' program. I knew she would fight until the very end and give it all she had."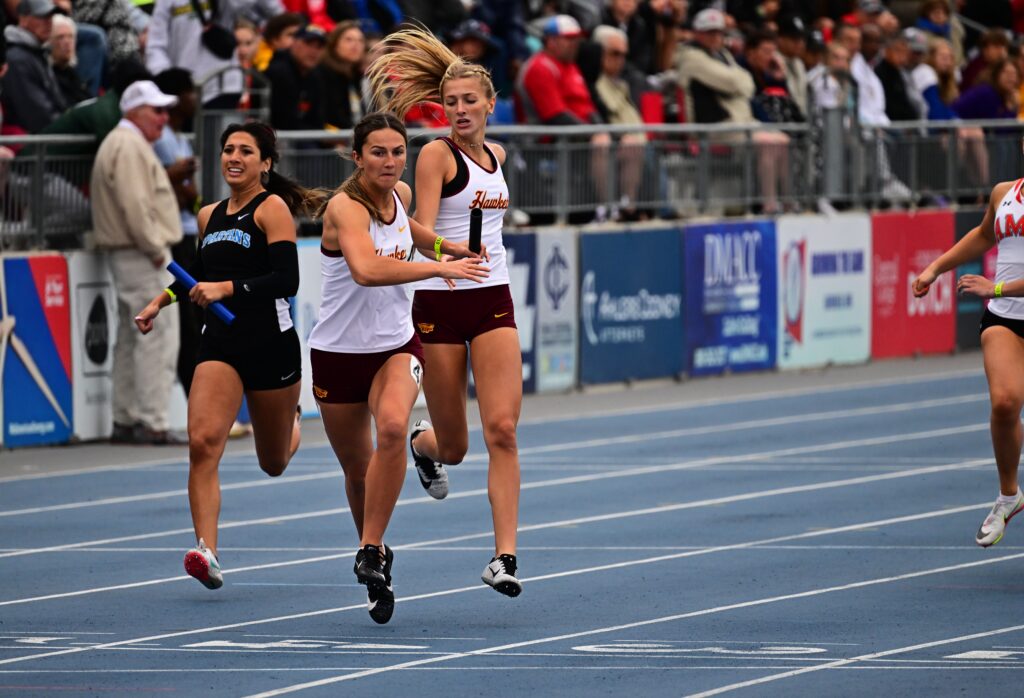 Three of the state's top 800 runners–Ani Wedemeyer of Iowa City High, Grace Boleyn of Pleasant Valley and Keelee Leitzen of Dubuque Hempstead–all took their turns trying to pass Macke in the final two laps. Wedemeyer ran a 2:10.40 anchor leg, but it wasn't enough to catch Macke, who ran a split of 2:12.90.
Iowa City High placed second in 4:07.10.
"It's so crazy to be a state champion, and I'm still in shock," said Macke. "The other 800 runners were crazy competitive. I knew those girls were coming so I had to really kick it. By the last 100, I saw someone come up next to me and knew I wasn't going to let myself get passed right at the end. But it was a fast race, and it still feels unreal to be state champs."
It's the second relay state title for Fulk, who ran on Ankeny's winning 4×100 relay as a freshman in 2019.
"This title holds the same meaning to me in my heart," Fulk said. "It is a little different, though, because it meant a lot to run with girls from all different ages. I also have known Zoe, Lilly and Alli for many, many years, and it was amazing to be able to share this huge accomplishment with people I love!"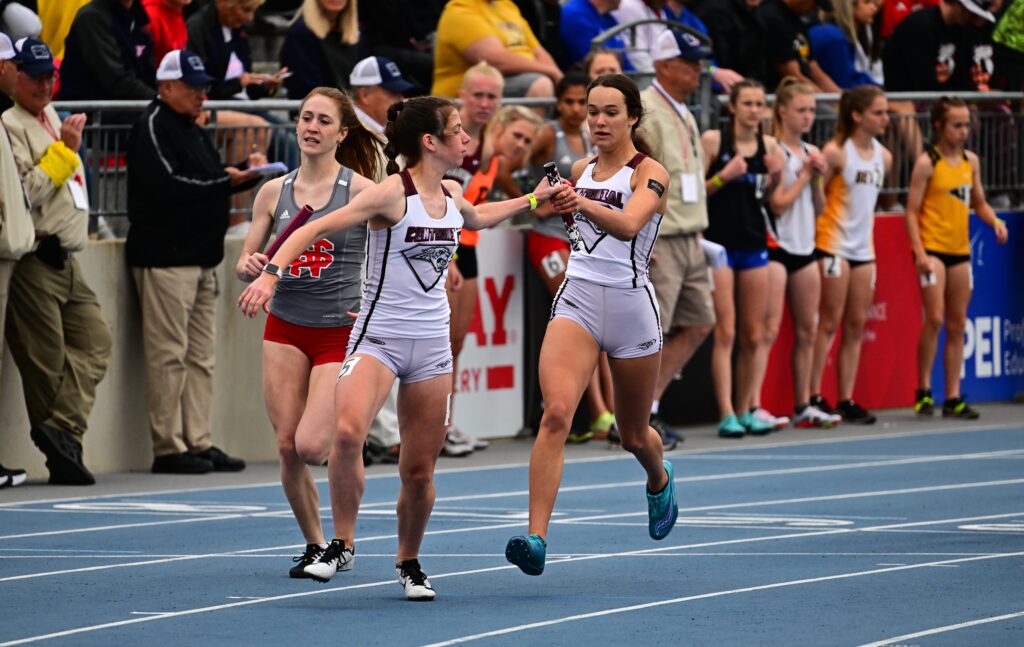 Ankeny Centennial also competed in the distance medley relay. The foursome of Addison Arringdale, Maraye Breeding, Olivia Kroska and Rondi Quass placed 14th in a time of 4:17.62.
"Today was a mixed bag, as most state meets are, and especially with a young group of runners," said Centennial coach Andrew Kruzich. "We thought we could run a 4:13 in the (distance medley), and if we did we thought we could squeak a medal. But it would take four girls running their lifetime bests, and we weren't quite there today."
The Hawkettes also got a second-place finish from Kendra Winfrey in the shot put. She uncorked a throw of 39 feet 11 inches on her final attempt to move up from fourth place.
"It's a phenomenal feeling to come home with a runner-up title. It obviously would have felt better to win a state championship, but there is always next year," said Winfrey. "I wanted to place so beyond bad and so I knew it had to be a heck of a toss (on my last attempt). I felt the throw and to be honest it felt like any other throw, but the hang time was way greater than any previous throw which is always a good sign. And it just so happened to go far enough to get me a runner-up finish."
Caitlyn Cox of Valley won the event with a toss of 40-7.25. Ankeny's Ja'Dein Madison did not place after scratching on all three of her attempts in the preliminaries.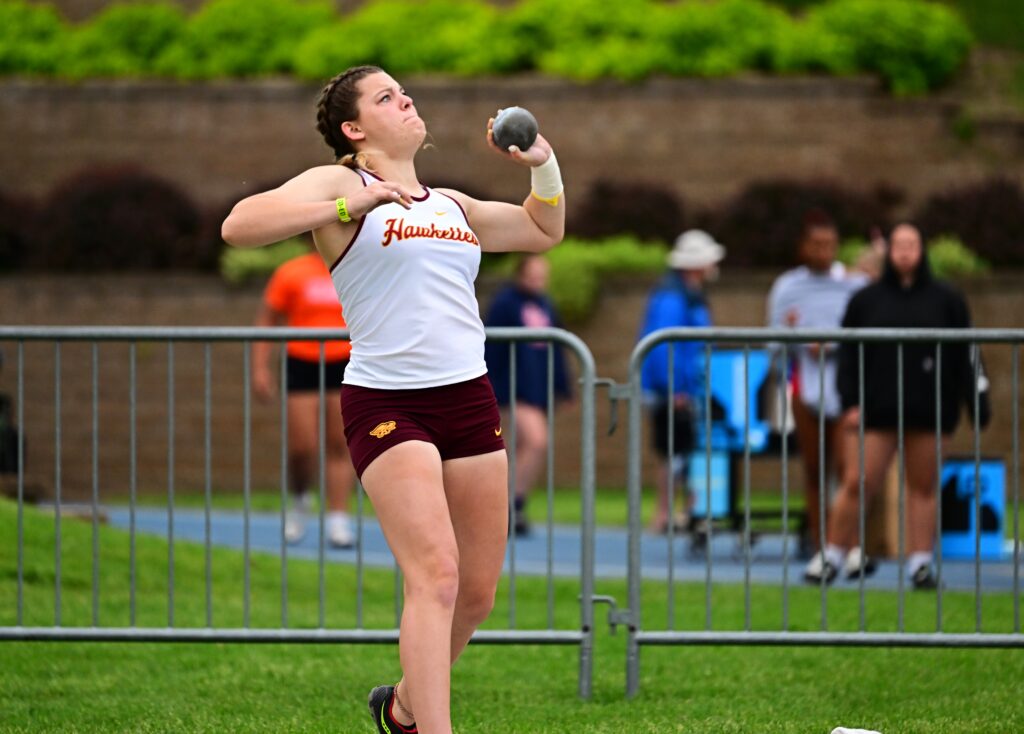 Winfrey was seeded seventh coming into the meet.
"I was so happy for Kendra," Cotter said. "She has been dialed in all season and to throw that bomb on her last throw was so exciting."
Cedar Rapids Prairie leads the Class 4A field with 34 points heading into Saturday. Ames and Valley are tied for second with 32 points, and Ankeny is fourth with 28.5.
"We were due for a day like today after (Thursday) did not go exactly as planned," Cotter said. "We talked all week how this state meet there would be low moments and high moments, and we hope to continue our hot streak into (Saturday) to see how high we can finish."
Centennial, meanwhile, is in 15th place with 10 points. The Jaguars doubled their point total on Friday as freshman Kylin Smith placed fourth in the 400 hurdles with a time of 1:05.84, which broke the school record.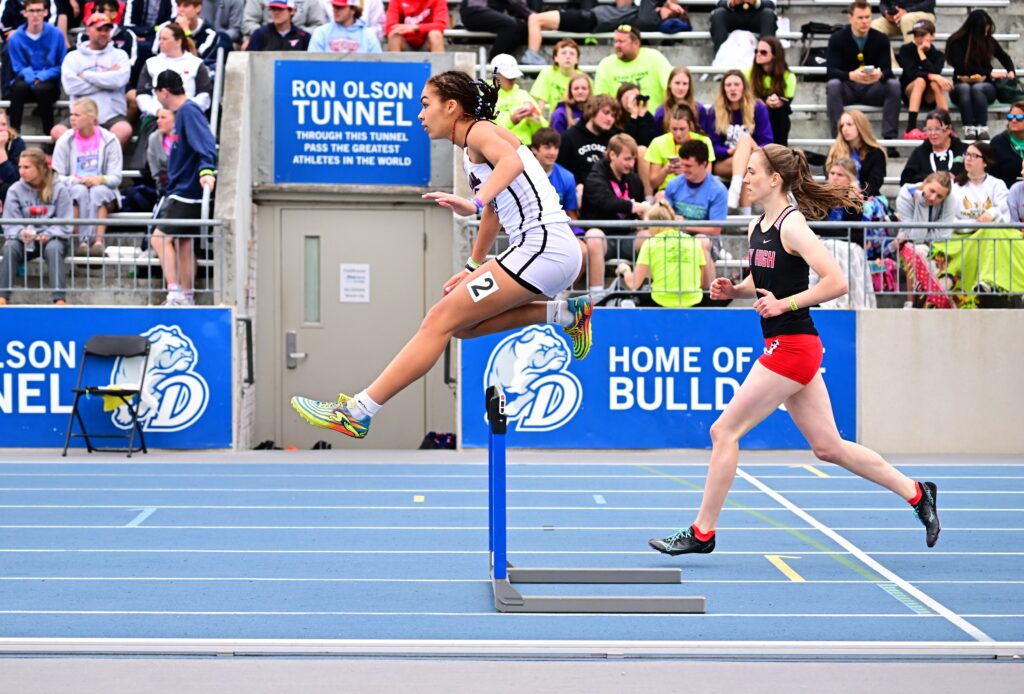 "Going into the race, I felt very confident in myself and my abilities which continued through the finish line," Smith said. "My only focus was not hitting any hurdles and beating our school record as a freshman. After I passed the finish line, I looked over at the scoreboard and saw that I had beat my own personal record as well as the school record."
Smith won the second section, then had to await the results of the final section. Mackenzie Carney of Waukee Northwest won the title in 1:03.14.
Lillian Smith placed 12th for the Hawkettes in 1:07.31. Centennial's Kroska was 17th in 1:08.54.
"Kylin was great today, and so was Liv," Kruzich said. "They have both been up and down recently, mostly due to inexperience. Kylin got out way too fast at the SQM, due in part to being in an outside lane at qualifying. Being in lane two really helped her, and coach (Emily) O'Leary gave her a race plan to be more deliberate in the first half of the race. She came through in 31.1 and then went 34.7 on the second half of the race, which is what we wanted. She could see the field and what she had to do, and she went out and did it. Liv did the same thing. We're obviously really excited for the futures that both of these girls have."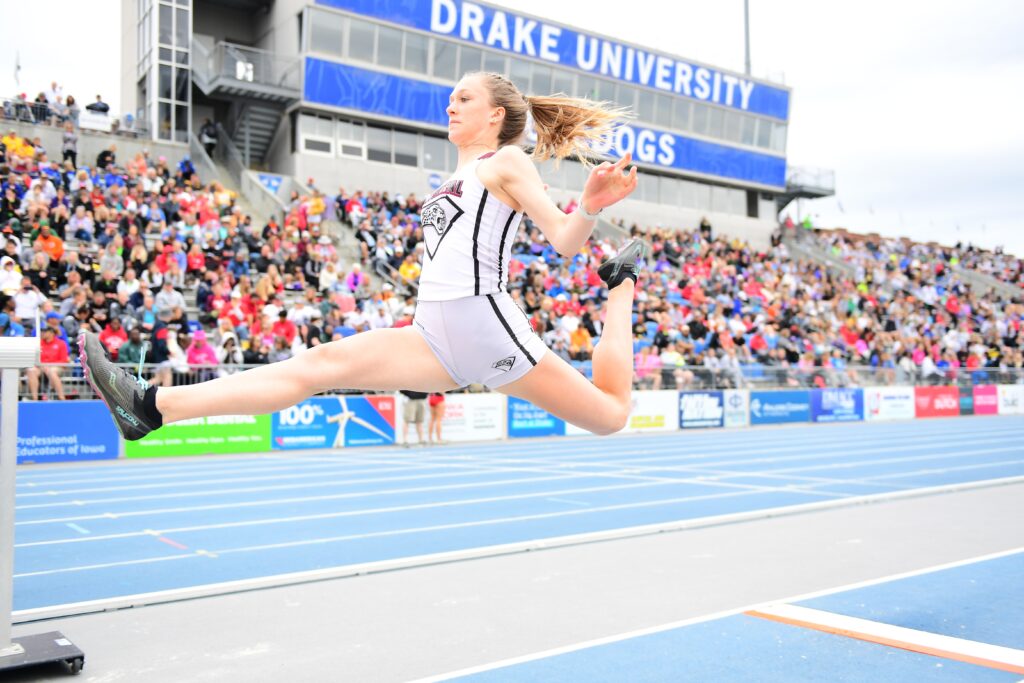 The Jaguars got a 16th-place finish in the long jump from Kambria Leazer, who jumped 15-9.5 on her second attempt and did not advance to the final. Holly Duax of Sioux City West jumped 18-6.5 to claim the crown.
"The long jump was disappointing, obviously," Kruzich said. "I think Kam felt a lot of pressure going in. For somebody who had never broken 17 feet before this month, and is just a sophomore, that's a big jump in expectations to be seeded second with an 18 foot-plus mark. She got all warmed up with the entire second flight, but then they let all the girls running the 4×100 get all three of their jumps in before letting the other girls jump at all. So she stood around for roughly 20-plus jumps and didn't get to run through or anything. So I'm disappointed in the execution of the event. It could have been managed more fairly. It's something the union needs to factor into its officiating practices."
Centennial placed 16th in the 4×200 relay with a time of 1:48.04. The team consisted of Averi Porter, Charli Brady, Malin Vallejo and Elle Street.
Ankeny took 19th in that event in 1:48.31. The squad was comprised of Kaitlyn Braun, Karsen Jacks, Kari Peterson and Jenna Pitz.
Ames won the race in 1:43.13.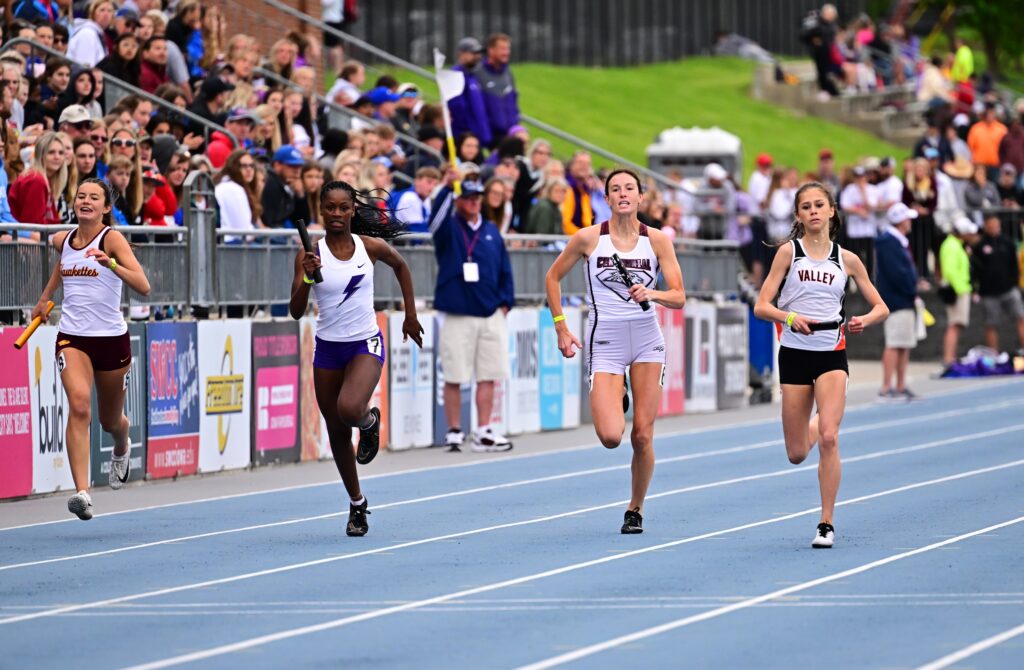 The Jaguars later took 12th in the 4×100 relay in 49.78 seconds, which was faster than last year's winning time. The quartet of Arringdale, Morgan Posusta, Mariah Belzer and Breeding missed qualifying for the final by .14 seconds.
"We ran a season-best time, and that group has been great for us all year," Kruzich said. "It was probably under 50/50 odds that we would make it, but it still stings to be that close and not make the finals."
Both teams then closed out Friday's session by running in the preliminaries of the 4×400 relay. The Centennial quartet of Julia Flick, Street, Vallejo and Addie Pollock placed 13th in a time of 4:08.05.
Ankeny, meanwhile, advanced to Saturday's final with the second-fastest time. The team of Sophie Loeffler, Fulk, Shadravan and Macke was clocked in 3:57.84.
Macke ran the anchor leg in 58.74 seconds.
"There are six schools in the mix for third place (in Class 4A)," Cotter said. "It's going to be a wild day (Saturday)."