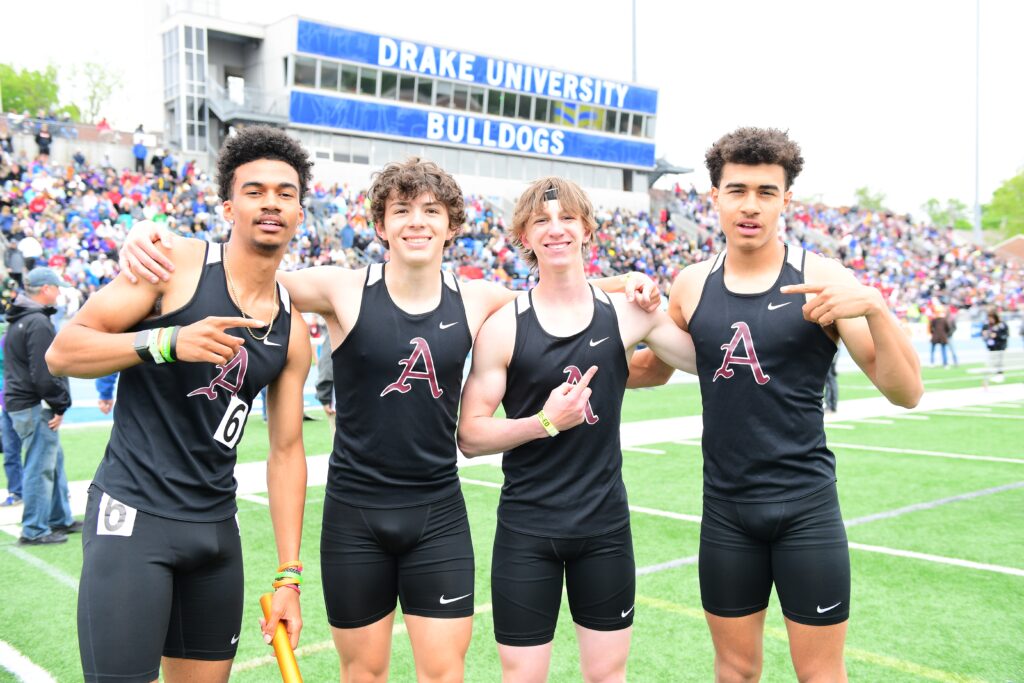 The strategy for the Ankeny boys' sprint medley relay team was simple.
Get the baton to anchor runner Tyrese Miller–the Class 4A 400-meter champion–within striking distance of the lead, and let him do the rest.
It turned out that Miller didn't need to make up any ground after all.
His teammates–Jack Belding, Tyler Sickerson and Tyson Miller–built a short lead on the first three legs of the race during the coed state track meet on Saturday at Drake Stadium. That allowed Tyrese Miller to pull away for a convincing victory.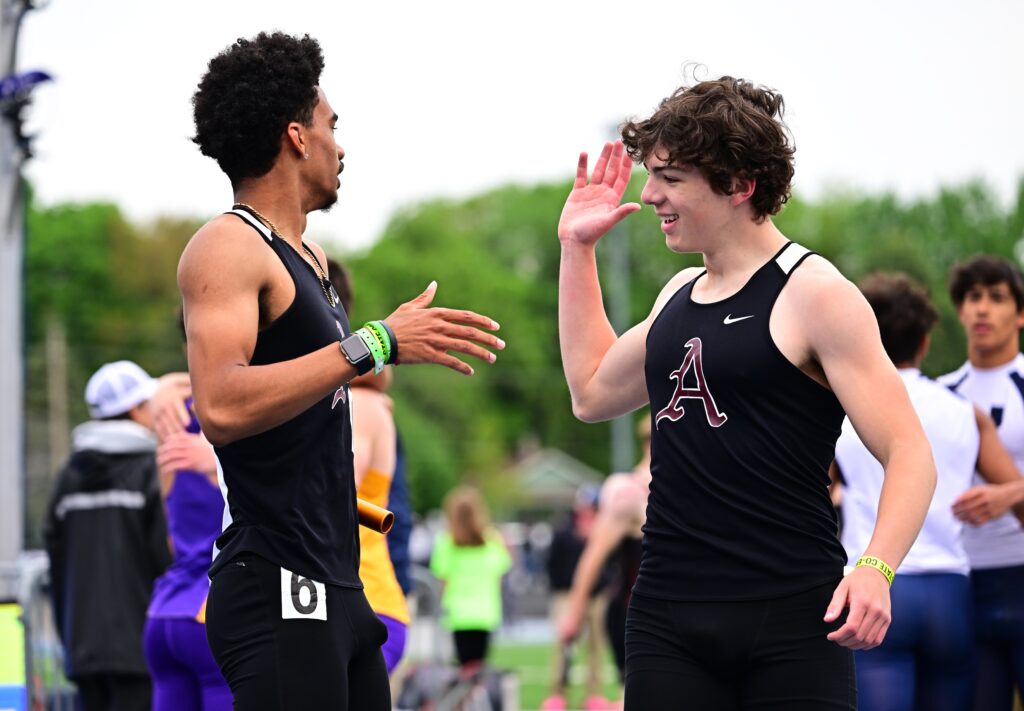 "It's pretty great," said Belding. "This is our second sprint med that we've run all year, so we're pretty happy about it. We were trying to be close to the lead because we knew Tyrese would be able to take it home. But we all ran well."
Ankeny posted a time of 1:31.46, the fifth-fastest clocking ever in Iowa. Dowling Catholic was a distant second in 1:32.87.
"It feels great. The feeling is indescribable," said Tyson Miller. "I had trust in (Tyrese). I knew he was going to come out on top. I just had to do my part. Run a good 200, and I felt like I did that."
As Tyrese Miller rounded the curve and headed into the homestretch, the outcome of the race was already decided. The Iowa recruit was now racing against the clock.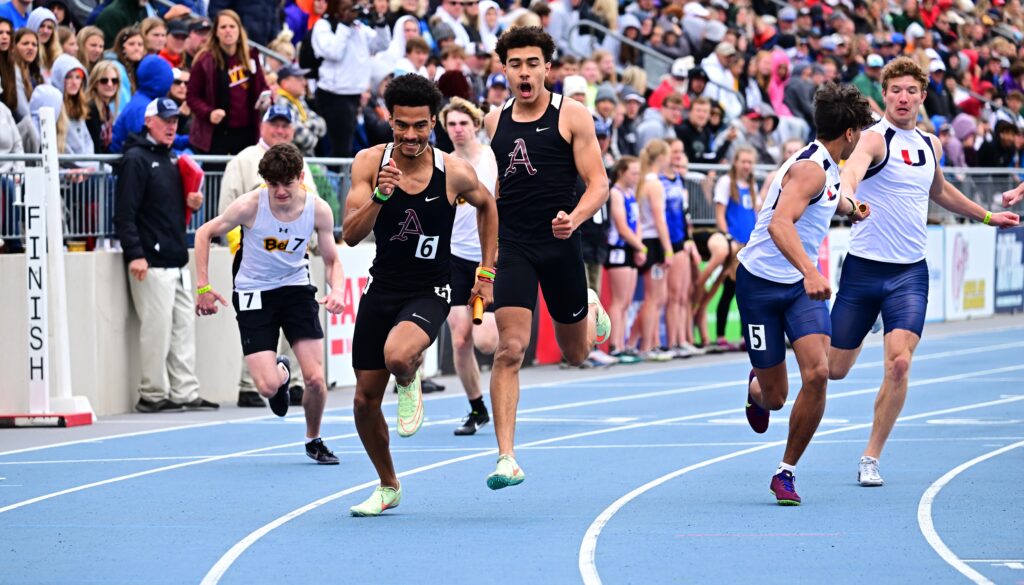 "We were trying to break the state record (of 1:30.92, which was set by Bettendorf in 2019)," Tyrese Miller said. "I just tried to run as hard as I could."
The Hawks won the sprint medley title for the first time in school history. It was Ankeny's first crown in any relay event since 2004, when it won the 4×400 for the third straight year.
Tyrese Miller got to share this victory with his teammates after winning the open 400 on Thursday.
"I feel like this one required a lot of teamwork," said Miller. "We all had to work hard throughout the season."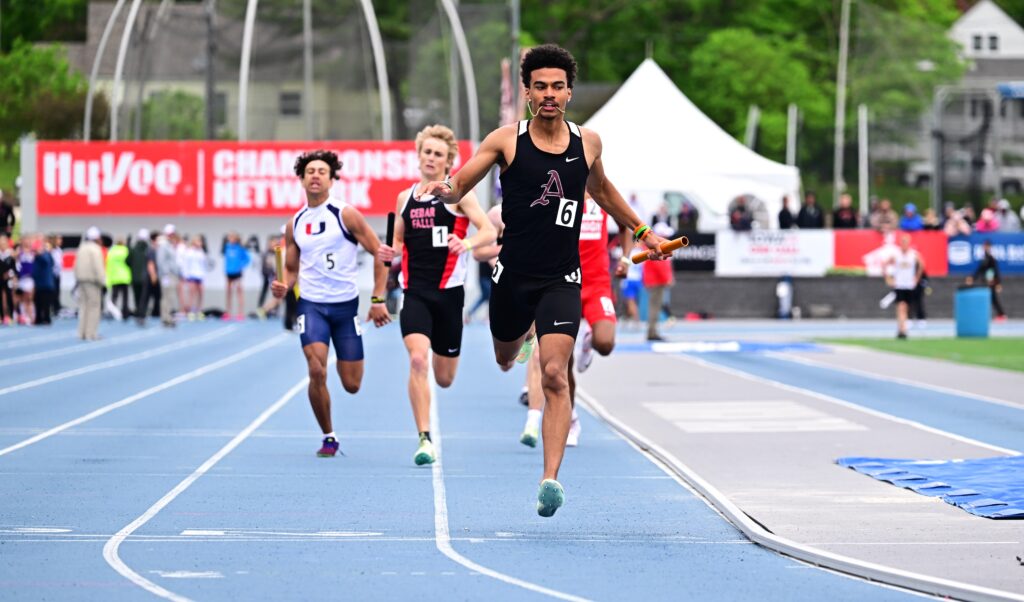 The win helped Ankeny to a third-place finish in Class 4A, allowing the Hawks to capture a trophy. It was their highest finish since back-to-back runner-up efforts in 2003-04.
Dowling easily won its first title with 93 points. Iowa City High was second with 63.5, followed by Ankeny with 53.
"It was a heck of a three days for us," said Ankeny coach Nick Nelson.
Tyrese Miller was hoping to win three individual titles, but he was prevented from reaching his ultimate goal by Dowling star Mikey McClain. McClain defended his title in the 100 in 10.33 seconds, then later took the 200 in 20.97.
Both of those efforts were all-time Iowa bests.
"It was a good weekend, but it didn't end the way I wanted it to," Miller said. "There was some good competition though, so I can't be too mad."
Miller placed third in the 100 in 10.60. Miles Thompson of Cedar Rapids Washington was the runner-up in 10.53.
On Thursday, Miller posted the fastest qualifying time of 10.85. No other runner was under 11 seconds.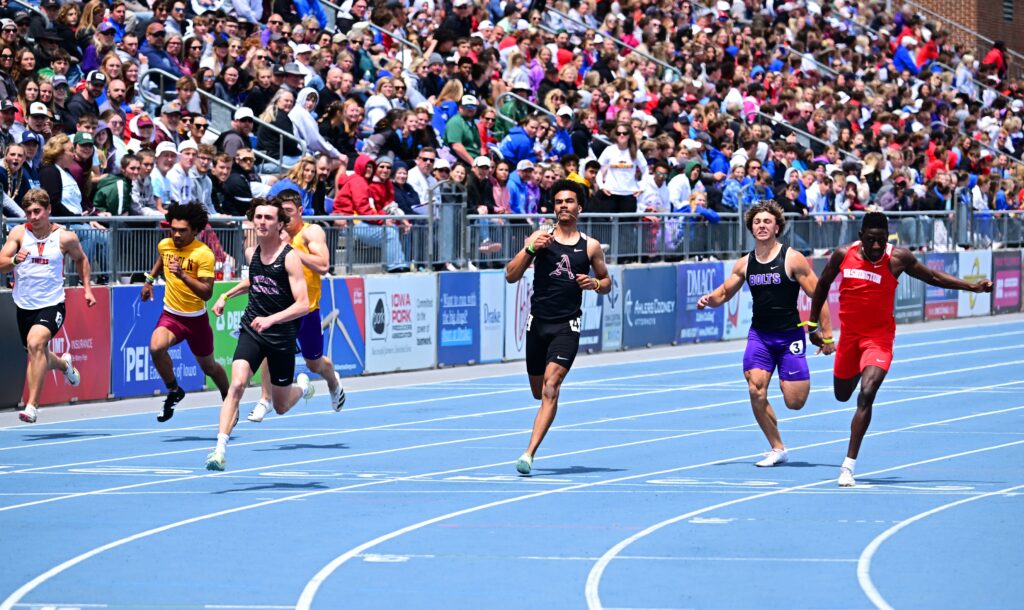 "If I'd known I was going to run 10.6, I would have thought I'd have won," Miller said. "But I didn't."
Miller then took second in the 200. He was clocked in 21.58, edging Thompson by the same margin (.07) that separated them in the 100.
Ankeny also picked up some valuable points in the hurdles events. The Hawks placed fifth in the shuttle hurdle relay after being seeded 16th in the event.
The foursome of Carter Accola, Max Watson, Landon Pote and Gavin Wise posted a time of 1:02.59. Pleasant Valley won the event in 58.96.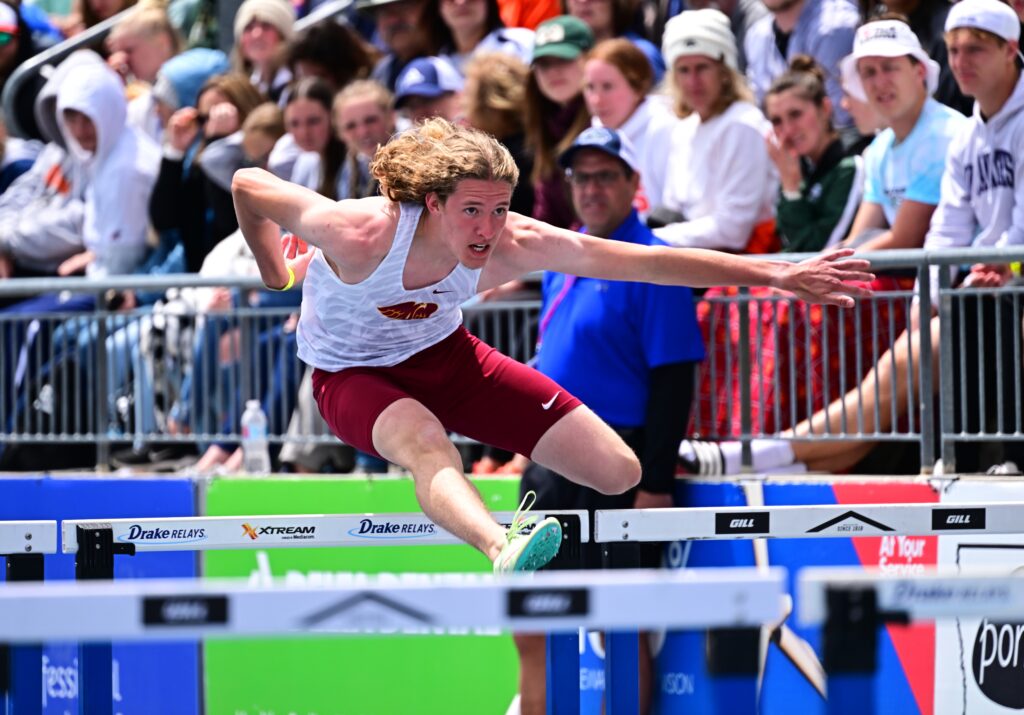 "We moved up quite a bit," Accola said. "So to come in and get fifth, you can't be mad about that."
Ankeny ran in the same section with Cedar Falls, which was disqualified for a false start. The Hawks then finished ahead of Cedar Rapids Kennedy and Norwalk–two teams that had posted faster times in the preliminaries.
"We're super happy," Pote said. "On Thursday we PR'd by almost a second, so we were hoping to get around that time again. I think we did pretty well. We were really just out here to give it our best. We're happy that we made it to the finals and scored some points."
Accola later placed fourth in the 110 hurdles. He posted a time of 15.03 seconds.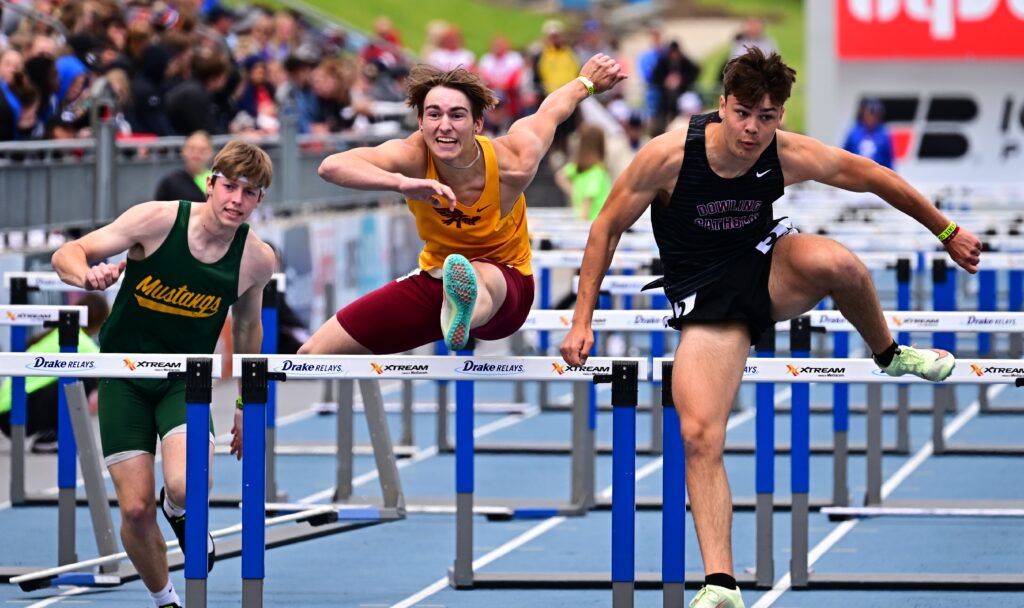 Eric Lucas of Iowa City Liberty easily won the race in 14.25.
"I knew Lucas would be (tough to beat), but I never gave up on myself," Accola said. "I hit a hurdle head on with my lead leg. I recovered well, but it is what it is. It's time to flush it and move on. I need to improve for next year. It's time to start getting ready for my senior year."
Ankeny and its crosstown rival later closed out the meet by running in the 4×100 relay. The Ankeny Centennial quartet of Alec Schneider, Connor Welsch, Owen Gates and Nick Severson placed fifth in 42.66 seconds.
The Jaguars–who posted the second-fastest time in school history of 42.40 in Friday's preliminaries–earlier dropped the baton and did not finish in the sprint medley relay.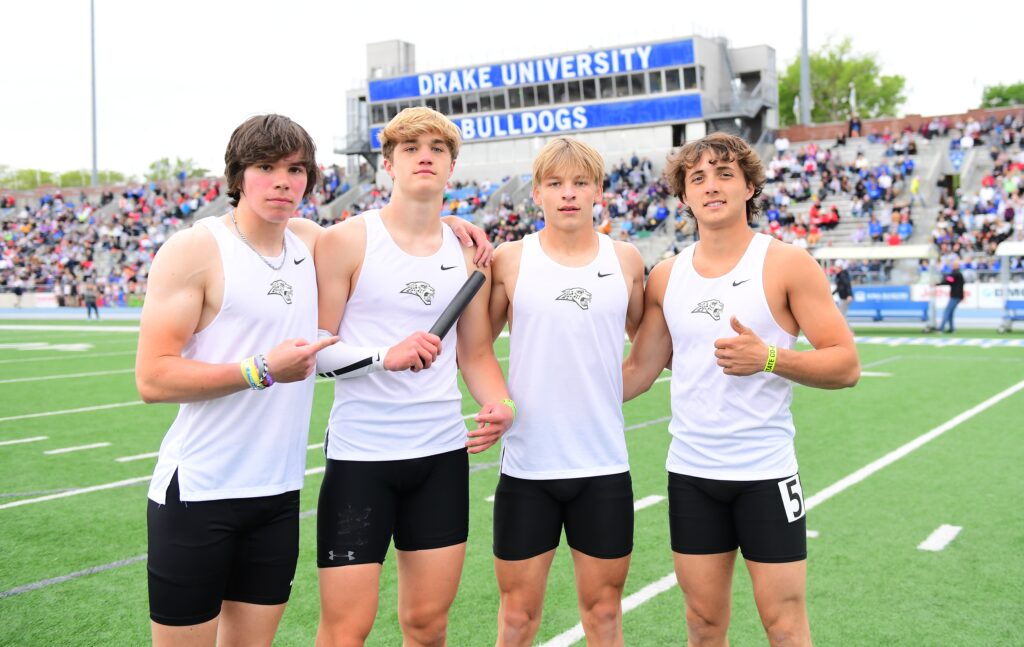 "That earlier sprint med kind of messed up some of us," said Schneider, whose team placed 25th overall with nine points. "But those type of things happen in life, and you've just got to learn from them. I love these guys and I've loved running with them all year. It was a pretty good season, and I'm happy with it."
Ankeny finished seventh in the 4×100 in 42.83. That team consisted of Colin Kadolph, Tyson Miller, Belding and Sickerson.
Dowling won the event in 41.76. But the Hawks picked up two crucial points that proved to be the winning margin over Linn-Mar (Marion) for third place overall after the Lions took third in the final event, the 4×400 relay.
"We were definitely hoping to be a little better time-wise," said Sickerson. "I thought my handoff was good, but I couldn't really see the other ones. It wasn't as good of a finish as I was hoping for, but we'll be back."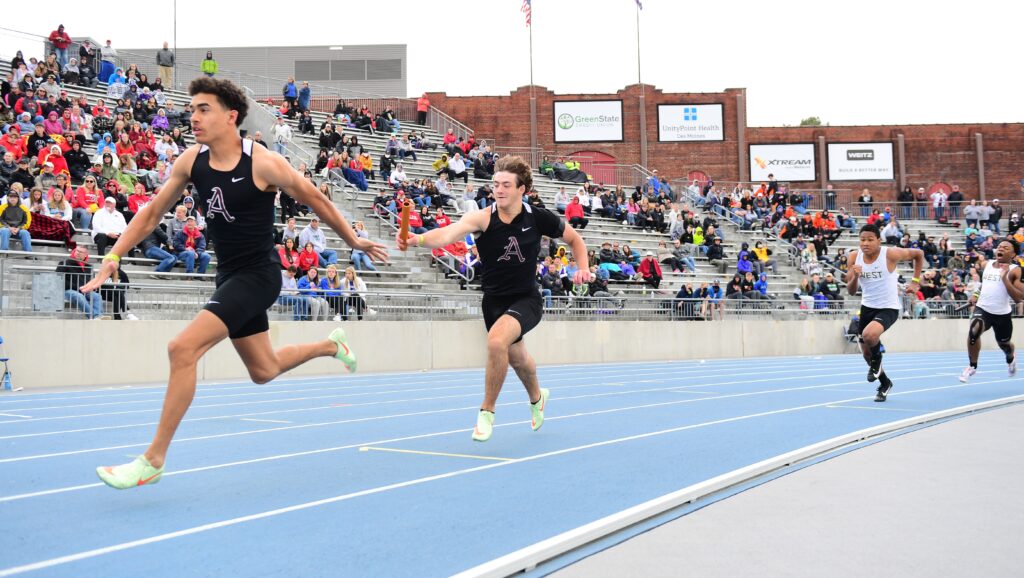 The Hawks also got a 10th-place finish in the 800 from Jake Bosch, who came out of the first section to post a time of 1:58.05. Centennial's Karsten Peters finished 18th in that event in 1:59.68.
Gabe Nash of Sioux City North won the race in 1:53.14.
Ankeny's Levi Hill took 12th in the 1,600 in 4:28.02. Dowling's Jackson Heidesch won the race in 4:07.30, then later took third in the 800 in 1:54.62 when he was allowed to rerun the race by himself after meet officials ruled that he had been interfered with by another runner.