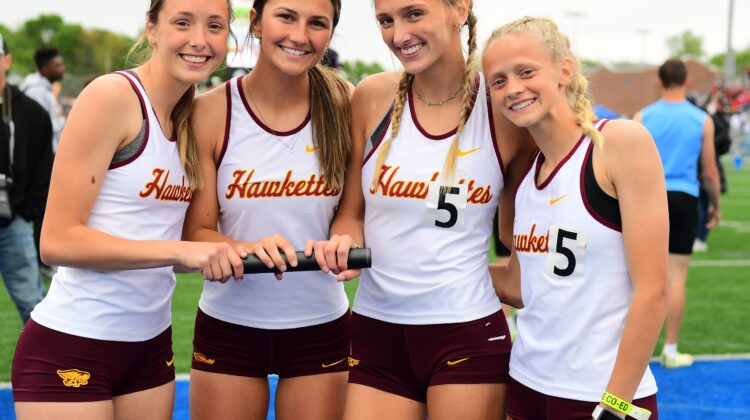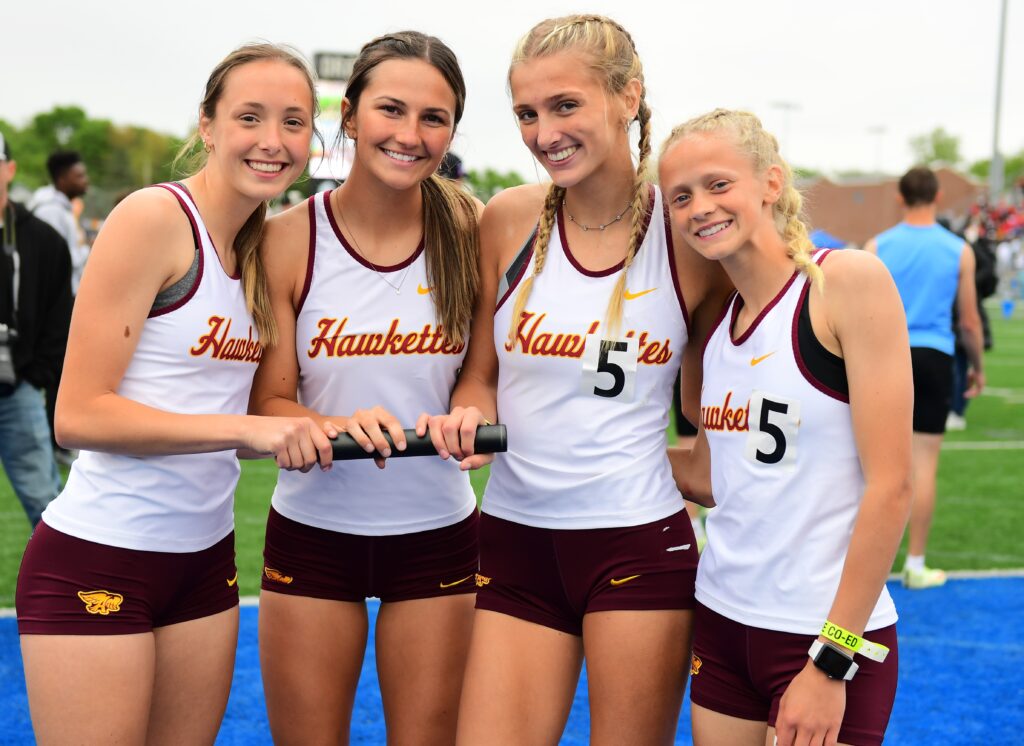 Ankeny senior Eva Fulk sat on the infield turf at Drake Stadium and tried to catch her breath after running the final race of her high school career.
Fulk helped the Hawkettes to a second-place finish in the final event of the Class 4A state meet–the 4×400 relay–on Saturday afternoon.
"It's sad, but I wouldn't have wanted to do it with any other group," said Fulk, who will compete for Northern Iowa next year. "I'm really happy with how the season went, and I think we surprised a lot of people with what we did this year."
Fulk teamed up with Sophie Loeffler, Zoe Shadravan and Alli Macke to post a time of 3:55.94. Iowa City High won the race in 3:52.72, getting a 55.88 anchor leg from Ani Wedemeyer.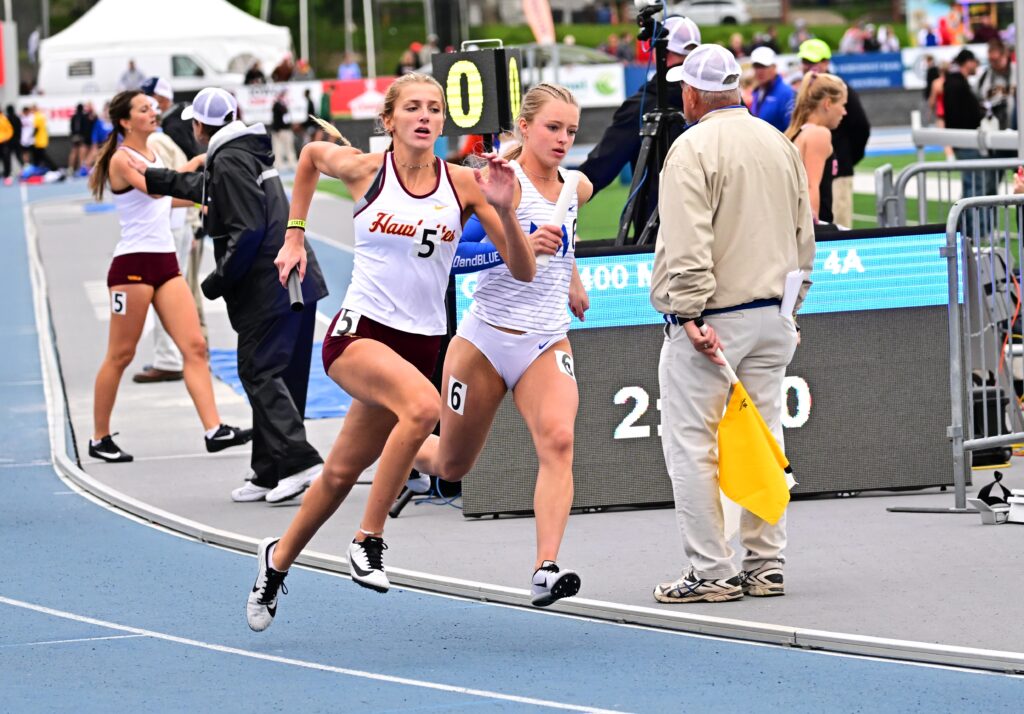 "That's insane," Shadravan said of City High's time. "We knew it was going to be between us and them. To see them win it, obviously it's sad. But we hit a huge PR, and I'm just so proud of our team and how it turned out. We all tried our hardest."
Shadravan battled with standout Waukee Northwest hurdler Mackenzie Carney for second place throughout the third leg of the race. She then handed off to Macke amid a sea of runners.
"Me and (Carney) were battling for second the whole time," Shadravan said. "I accidentally pushed her a little, and she tripped me a little. It gets rough. I was definitely fighting for my life out there. There were about three girls running into each other there (on the handoff), but Alli knew what to do. She got out fast and kicked it, so she did what she was supposed to do."
Macke, who anchored the Hawkettes to a state title in the distance medley relay on Friday, ran the final 400 meters in 57.28. She wasn't able to catch Wedemeyer, but she did outkick Northwest's Avery Winter for the runner-up finish.
"Macke is the ultimate competitor," said Ankeny coach Thomas Cotter. "Anybody that hands the stick to her should feel good they've got as good a runner as anybody in the state."
Northwest captured the Class 4A crown with 70 points in its first season as a varsity program. Norwalk took second with 50 points.
Iowa City High and Ankeny were among seven teams battling for third place throughout the meet.
"It was like a movie script the drama we saw (Saturday) and how things fell our way to give us a shot at the podium going into the final race–that's all we can ask for," Cotter said. "I'm so proud of this group's resilience throughout these last three days. Not once did they throw in the towel."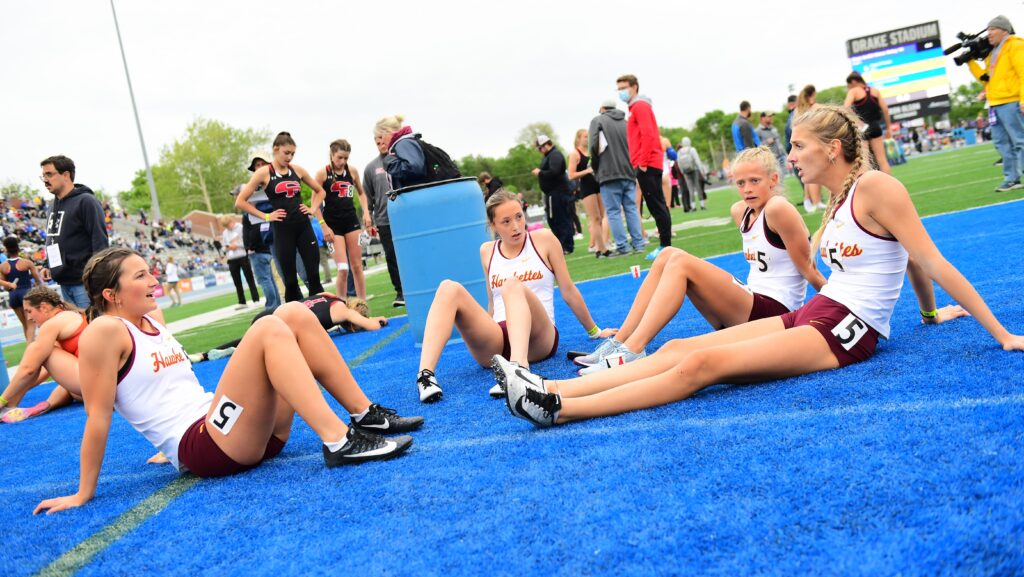 Ankeny would have placed third overall with a victory in the 4×400 relay. Instead, Iowa City High's win allowed the Little Hawks to tie Valley and Sioux City West for third with 46 points apiece.
Ames took sixth with 45, Ankeny finished seventh with 44.5, and Dowling Catholic and Cedar Rapids Prairie tied for eighth with 44. Only two points separated the seven teams.
"It has been an absolute pleasure working with these girls, coaches, parents and community the last four years," said Cotter, who is leaving the program to take a job in Carlisle. "The expectations have risen every year, and I believe next year this group should be thinking about a (state) title."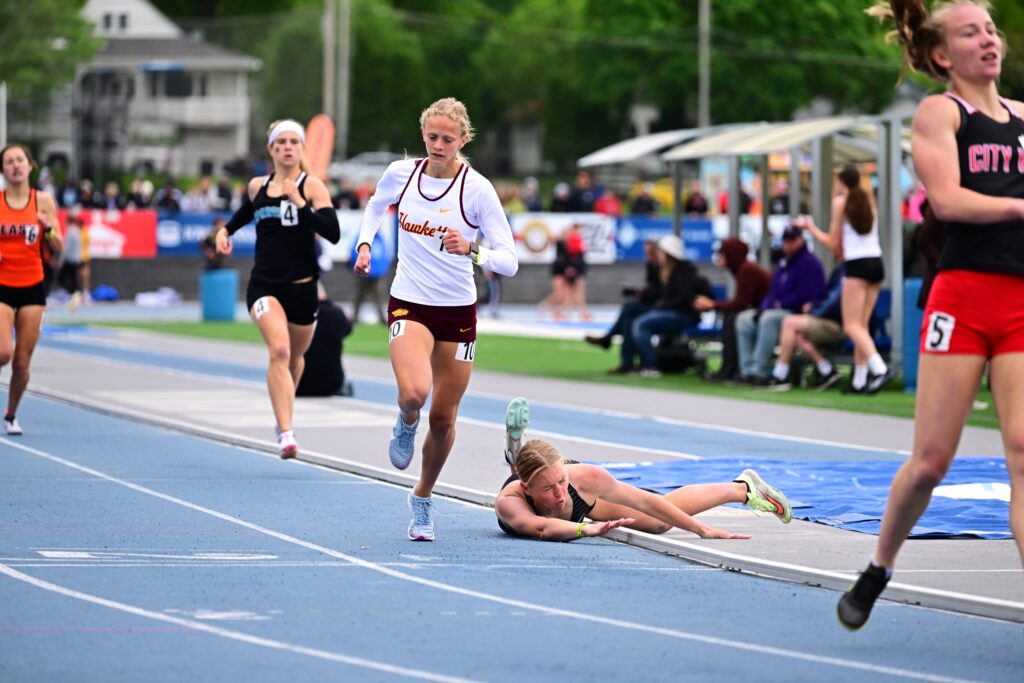 Earlier on Saturday, Macke raced to a second-place finish in the 800. She posted a time of 2:13.66, which was just .21 seconds off the school record that she set at last month's Drake Relays.
"I knew I would be able to go after top three, and I gave it everything I had," said Macke, a freshman. "I didn't hold back, and I'm pleased because I know I did everything I could. And at the end of the day, you can't do more than that."
Macke said she prefers to come from off the pace, but she got out to a fast start after beginning the race in one of the outside lanes.
"I've never really done an outside waterfall so I just tried to get out fast," she said. "I didn't mean to really start out in the lead–I just wanted to cruise and then be able to finish hard. But I came in my first lap right where I wanted to be (1:05.52), so that was good."
Iowa City Liberty's Ashlyn Keeney made a bold move to take the lead midway through the race, but she was unable to hold on. Macke and City High's Wedemeyer eventually surged past her.
Wedemeyer went on to win the race in 2:11.99.
"I knew she was going to be really hard (to beat)," Macke said of Wedemeyer. "She ran a 2:10 (Friday in the distance medley relay), which is just insane. I knew she'd be a top contender."
Later, Ankeny Centennial's Rondi Quass set a school record while placing sixth in the 1,500. She posted a time of 4:41.14.
Quass moved into third place late in the race before a trio of runners passed her in the final 400 meters.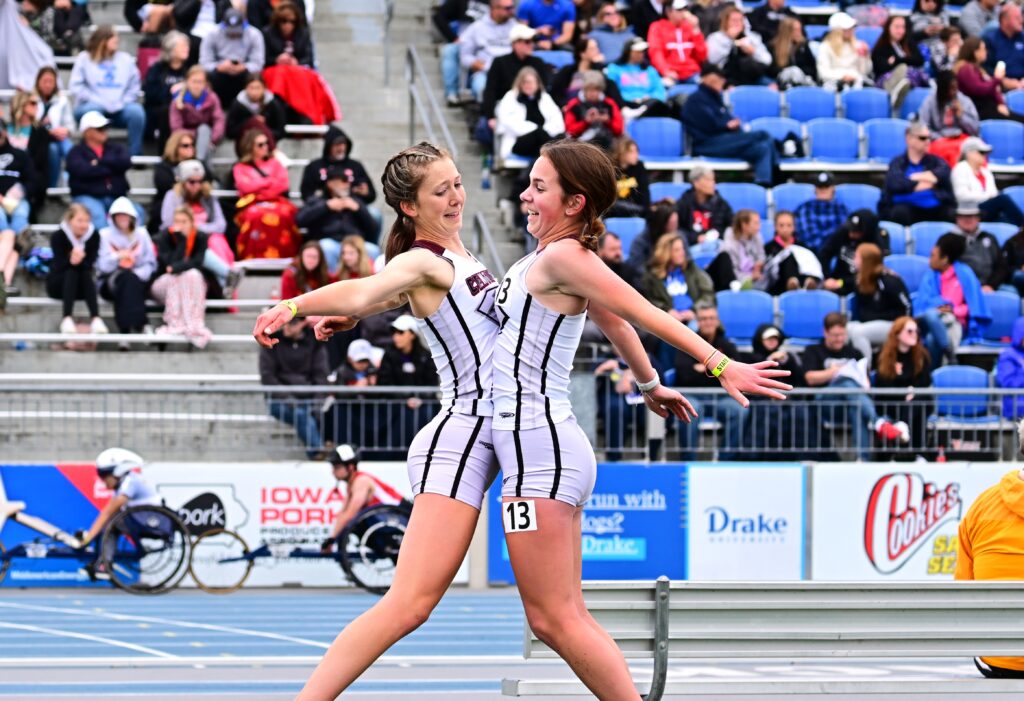 "I'm so happy with that race," said Quass, whose team placed 20th overall with 13 points. "I knew there was a few good kickers in the race so I knew whether I was outkicked or not, I needed to be in a good position. I was hoping I could hold on to third."
Addison Dorenkamp of Valley won the race in 4:36.60. Quass' teammate, Bella Hodges, finished 20th in 4:55.00.
Ankeny got a 13th-place finish from Drew Beason, who was clocked in 4:46.77.
"Beason ran a season-best time for us," Cotter said. "She ran a gutsy race and from fall cross country to spring track she has just been incredible and very under the radar, but she has been a huge piece to our success in the fall and spring. Since 2010 her time typically gets sixth and this happened to be a year that was incredibly fast."
Ankeny also placed 11th in the sprint medley relay on Saturday, finishing just .21 seconds out of a top-eight performance. The foursome of Macie Strnad, Karsen Jacks, Shadravan and Lillian Smith posted a time of 1:52.36.
Centennial finished 18th in the same event. The quartet of Layla Hughes, Morgan Posusta, Kylin Smith and Elle Street was clocked in 1:53.77.
Cedar Rapids Prairie won the event in 1:46.36, getting a strong anchor leg from Gabby Cortez.