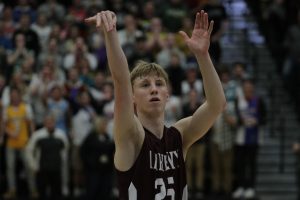 The inexperienced Ankeny boys' basketball team appears to be growing up in a hurry.
After blowing a 21-point lead in Friday's game at Ankeny Centennial, the Hawks made several big plays down the stretch and then held on for a 56-52 victory over their crosstown rival.
The win was Ankeny's fourth in a row and avenged last month's 55-52 loss to the Jaguars. The visiting team has now won the last five games in the series.
"We're young, but we've got a lot of tough guys on our team," said Ankeny guard Dillon Carlson, who made eight consecutive free throws in the fourth quarter. "We just stayed mentally tough."
The Hawks overcame a 32-point effort by Centennial's Hunter Strait to improve their records to 2-6 in the CIML Central Conference and 5-10 overall. They knocked the Jaguars (5-3, 10-5) out of a tie with Waukee for the league lead.
"It was a big game, and we really wanted it," said Ankeny forward Ben Lyon. "I've had this one marked on my calendar since we lost that first one (on Dec. 21)."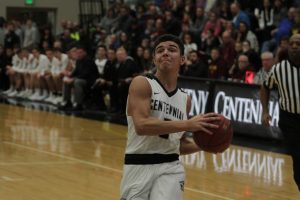 Strait was the hero in the first game at Ankeny, where he scored the last four points of the contest to turn a Jaguars' deficit into a narrow victory. On Friday, he was even better in a losing cause.
The senior guard made 10-of-17 shots, including 5-of-7 from 3-point range. He had 26 of his points in the second half.
"I'd have traded all of (those points) for the win any day," Strait said.
The Truman State recruit almost single-handedly rallied Centennial from a 31-10 deficit in the second quarter. He scored four points in a 9-0 run that closed the gap to 33-19 at halftime, then erupted for 18 points in the third quarter–including a trio of 3-point goals–as the Jaguars took a 42-39 lead.
"Coach (Bob Fontana) told us at halftime that we needed to attack the hole," said Strait, who also had five rebounds and two steals. "I saw the advantage, I started attacking a little bit and getting to the hole. And then I hit that first 3, and I was just feeling it. I was just doing what I could to get us back in the game."
The contest was briefly interrupted midway through the third quarter after a loose ball led to a scrum in the lane. Ankeny guard Jordan Kumm received two technical fouls and was ejected, while Centennial forward Zach Kluver–who had to be pulled out of the pile by a referee–was also called for a technical.
"We struggled a little bit the third quarter, but we just showed our resilience and pushed through it," Lyon said. "Shoot, we've been in this situation like eight times this year. So we're kind of used to it by now."
Kluver scored a basket early in the fourth quarter to give Centennial a 44-40 lead, but the Hawks then answered with a 10-0 run. Carlson made two free throws to put his team ahead with 3 minutes 39 seconds left, then later hit two more to increase Ankeny's lead to 50-44 with 41 seconds to go.
"Basketball is a game of runs," Carlson said. "We knew they were going to make a run at the end. They're a great team."
Strait scored eight points in the final 30 seconds, but it wasn't enough. His 3-pointer cut the margin to 54-52 with 5 seconds left, but Carlson then sealed the victory by making two more free throws with 3.4 seconds remaining.
Carlson went 12-for-13 at the line.
"I'm a pretty confident player," said Carlson, who led the Hawks with 18 points. "I've been raised like that since I was little, so I just had to step up and make the shot."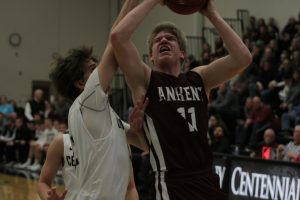 Nolan Otten had 13 points and Jaron Crews added 10 for Ankeny, which finally won a close game after suffering six losses by five points or less, three of them in overtime.
"It wasn't an ideal way to do it, but the guys were able to find a way," said Ankeny coach Brandt Carlson. "Centennial is so good, and I'm so proud of our guys for finding a way. How many games did we lose in the first half (of the season) that way? Tight games and not being able to finish. It was really nice to see our guys finish and execute out-of-bounds plays and make free throws. I'm really proud of them."
In the first half, it looked like Ankeny was going to blow the Jaguars out of their own gym. The Hawks made six 3-pointers in a 20-0 run that gave them a 25-6 lead.
Lyon capped the run by scoring the first five points of the second quarter. Earlier on Friday, he tweeted "we gettin a Dub" in a message to his fellow Ankeny students.
"We knew what we could do," Lyon said. "We just came together."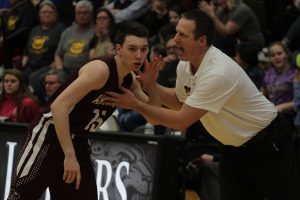 Ankeny had seven 3-pointers in the first half. Carlson, Crews and Otten each hit a pair of treys in the opening quarter.
"That was on us," Strait said. "They were making wide-open shots, and that's a credit to them–they were finding open guys. But we weren't getting to our guys very well, and we weren't rotating on defense."
Strait eventually put the Jaguars on his back and nearly carried them to a victory. But the damage had already been done, Fontana said.
"What was disappointing to me was how unfocused our guys were," Fontana said. "We had some guys who didn't show up to play tonight. I thought it would have meant more to them, and maybe I didn't do a good enough job of getting their attention. We let (Ankeny) dictate the whole tempo of the game. They were the aggressor, and we weren't."