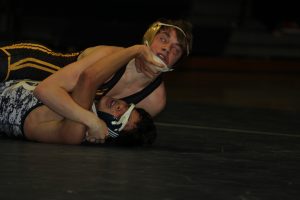 The Ankeny wrestling team closed out the regular season on Thursday with a pair of victories in a double dual meet at Des Moines Roosevelt.
The Hawks rolled to a 73-3 win over Roosevelt before posting a 42-32 triumph over Carlisle. They raised their record to 10-8 on the season.
"It was a long night," said Ankeny coach Jack Wignall. "Some of our guys didn't get a chance to wrestle until 4 1/2 hours after weigh-in, but I thought we wrestled pretty well overall."
Ankeny dominated the meet against the Roughriders, racking up three falls and two technical falls. The Hawks won seven of the 14 matches by forfeit.
Roosevelt's lone victory came at 170 pounds, where Matt Jones built an 8-0 lead against Luke Sable before holding on for an 8-6 decision.
"Luke fought his way out of a cradle and came back and gave himself a chance to win," Wignall said.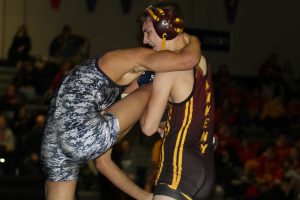 In the meet against Carlisle, Ankeny trailed by a 32-27 margin after 11 matches. The Hawks then got falls from Cael Cox at 106 and Barsat Fnu at 113 to seal the victory before Derek Anderson edged Carter Logue, 4-3, in the final match at 120.
"We hit some speed bumps along the way, but our guys at the lower weights stepped up and got some big wins," Wignall said.
Carlisle had three pins and two major decisions. The Wildcats also won by an injury default at 145.
"We had some things happen that were unfortunate," Wignall said. "Joey Reichenbacker dislocated his elbow, and that didn't help."