Overcoming adversity has become a way of life for the Ankeny boys' basketball team.
The Hawks, who got off to a 1-10 start this season, avenged two of those losses with a 48-46 victory at Ames in a Class 4A substate quarterfinal on Monday. They rallied from an early 10-point deficit despite playing without sophomore forward Nolan Otten, who tripped at his home on Sunday night and suffered a broken arm.
"I think throughout the year we've had a lot of experiences where we've really had to fight hard, and I think that's helped us grow as a team," said senior forward Deaglan Riordan, who made two late free throws to keep Ankeny in front. "We will just never give up. We've got a bunch of guys who are just hard-headed and go at it."
Dillon Carlson made seven 3-point goals and scored 25 points as Ankeny (8-14) won for the seventh time in its last 11 games. The Hawks will play at top-seeded Des Moines North (19-3) in a substate semifinal on Friday at 7 p.m.
"Our goal was to make a run in the postseason," Carlson said. "This was the first step."
Only four players scored for Ankeny in the win. One of them was Ben Lyon, who fouled out with 2 minutes 47 seconds left.
Ames' Japannah Kellogg then hit two free throws to give the Little Cyclones a 44-43 lead, but Jaxon Smith answered with a 3-pointer about 20 seconds later to put the Hawks ahead for good. It was the final basket of the game.
Joe Evans twice had a chance to tie the score for Ames, but each time he missed one of his two free throws. Those were the Little Cyclones' only misses in 15 attempts at the line.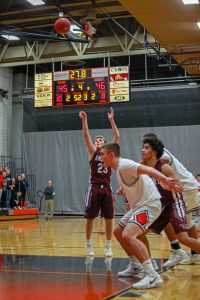 Riordan connected on one of two free throws with 28 seconds left to give Ankeny a 47-45 lead. He then split another pair with 12 seconds to go to produce the final margin.
"I was confident," Riordan said. "I think I should have knocked down a couple more than I did, but my teammates played great defense and we got some key rebounds."
On Ames' final possession, Kellogg drove to the basket and missed a shot that could have forced overtime. The ball was awarded to the Little Cyclones after being knocked out of bounds with 1.7 seconds left.
Evans then took the ensuing inbounds pass, but his desperation 3-pointer from the left wing came up empty. The Iowa football recruit led Ames (9-13) with 18 points.
"I just want everyone to know that I gave it my all every single time I stepped out on this floor," Evans told the Ames Tribune. "I bleed black and orange and always will."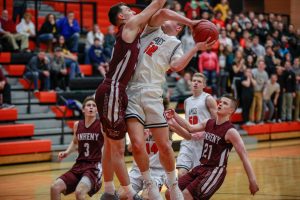 Kellogg scored eight of his 17 points in the first quarter as Ames jumped out to a 15-5 lead. But Carlson then responded with a trio of 3-pointers as the Hawks closed the gap to 17-14 at the end of the period.
"I knew it was a big game, and I had to perform well for us to get the win," Carlson said. "It was all just a mindset thing."
After Ankeny took a 21-19 lead in the second quarter, the Little Cyclones closed the half with an 11-2 run. Evans had the final eight points, including a basket with 2 seconds left, to give his team a 30-23 advantage.
Ames led by as many as nine points in the third quarter before Carlson made two more 3-pointers to cut the Hawks' deficit to 34-33.
"You can play any defense you want, if (Carlson) is going to take jumpers from the volleyball line, I don't think it matters a whole lot," Ames coach Vance Downs told the Ames Tribune. "We put 6-foot-7 (Kellogg) on him and tried to deny him and take away touches. I don't know that we could get a whole lot better than that."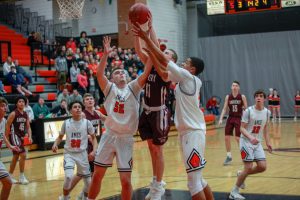 Ankeny also picked up its defensive intensity, holding Ames to just 16 second-half points. Evans was limited to one basket in the final two quarters.
"We had some great defensive efforts," said Ankeny coach Brandt Carlson. "I really thought Jaron Crews' defense on Evans in the second half was awesome. He really minimized his catches, and Deaglan was big as well. We made some defensive adjustments at halftime, and they did a good job."
As the Hawks left the court after the game, they exchanged high fives with some of their fellow students who made the short trip up I-35.
"It's awesome just to get that win after (Ames) beat us twice this year in really close games," Riordan said. "They've got a great team, and we play them close every time. It's fun. I just love this team so much."