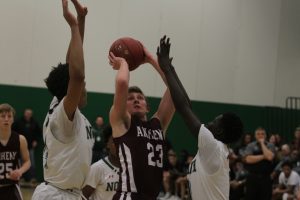 If the Des Moines North boys' basketball team continues to play like it did on Friday night, the Polar Bears may have a good chance to cut down the nets in two weeks at Wells Fargo Arena.
Tyreke Locure poured in 36 points to lead North to an 87-73 victory over visiting Ankeny in a Class 4A substate semifinal. The Polar Bears (20-3) will play Johnston (19-3) in the substate final on Tuesday.
Locure, a junior guard and one of the state's top prospects in the Class of 2019, made 12-of-16 shots from the field, including 3-of-5 3-pointers. He also had nine assists, four rebounds and three steals.
"We went into the game knowing he was going to get his (points)–he's one of the best players in the state," Ankeny guard Jaxon Smith said of Locure. "We tried to limit his touches, but we couldn't."
The Polar Bears ended Ankeny's season for the second straight year. The Hawks (8-15) lost to North in a substate final last season.
"They're a really good team," said Ankeny senior Deaglan Riordan. "A lot of respect to Tyreke and those guys–they play really hard. They're great offensively, and I think we played great, too. A lot of young guys stepped up, and I'm really going to miss this."
North shot 62.7 percent from the field (32-of-51) and made 11-of-21 3-pointers. Lino Malual had 18 points for the Polar Bears, while Debo Kallo added 14 points and six rebounds.
Gatdoar Bijiek scored 11 points on 4-of-4 shooting, going 3-for-3 from behind the arc. He hit a long 3-pointer to end the first quarter, then later made perhaps the biggest shot of the game to thwart Ankeny's rally from a 19-point deficit.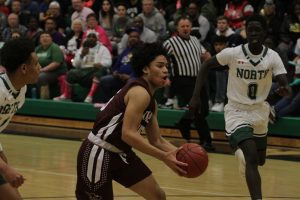 After the Hawks closed the gap to 65-58 in the fourth quarter, Bijiek connected on a 3-pointer from the right wing to give the Polar Bears some breathing room with 4 minutes 40 seconds left. It was the kind of shot that many coaches would not have wanted in that situation, but North coach Chad Ryan seems to give his players an eternal green light.
"You're not going to be able to change their style–you're going to have to kind of play their style but slow it down a little bit," Ankeny coach Brandt Carlson said. "I thought we tried to do that, but they hit so many 3s with guys that we weren't prepared to have hit 3s that it kind of took us out of our game."
Dillon Carlson led four Ankeny players in double figures with 18 points. The junior guard made a trio of 3-pointers in the last 3 minutes, but the Hawks could get no closer than seven points.
Smith had 16 points, including 14 in a row during one stretch of the second half. He had a pair of 3-pointers during his scoring binge.
"I just didn't want to see my team go down," Smith said. "I didn't want to let my seniors down, but it was just not enough."
Riordan scored 11 points in his final game for the Hawks, nine of them in the first half. Ben Lyon, another senior, added 10 points before fouling out in the final minute.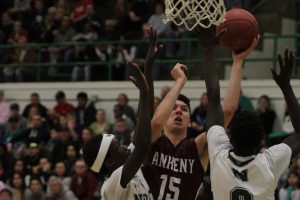 North jumped out to an 8-0 lead in the first 90 seconds of the game. Locure had seven of those points.
"I thought we were a little nervous early. We just struggled to get out of the gate, but we competed," Carlson said. "We came back and had some multiple opportunities to get it inside of 10 (points), inside of eight, and they'd come back and hit a 3. That's the kind of championship level team they are, and they just kind of defended our runs. But I'm really proud of our guys and how they competed tonight."
Ankeny will return three starters next year in Carlson, Smith and freshman forward Jaron Crews. Top reserves Nolan Otten and Jordan Kumm will also be back.
"We got a bunch of guys that won't ever give up, and I think that's why all these guys are going to be so successful in their futures," Riordan said. "We might have started 1-10, but we really started going on runs. We didn't play like a 1-10 team throughout the season, and I think that's what made a big difference."