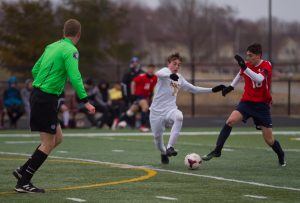 When the Ankeny boys' soccer team opened its season on Friday with a 3-1 loss to Iowa City High at the Iowa City West Invitational, it turned out to be a blessing in disguise.
The Hawks have since reeled off three consecutive victories heading into Thursday's home game against Des Moines Hoover.
"Losing our first game to City High was the best thing that could have happened to us," said first-year Ankeny coach Jordan Burns. "The lads had an immediate positive reaction after losing our first game."
Ankeny bounced back on Saturday with a 10-0 victory over Muscatine. The Hawks then defeated defending Class 3A state champion Iowa City West, 3-0, in their final game of the tournament.
Ankeny improved its record to 3-1 with a 2-0 win over visiting Urbandale on Monday. Peter Gaspari had a goal and an assist for the Hawks, while Charlie Pritchard scored a goal for the fourth consecutive game.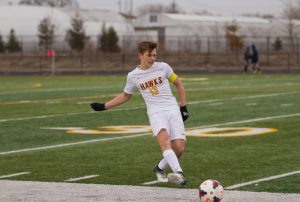 "Overall, after our first four games there are positive vibes around our camp, and the boys are buying into and trusting our process," Burns said.
Six different players had goals in the win over Muscatine. Kolby Raineri scored three goals and had two assists, while Max Acheampong also had a hat trick.
Nate Albertson and Hunter Wiebel each added a goal and an assist. Jack Nurre chipped in two assists.
Pritchard scored a goal and also had an assist against Iowa City West. Albertson and Raineri also had goals, while Gaspari and Riley Wood each added an assist.
"It was a great team performance against the No. 1 team in the state (at the time) in their own backyard," Burns said.