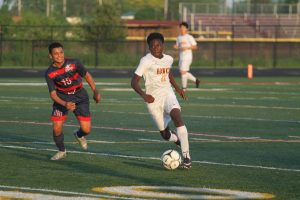 For one night anyway, the Ankeny boys' soccer team got along just fine without senior Peter Gaspari.
Gaspari, who received a red card during the regular-season finale against Des Moines Roosevelt on May 15, sat out on Wednesday as the sixth-ranked Hawks rolled to a 4-0 victory over visiting Sioux City North in a Class 3A substate semifinal.
"Peter is definitely one of our guys who creates a lot of things for us. He leads us in assists," said Ankeny coach Jordan Burns. "It was a game we could afford to not have Peter tonight, but on Saturday we'll definitely need him."
Juniors Kolby Raineri, Riley Wood and Charlie Pritchard helped pick up the slack as Ankeny improved to 14-4 on the season. That trio combined for three goals and three assists in the win.
"Those three guys are a big part of our team, and when they're on we're tough to beat," Burns said. "They were on tonight."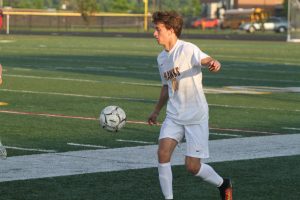 Sioux City North ends the season at 8-8. The Stars had won their previous three games, all of them by shutout.
"We didn't know anything about them," Burns said. "The only thing I knew is that they lost to Valley, 4-1."
The Hawks took a 1-0 lead in the first half on a goal by Max Acheampong. He was assisted by Pritchard.
Raineri scored the first of his two goals early in the second half. He converted a penalty kick to make it 2-0.
Shortly thereafter, Wood was fouled while battling for the ball in the midfield, which led to a yellow card against North's Enio Garcia-Chinchilla. On the ensuing direct kick by Raineri, Wood headed the ball into the net for another goal.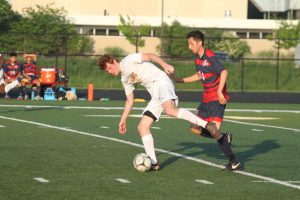 Those two then later teamed up for Ankeny's final goal, with Raineri scoring on Wood's assist.
"Wood played a fantastic ball, and Kolby got on the end of it and scored," Burns said. "It was a pretty one-sided game. We had a job to do, and we got it done."
The win sets up a rematch against Roosevelt in Saturday's substate final. The game will be played at Ankeny, beginning at noon.
Roosevelt (10-3-1) posted a 1-0 victory over Sioux City East in double overtime on Wednesday. The Roughriders will be looking to avenge last week's 2-1 loss at Ankeny.
Burns served as an assistant coach at Roosevelt before leaving last year to take over the Ankeny program.
"This is the third time we'll meet them," Burns said of the Roughriders. "We played them in a scrimmage before the season, and then we played them again last week. We know enough about each other, and then obviously with me coming from Roosevelt last year I know a lot about the players and the coaching staff.
"It'll be another fun and competitive game," he added.