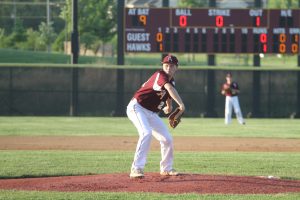 Ankeny baseball coach Joe Balvanz still has a lot of faith in his team despite the Hawks' 0-3 start.
Ankeny posted an 18-22 record a year ago, including a 6-14 mark in the CIML Central Conference. Several key players are back from that team, led by first-team all-conference selections Drew Hill and Jayden Maifeld.
"We bring back a lot of experience," Balvanz said. "We hope that those guys can be a foundation for us. We're going to have to piece together a few things, but we've got some time. There are quite a few guys who have earned the right to have some opportunities."
Hill, a senior shortstop, batted a team-high .331 with one home run and 15 RBIs. He also led the Hawks with 40 hits, five triples and 12 stolen bases, and he tied for the team lead in doubles with six.
Hill, a Truman State football recruit, elected to play his final season of baseball before turning his attention to the gridiron.
"Drew is a good athlete, and we're happy to have him around," Balvanz said. "He doesn't have to be at Truman State until after the state tournament, and this is what he wanted to do. He's going to hold us together up the middle."
Maifeld, a senior, is one of the state's top pitchers. He compiled a 5-3 record with a 1.88 ERA a year ago, when he racked up 54 strikeouts while limiting opposing batters to a .194 average.
Maifeld, an Iowa Central recruit, will also bat in the middle of the Hawks' lineup. As a junior, he batted .264 with six doubles and a team-high 18 RBIs.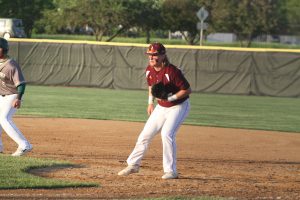 "Jayden is obviously our No. 1 (pitcher)," Balvanz said. "He's certainly a guy that against most teams he's going to be tough to handle. He's worked hard and spent a lot of time in the weight room. He's going to be a leader for us, not only on the mound but at first base and he's going to be our No. 4 hitter as well. He's just a baseball player."
Among the team's other returnees are seniors Will Casel, Seth and Henri Harpenau, and Cameron Rinker. They each received all-conference honorable mention last season.
Casel and Rinker will provide some pitching depth behind Maifeld. They are both lefthanders.
"Casel and Rinker are 2A and 2B on our staff," Balvanz said. "They have a little different style of pitching, but both can be effective."
Rinker went 4-4 with a 2.35 ERA last year. He also batted .230 with three doubles and five RBIs.
Casel went 2-4 with a 3.35 ERA. He averaged more than one strikeout per inning.
Seth Harpenau, an infielder, batted .267 with three doubles and 11 RBIs. He led the team with 21 walks and 22 runs scored.
Henri Harpenau, a catcher, batted .240 with one home run, six doubles and 11 RBIs.
"Seth is going to spend some time at second and third (base)," Balvanz said. "He'll share time at second with AJ Slattenow and at third with Jase Bauer. Both (Seth) and Henri are grinders. They're not super flashy and they don't say much, but they get the job done. They're really good role models for the other guys on the team."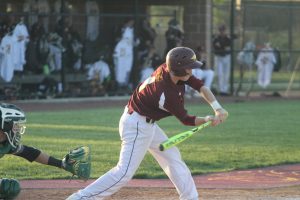 Junior Chris Spear is also back along with seniors Austin Probasco and Garrett Stiles. Stiles batted .233 and drove in six runs last season.
Both Probasco and Spear will see a lot of action on the mound. Probasco made a team-high 12 appearances a year ago, going 1-0 with a 3.00 ERA, while Spear went 0-4 with a 2.63 ERA.
Balvanz is hoping that Bauer and fellow freshmen Cael Boyd, Brody Brecht and Weston Faulk can make an impact for the Hawks.
"They're pretty good athletes, but they're freshmen," Balvanz said.
Ankeny opened its season on May 21 with a doubleheader loss at top-ranked Johnston. The Hawks then dropped a 4-1 decision to visiting Saydel on Thursday.
Ankeny has scored just three runs in three games.
"We've got to figure out how to score some more runs," said Balvanz, whose team will play at Des Moines East on Wednesday before hosting Ames in its conference opener on Thursday. "That's all there is to it."