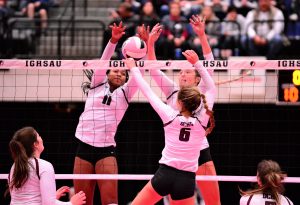 Ankeny Centennial volleyball standouts Devyn Robinson and Kenna Sauer have been named to the Elite all-state team by the Iowa Girls' Coaches Association. Both players were also selected to the Class 5A first team after leading the Jaguars to their fourth state title in five years.
Robinson, a junior middle hitter, was a repeat selection to both squads. The Wisconsin recruit racked up 225 kills and 76 blocks this season.
Sauer, a senior outside hitter, led Centennial with 439 kills and 56 aces. The Missouri recruit, who was named the captain of the Class 5A all-tournament team, also had 333 digs while helping the Jaguars to a 41-3 record.
Centennial's Ari Winters was named to the Class 5A second team along with Ankeny's Phyona Schrader. Winters was a repeat selection.
Winters, a senior outside hitter, had 285 kills. The Denver recruit joined Robinson and Sauer on the Class 5A all-tournament team.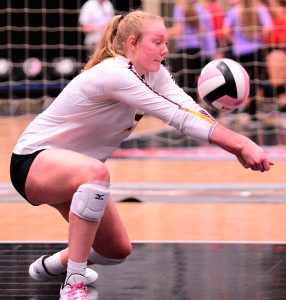 Schrader, a sophomore setter, led the Hawkettes to a 31-13 record and a berth in the Class 5A state tournament. The Notre Dame recruit finished the season with 784 assists and 187 kills.
Two of Schrader's teammates, Kaci Behrens and Isabelle Vacek, received all-state honorable mention along with Centennial's Megan Lively.
Behrens, a junior libero, led Ankeny with 573 digs and 47 aces. Vacek, a junior outside hitter, had a team-high 348 kills.
Lively, a senior middle hitter, contributed 105 kills and a team-high 100 blocks for the Jaguars. She will play for Central Florida.
Lively, Behrens, Vacek, Schrader, Winters, Sauer and Robinson were also selected to the Class 5A West all-district team.
Madi Kubik of Valley was named the state player of the year and the Class 5A player of the year. Matt Johnson of Cedar Falls, whose team lost to Centennial in the state championship match, was selected the Class 5A coach of the year.