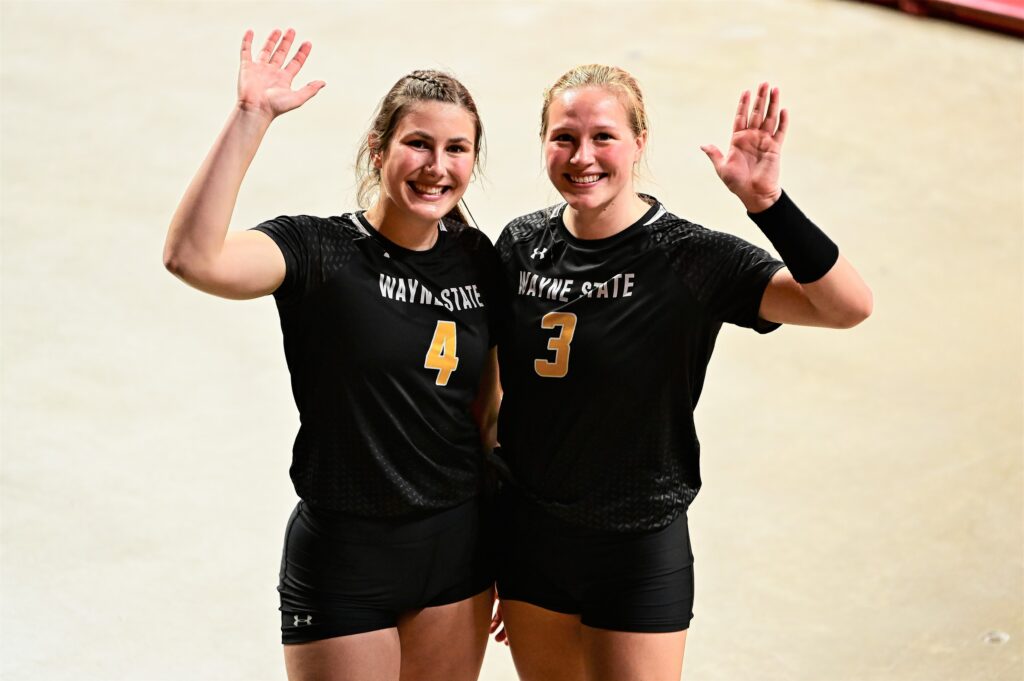 The end of Alyssa Ballenger's collegiate volleyball career is just around the corner.
Isabelle Vacek's career is just getting under way.
Despite those differences, both former Ankeny standouts enjoyed returning to central Iowa last weekend as their Wayne State (Neb.) squad played a pair of exhibition matches against Iowa State at Hilton Coliseum.
"It was really fun for us to be able to come to Ames and compete against Iowa State," said Ballenger, a senior outside hitter. "Our (fall) volleyball season was cancelled due to COVID-19 and so any chance for us to play is a big deal. My parents, aunt and uncle, grandma, and my cousins' daughters were able to come and watch, so it was cool to play in front of them."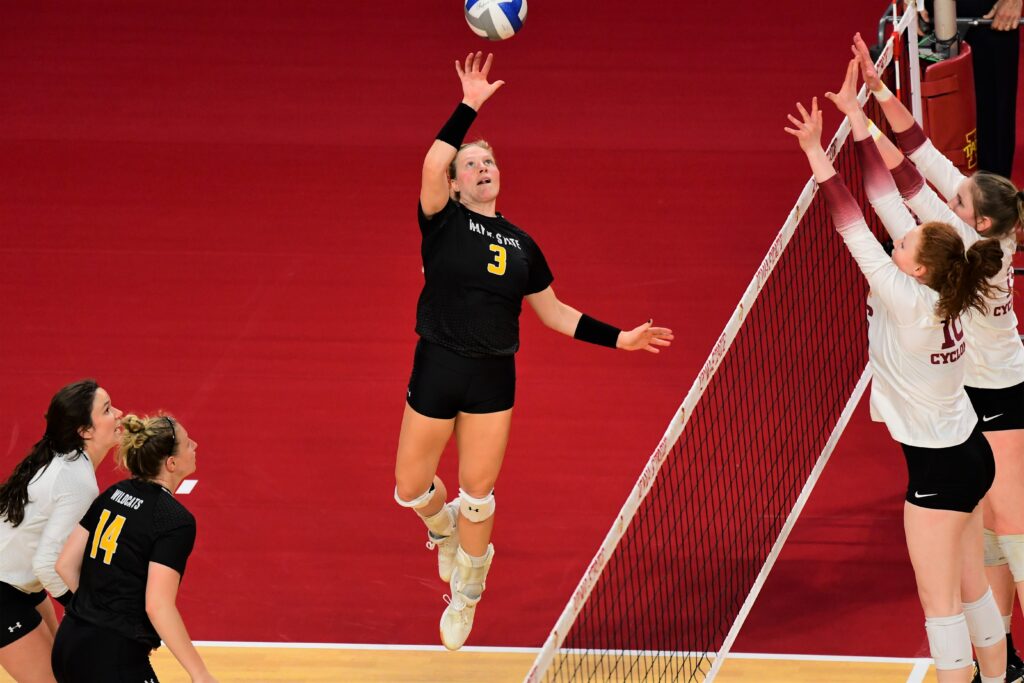 Vacek's family was also a part of the crowd.
"Both of my parents went to ISU and my dad (Ken) played football there, so I grew up a Cyclone," said Vacek, a freshman middle hitter. "Having the opportunity to play at Hilton was an amazing experience. My entire family and a lot of close friends came to support me."
Iowa State won Friday's match in four sets, 25-19, 25-22, 23-25, 25-19. Ballenger had 12 kills and eight digs for the Wildcats, including a kill that closed out the third set.
"I am proud of how we played against ISU, and I think we rose to the challenge despite that being one of our only games in over a year," Ballenger said. "We tried out a bunch of different lineups and almost everyone on the team was able to see the floor and compete."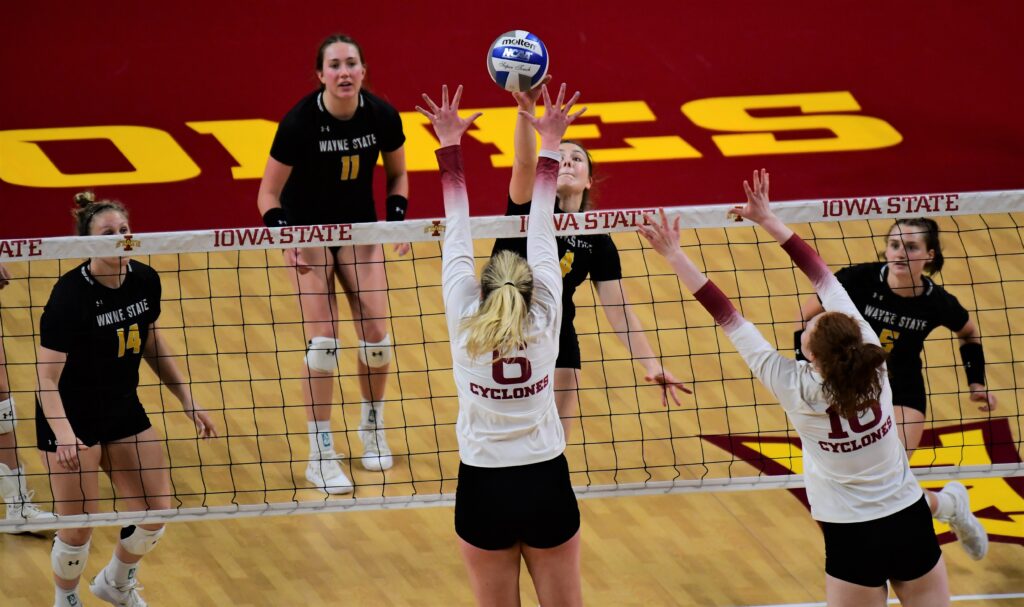 Vacek had two kills and two block assists. She then had a kill and another block assist in Saturday's match, which was also won by the Cyclones, 25-23, 25-19, 26-24.
"I think that we played hard and did a good job against these Big 12 teams," said Vacek, whose Division II squad also lost a close three-set match at Kansas State on Sunday. "This was one of our first games this spring season, and having it be against a big school and being able to compete with them was very encouraging."
Ballenger had nine kills and 14 digs in Saturday's match. Her former club teammate, ex-Des Moines Roosevelt star Piper Mauck, racked up 39 assists and 11 digs for the Cyclones.
"I played four years of club with Piper so in a way we started and ended our careers together," Ballenger said. "It was great to see her again and share a few jokes across the net as we played."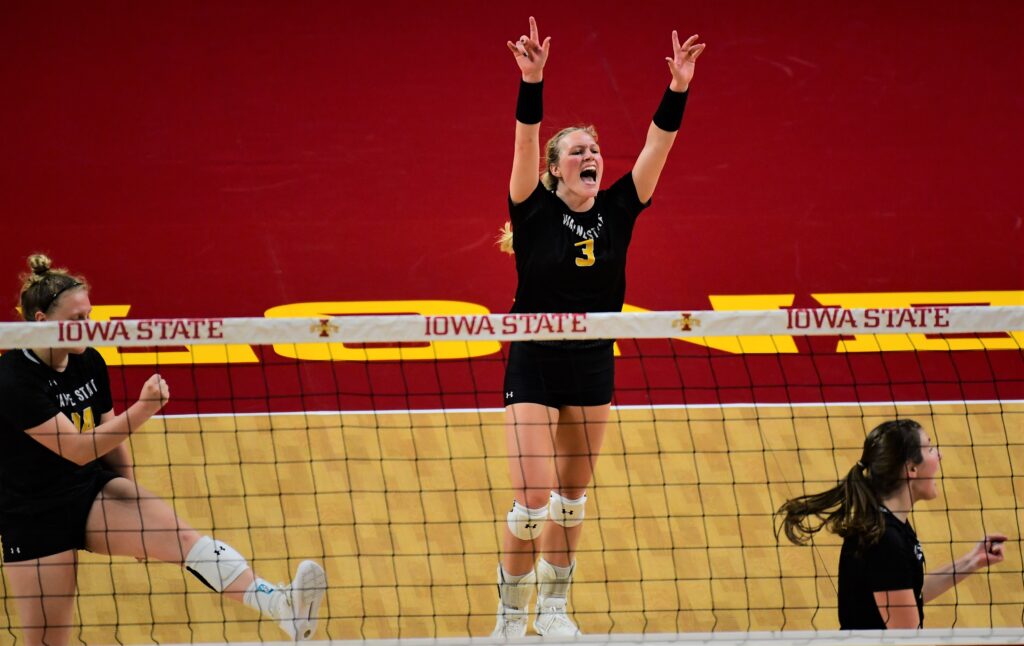 Ballenger helped the Wildcats to a 65-28 record in her first three seasons from 2017-19. She would have had the option to return next fall, but she has elected to move on.
"I've decided to graduate with my senior class because I'm ready for the next chapter in my life," Ballenger said. "Currently I'm in contact with a couple of universities in the (United Kingdom) because I would like to play a year of volleyball over there and get my master's (degree)."
Ballenger and Vacek were previously teammates on the 2016 Ankeny squad that posted a 38-6 mark and reached the Class 5A semifinals. The two players have relished their reunion this year at Wayne.
"I have loved being able to play with Aly again," Vacek said. "Alyssa, along with my other wonderful teammates, has made the transition to being a college athlete smooth."