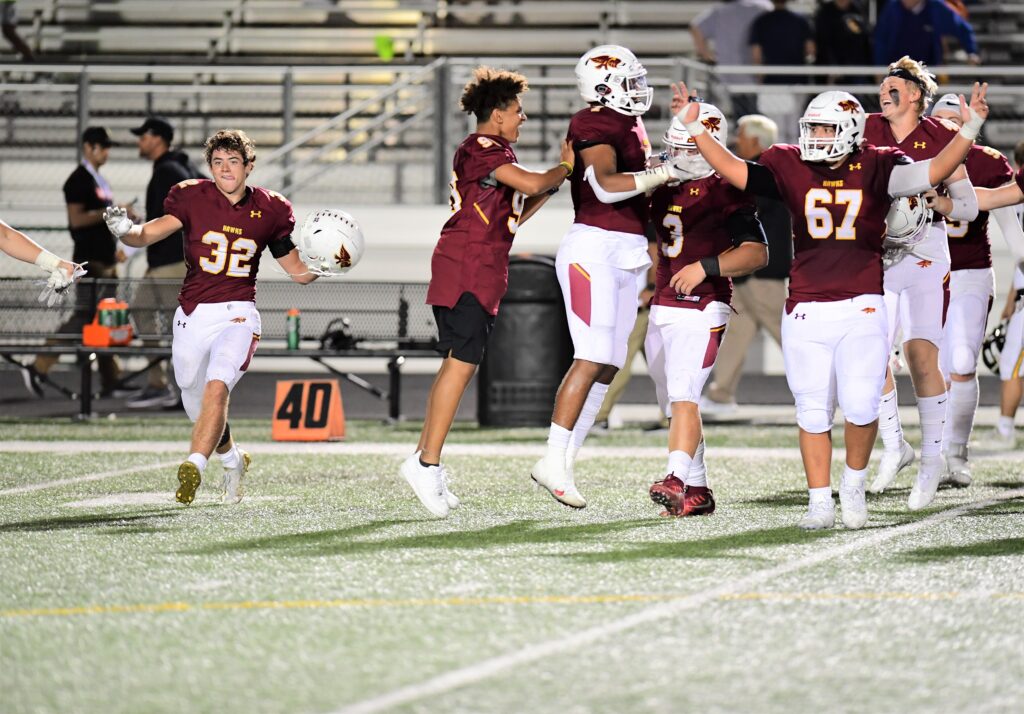 Former Ankeny football coach Brad Zelenovich has built a powerhouse program at Southeast Polk.
But Zelenovich still hasn't figured out how to beat the Hawks.
Sixth-ranked Ankeny turned in a dominant defensive performance to beat No. 1 Southeast Polk, 21-7, on Friday at Ankeny Stadium. Zelenovich, who coached the Hawks for two seasons before taking over the Rams' program in 2015, is now 0-4 against his former team.
"It feels good," said Ankeny defensive back and receiver Ryan Crandall. "I think we know who's No. 1 now."
Friday's contest was a rematch of last year's Class 4A championship game, which was won by Ankeny, 42-14. The Hawks also posted a 24-14 victory at Southeast Polk in a first-round playoff game in 2019.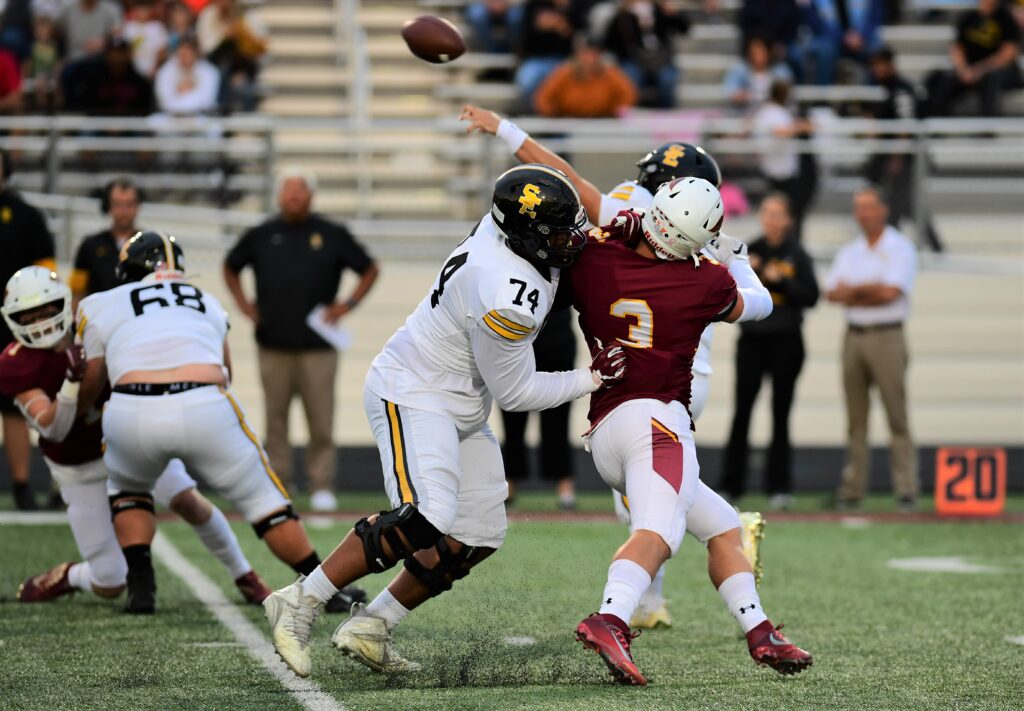 Ankeny coach Rick Nelson guided his team to a 30-10 win over the Rams in 2015.
"I'm just really happy for the players and the coaches," said Nelson, whose team is now 3-1 on the season. "And–I'm not going to lie–I'm happy for myself."
The Rams (3-1) were held to just 251 total yards by Ankeny's stingy defense. Lineman Braden Simonsen led a ferocious pass rush that made life miserable for Southeast Polk quarterback Jaxon Dailey, who completed just 13-of-24 passes for 152 yards.
"We do it every day in practice competing against one of the top offenses in the state, so that really helps," Simonsen said.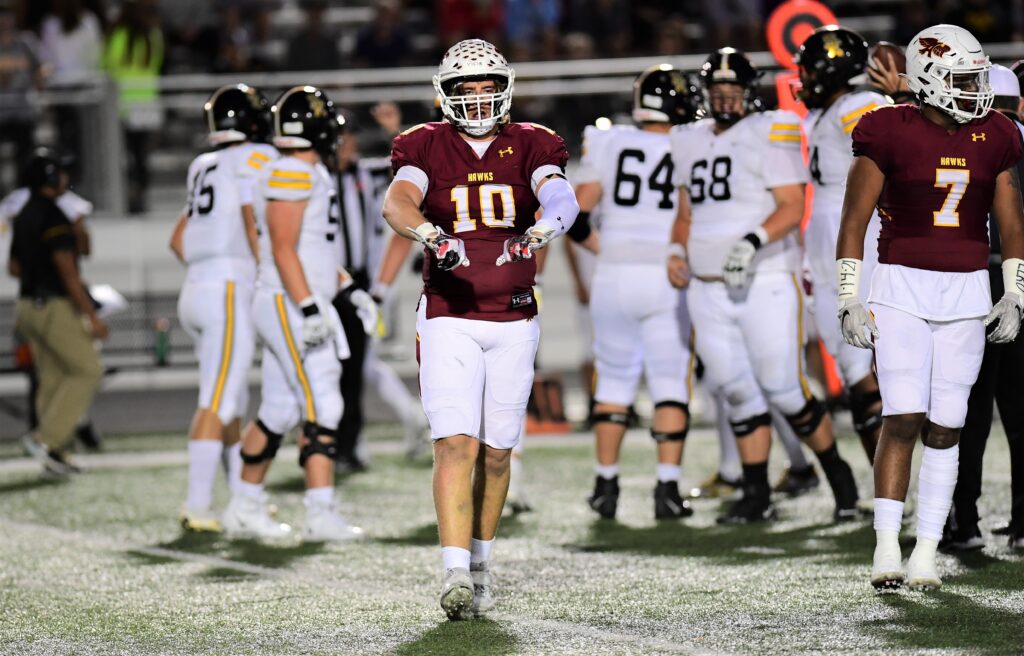 Southeast Polk running back Titus Christiansen ran for 73 yards on 15 attempts, but 51 of those yards came on one carry in the second quarter. That drive ended with a missed field-goal attempt.
"He's my kid, but (defensive coordinator) Nick (Nelson) does a pretty good job of trying to stop what teams do the best," Nelson said. "We were really nervous because their running back is so good. So could we stop the passing game and the running back at the same time? And we were able to do it, so I'm really proud of our defense."
Ankeny's offense came out fast, scoring on its first two drives to take a 14-0 lead. JJ Kohl completed a 35-yard pass to Crandall on the Hawks' third play from scrimmage, setting up Kohl's 1-yard sneak for the touchdown shortly thereafter.
Crandall started playing on both sides of the ball in last week's win over Dowling Catholic.
"It's fun," he said. "I've always wanted to play (offense). It's time I got the opportunity, and it's nice. The first game last week when I was playing both ways I was cramping a little bit, but this game I was fine."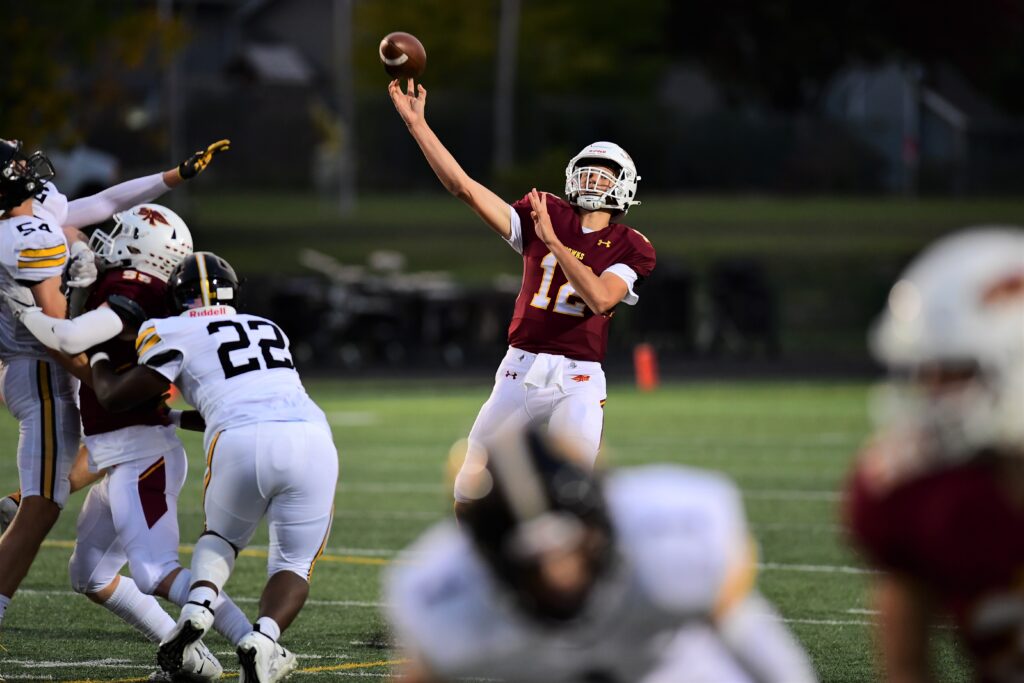 On Southeast Polk's ensuing drive, the Rams reached midfield before Zelenovich elected to go for it on 4th-and-1. However, Simonsen then tackled Abu Sama for a 5-yard loss to force a turnover on downs.
"I never doubt the Outlaws," Crandall said. "Up front we're a little undersized compared to them, but we're just faster and fly to the ball. It's just fun to watch those guys up front and the linebackers."
Ankeny needed just three plays to score again. Kohl fired a 40-yard pass to Colin Kadolph, who then ran 5 yards up the middle for the touchdown.
Late in the second quarter, Southeast Polk drove 51 yards in four plays for its only points of the game. Dailey fired passes of 19 and 17 yards to Sam Goode before throwing a 15-yard strike to Cole Filloon in the end zone with 53 seconds left in the half.
"I thought their quarterback was better than he was last year," Nelson said. "He had some really nice throws."
The Rams–who played without injured five-star safety Xavier Nwankpa–had a chance to pull closer in the third quarter, but Josh Wilson missed a 42-yard field-goal attempt. His kick went wide left after his earlier try drifted right of the goalpost.
Ankeny was forced to punt on five straight possessions–not counting a kneel-down at the end of the half–before the Hawks' offense finally struck again. Kadolph broke free for a 55-yard touchdown run to make it 21-7 with 2:21 left in the third quarter.
"I just planned on going straight down the middle," Kadolph said. "I saw a big hole, had to make a man miss and then I was just kind of off to the races."
Kadolph finished with 154 yards rushing on 27 carries. He had 129 of those yards in the second half.
"Kadolph's run was just amazing," Nelson said. "I watched it on the iPad over there. He's really dynamic, and I'm glad we were finally able to bust one. Because they really stopped our run game (in the first half)."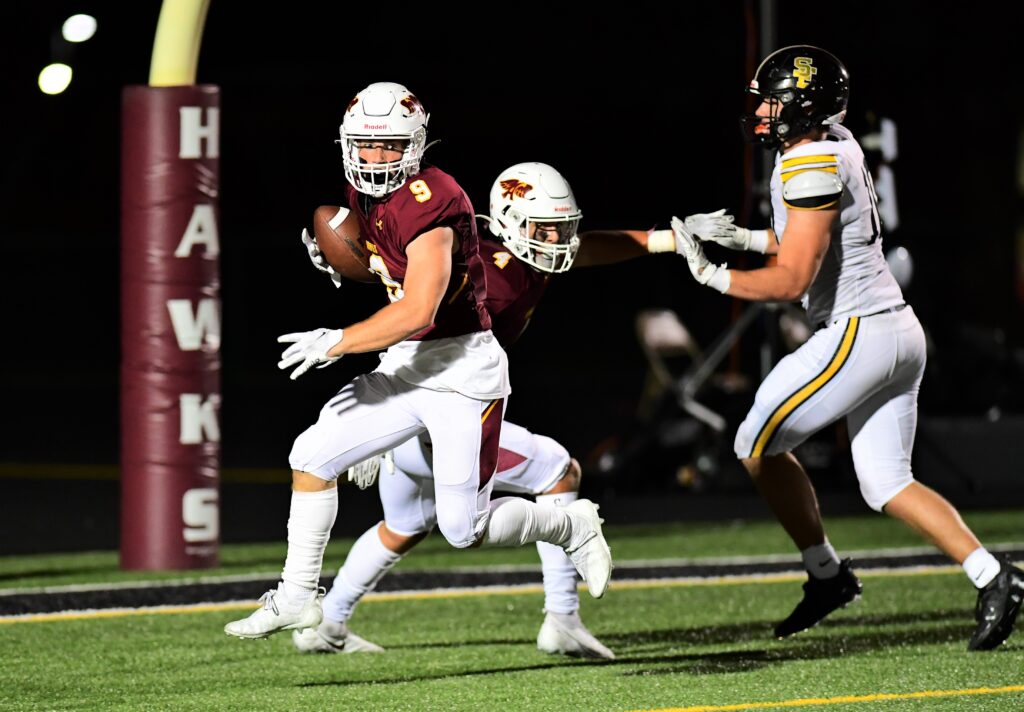 Kohl completed 10-of-18 passes for 136 yards. Will Hinrichs caught four passes for 30 yards.
After Kohl was stuffed for no gain on a fourth-and-1 play midway through the fourth quarter, Southeast Polk took over at its 42-yard line. The Rams then drove to the Ankeny 23 before Will Cornwell intercepted a Dailey pass in the end zone to seal the victory with 4:14 remaining.
"He took a couple shots up the middle," Cornwell said. "The (previous) play he tried it and overthrew him a little bit, and me and Ryan were both there. I just read it. I saw him go down the middle again. I went for it and was there to make a hit or get an interception. It just happened to go to me."
Crandall credited the turnover to the Hawks' defensive pressure.
"That's exactly why we got the interception," he said. "I think (Dailey) rolled a little bit and threw it off his back foot. That's what happens when you fly to the ball. It's just nice to get this win."