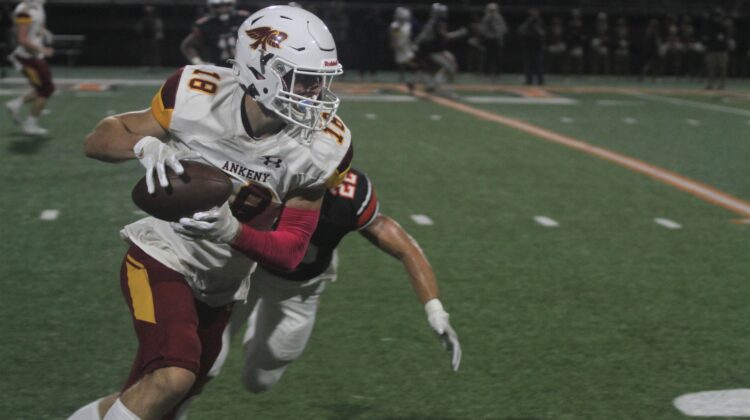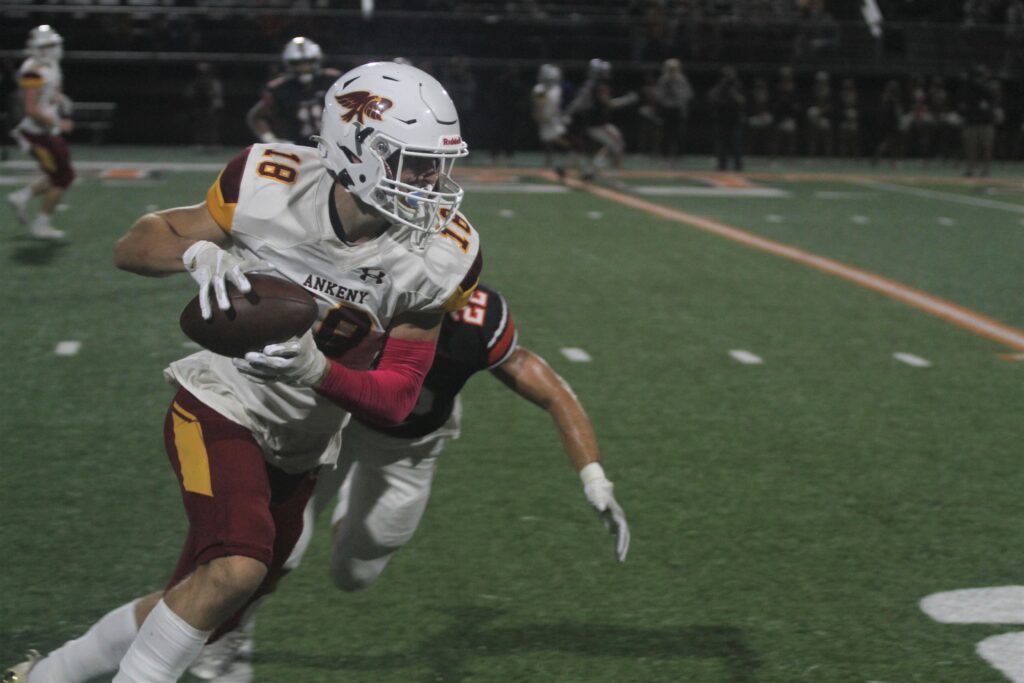 The Ankeny football team knows how to rebound from a tough loss.
Now, the Hawks will have to do it again.
Mason Morrow threw a 4-yard touchdown pass to Ayden Price with 13 seconds left and fifth-ranked Valley defeated No. 1 Ankeny, 38-35, on Friday at Valley Stadium.
"I definitely think we will bounce back stronger," said Ankeny receiver Brady McCullough, who caught eight passes for 159 yards and a touchdown in the loss.
After Ankeny (4-2) rallied from a 31-21 deficit to take a 35-31 lead with 3 minutes 40 seconds remaining, Valley (5-1) drove 80 yards in 12 plays for the winning touchdown. Morrow completed passes of 21 yards to Reid Schilb and 33 yards to Cade Grevengoed on the drive.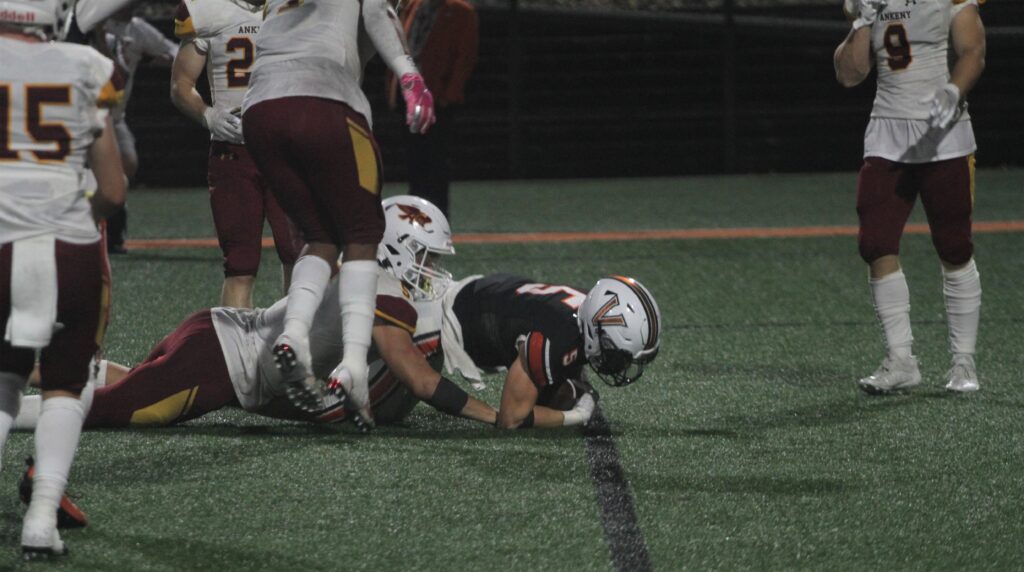 On third-and-goal from the 4, Morrow found Price on a slant pattern.
"We didn't make the plays on defense that we normally do," said Ankeny defensive lineman Braden Simonsen. "We didn't wrap up, we didn't tackle, and we let (Morrow) get loose and he made plays."
Morrow completed 15-of-28 passes for 247 yards and four touchdowns. Price caught six passes for 73 yards and two scores, and he also threw a 20-yard pass on a trick play to set up a field goal that proved to be the winning margin.
"I really thought our defense could hold anyone we play to 21 (points). We just didn't do it," said Ankeny coach Rick Nelson. "But I love the way our kids fought. Someday, I'd love to play Valley at our stadium. I've been here seven years, and we've never played them at our stadium. It's always been here."
Ankeny lost despite outgaining the Tigers, 486 yards to 436. Quarterback JJ Kohl had another huge game for the Hawks, completing 18-of-30 passes for 331 yards and four touchdowns.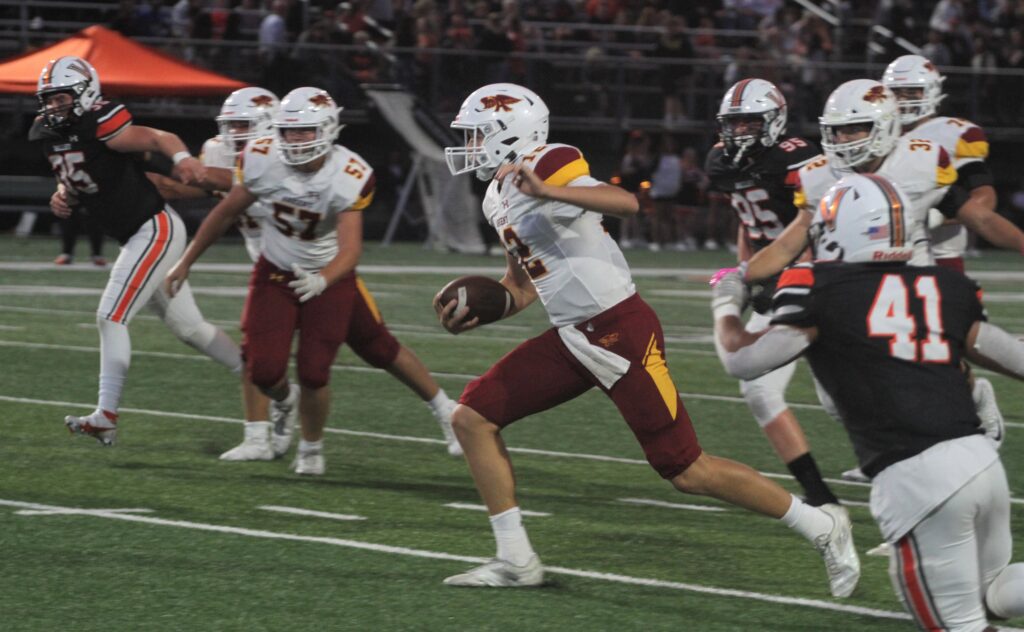 Will Hinrichs caught six passes for 127 yards and two scores–all in the first half. Colin Kadolph added 147 yards rushing on 28 carries.
"I definitely trusted our defense," said McCullough, who again saw some action on both sides of the ball. "There were just plays on both offense and defense that we weren't able to make and capitalize on. But at the end of the day, it comes down to who makes the least mistakes on each team."
The game was tied, 21-21, at halftime. Ankeny got a stop to open the third quarter, but then fumbled the ensuing punt for the game's only turnover.
McCullough injured his shoulder on the play.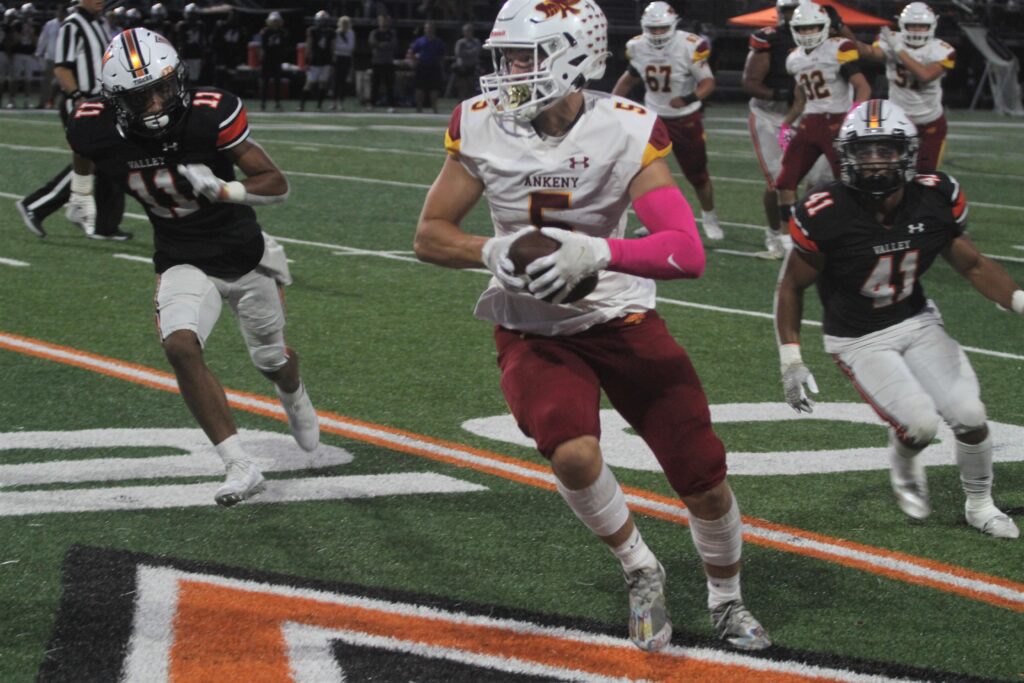 "A kid kind of came under my feet, and I just popped my shoulder out a little bit," McCullough said. "I'm good now. It's just a little sore."
Shortly thereafter, Morrow avoided a heavy rush, scrambled out of the pocket and fired a strike to tight end Eli Raridon, who then rambled into the end zone for a 25-yard touchdown with 7:41 left in the third quarter.
"They made more plays than we did," Nelson said. "Defensively, we'll regroup. We have a good defense. We did the exact same thing against Ankeny Centennial on offense. Our defense just didn't play as well as I know they can."
Another scramble by Morrow resulted in a 15-yard pass to Schilb on Valley's next drive. It set up a 22-yard field goal by Dawson Stine with 2:11 left in the period.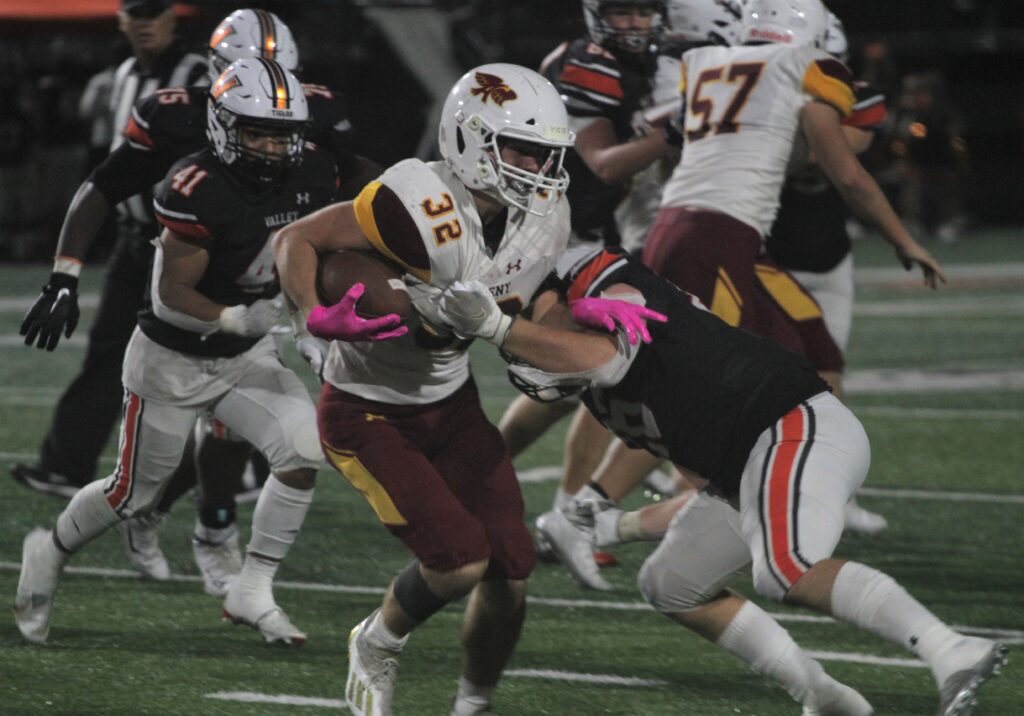 The Hawks answered with a nine-play, 80-yard scoring drive. Kohl threw a 36-yard pass to McCullough, then found him again from 18 yards out for the touchdown with 10:43 to go.
After forcing a punt, Ankeny then drove 67 yards in nine plays for the go-ahead score. Kohl again connected with McCullough for a 33-yard pass, then found Kadolph coming out of the backfield for an 11-yard touchdown.
Unfortunately, there were still 220 seconds on the clock. That was just enough time for Morrow to drive the Tigers down the field.
"He definitely made a lot of plays," McCullough said. "I respect him a lot."
The two teams combined for 561 yards in an entertaining first half. Kadolph scored on a 12-yard run to open the game, then Kohl later threw touchdown passes of 45 and 23 yards to Hinrichs.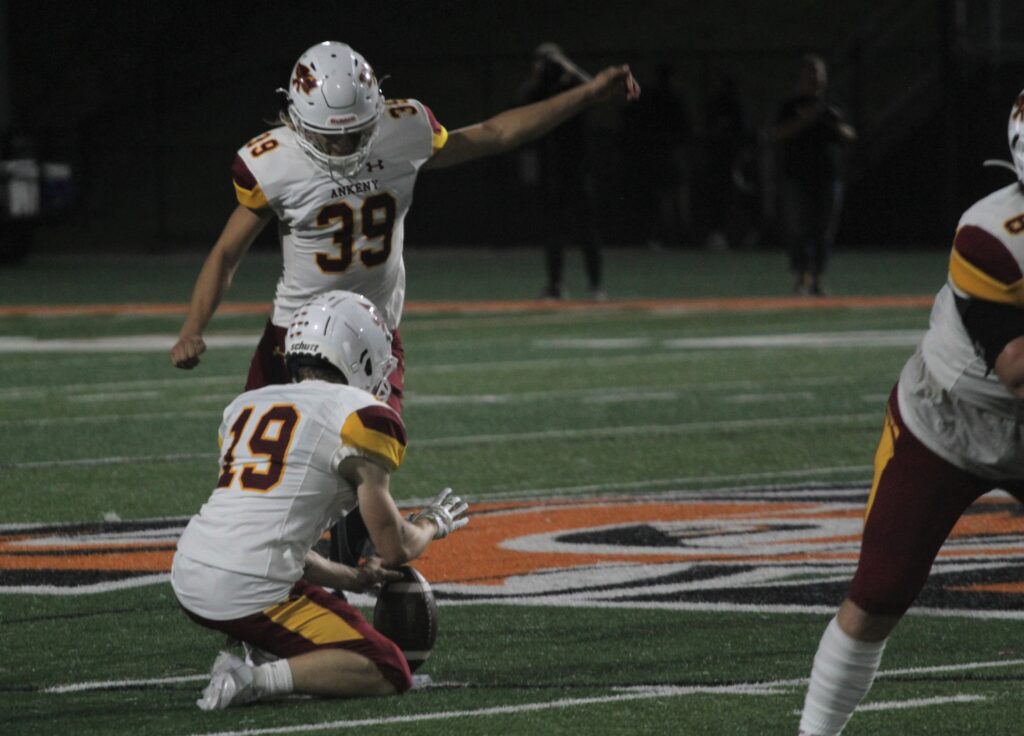 However, Valley answered each time with a touchdown of its own. Morrow threw a 42-yard pass to Price to cap the Tigers' first drive, Danny Rankins Jr. later broke free for a 75-yard scoring run, and then Morrow connected with Grevengoed on a 67-yard bomb.
"As a coach, you look at it and you feel like you have to hold every team to 21 points," Nelson said. "If you do, you're going to have a chance to win every game. If you don't hold them to 21, then you don't have as great a chance to win.
"I still think we have a chance to win it all. We can't let this one define us, just like we didn't let the Centennial loss define us. The ratings are overrated. We'll get after it," he added.
Simonsen vowed that the Hawks would bounce back.
"That's just how our team is," he said.