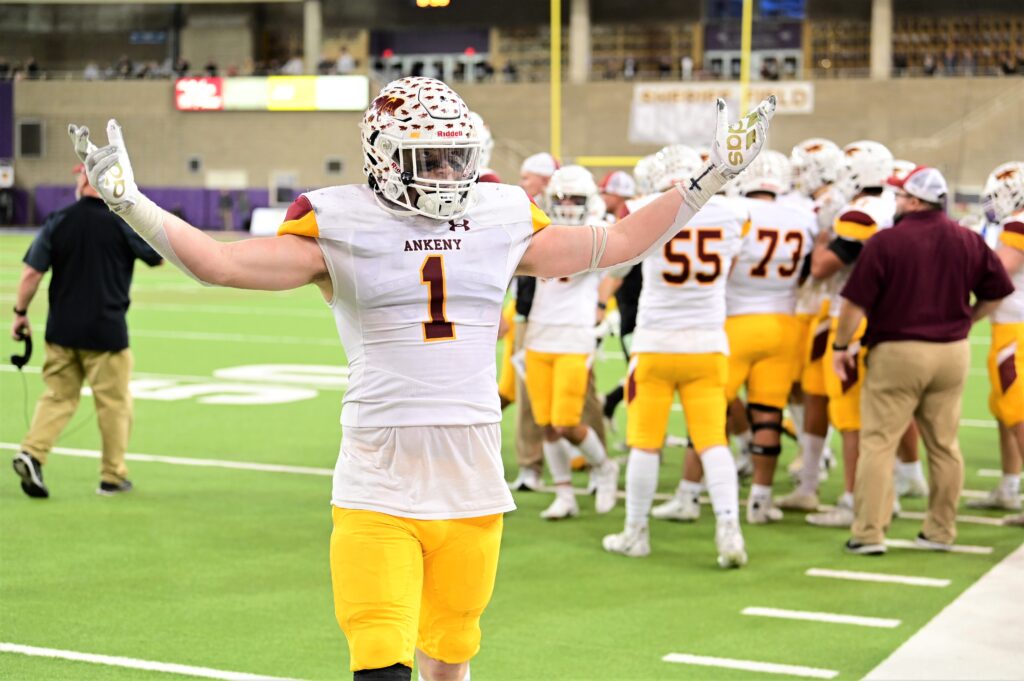 Nobody can blame Mason Morrow if he has some nightmares this week.
The Valley quarterback was running for his life Friday all over the UNI-Dome turf.
Ankeny used a suffocating defensive effort to limit Morrow and the Tigers to 248 total yards and rolled to a 35-13 victory in the Class 5A semifinals at Cedar Falls. The Hawks avenged an earlier 38-35 loss while advancing to the first-ever Class 5A title game.
"They brought a lot of pressure," Morrow said. "They execute, and that front seven is unbelievable. They've got a lot of really big, freak athletes, and they caused some problems for us."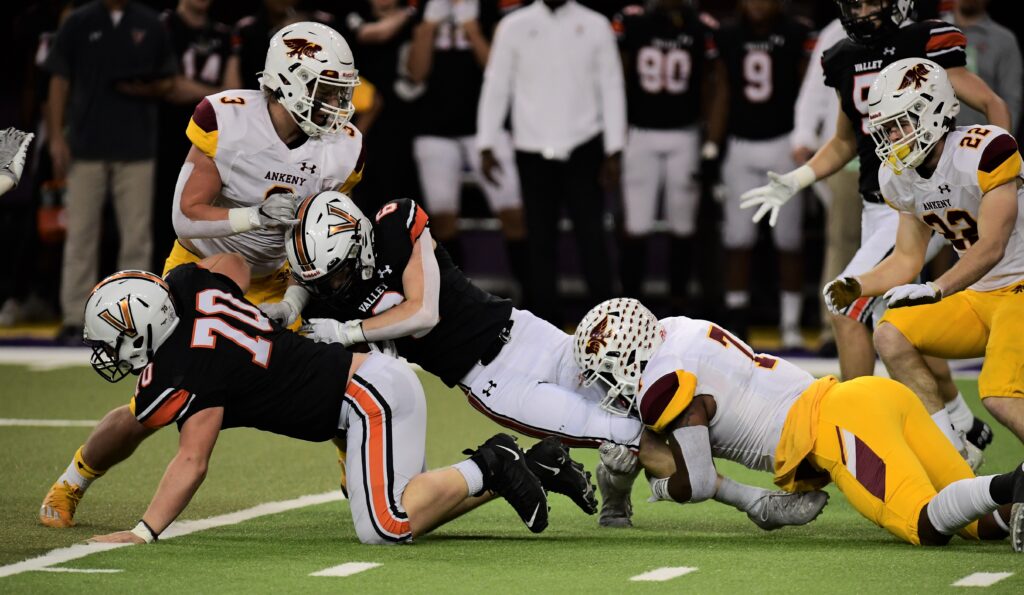 Ankeny (10-2) got 6.5 tackles from Ryan Crandall and 5.5 more from Jackson Penningroth, while Nate Nessa recorded 1.5 sacks. Tamden Webb-Tate picked off a Morrow pass in the second half.
Valley (9-3) had racked up 436 yards in the win over the Hawks on Oct. 1.
"I watched that film probably four or five times," said Ankeny defensive lineman Braden Simonsen. "I didn't play my best that game–I know a lot of us didn't play our best. We missed like 19 tackles I think, so we just wanted to avenge that loss and we ended up doing it."
Ankeny running back Colin Kadolph played a huge role in Friday's win, rushing for 183 yards and scoring four touchdowns. He scored on runs of 62 and 5 yards, caught a 52-yard touchdown pass and returned a kickoff 89 yards for another score.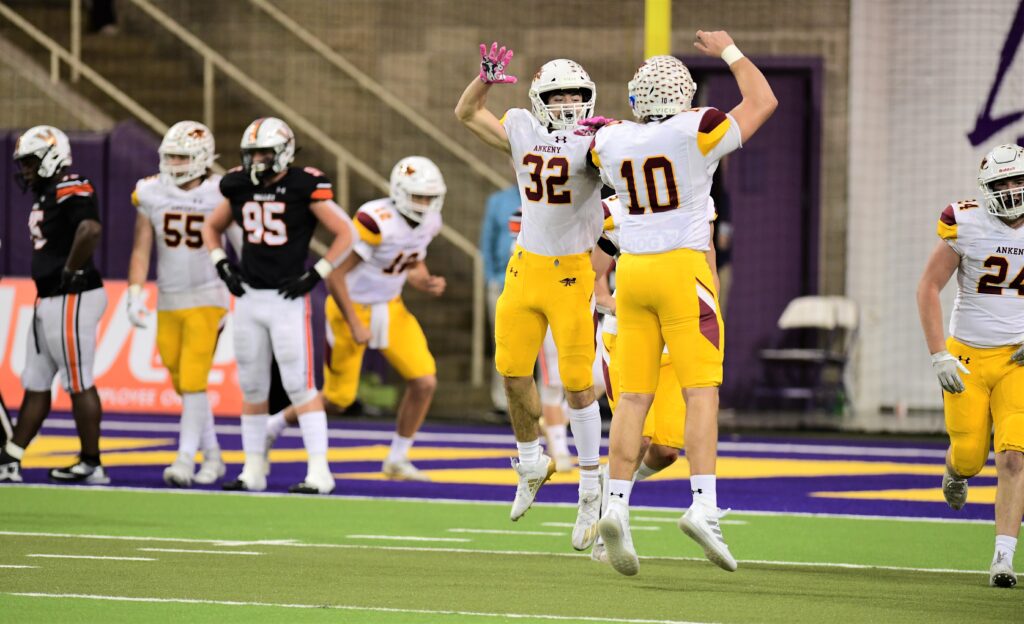 "I wasn't expecting to have a night like that," said Kadolph. "But we knew our offense could do what we needed to do, and we did."
Kadolph opened the scoring with a 62-yard scamper up the middle with 6 minutes 42 seconds left in the first quarter. It turns out he was just getting warmed up.
"I was actually getting really hot," he said. "My favorite weather to play in is like 40 degrees."
Valley closed the gap to 7-3 midway through the second quarter. A 47-yard punt return by Cade Grevengoed set up a 33-yard field goal by Dawson Stine.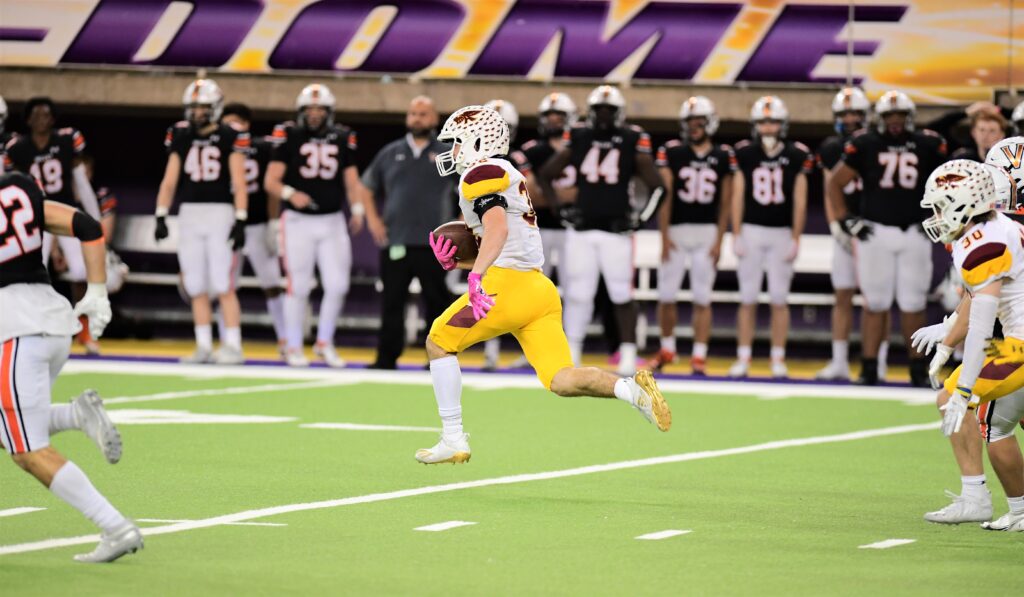 Kadolph then picked up the ensuing kickoff, found a seam and then raced down the right sideline to the end zone.
"I cut to my left and I saw the hole that I was supposed to go through close, so I cut to my right and I saw a little hole that I could fit through and I took it and I was off to the races," Kadolph said. "It was just me and the kicker."
The Tigers responded with an 11-play, 80-yard drive and pulled within 14-10 at halftime on a 5-yard pass from Morrow to Eli Raridon with 22 seconds left. Raridon, a Notre Dame recruit, had seven catches for 57 yards–including a beautiful one-handed reception on the game's opening drive.
"They've got really good players, but we had to shut down the run," Simonsen said. "Their quarterback is slippery. He's quick and he moves around fast, and he's got an arm behind it too that can make those throws to that big tight end Eli. It's hard to cover him at that size."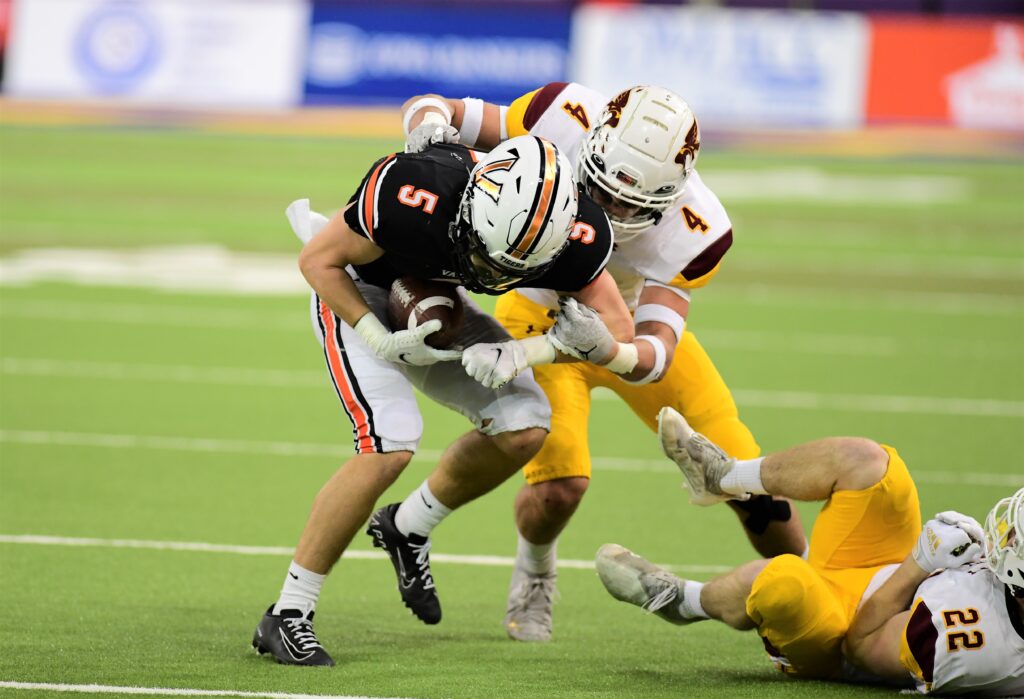 The Hawks regained the momentum with an 80-yard drive to open the second half. A 53-yard scamper by quarterback JJ Kohl set up Kadolph's 5-yard scoring run on the next play to make it 21-10.
Valley later recovered a fumble by Ankeny receiver Will Hinrichs, and that led to another 33-yard field goal by Stine with 10:33 remaining in the game. But the Tigers were then shut out the rest of the way.
"We came in with all the confidence in the world," Morrow said. "We definitely thought we were going to win the game. We just didn't execute very well, and it didn't pan out for us."
After Stine's field goal closed the gap to 21-13, Simonsen gathered the Ankeny offensive unit on the sideline. He had a message for his teammates.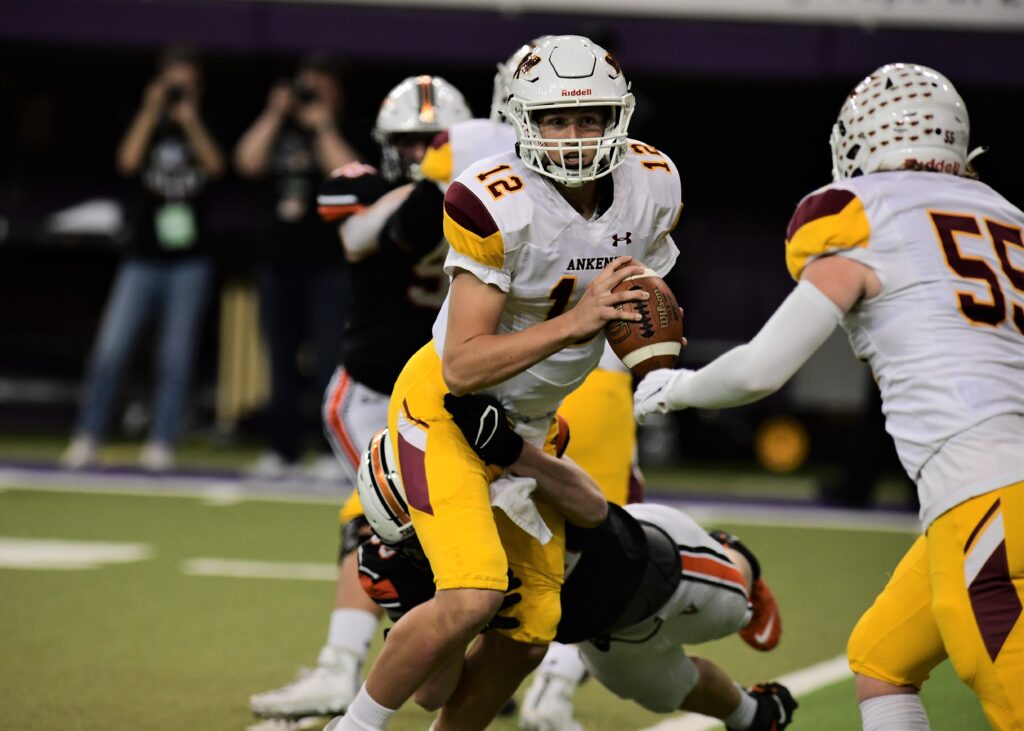 "I was just telling them, 'Go down and score and they're going to roll over,'" Simonsen said. "That's all we had to do."
Ankeny then drove 80 yards in seven plays to extend the lead to 28-13. Kadolph turned a short pass into a 52-yard scoring play with 6:27 left.
"He makes me so proud," Simonsen said of Kadolph. "He makes those big plays. He's tough."
After Webb-Tate intercepted a pass two plays later, Kohl then provided the dagger when he tossed a 43-yard touchdown strike to Brady McCullough on the next play. Kohl completed 6-of-10 passes for 127 yards.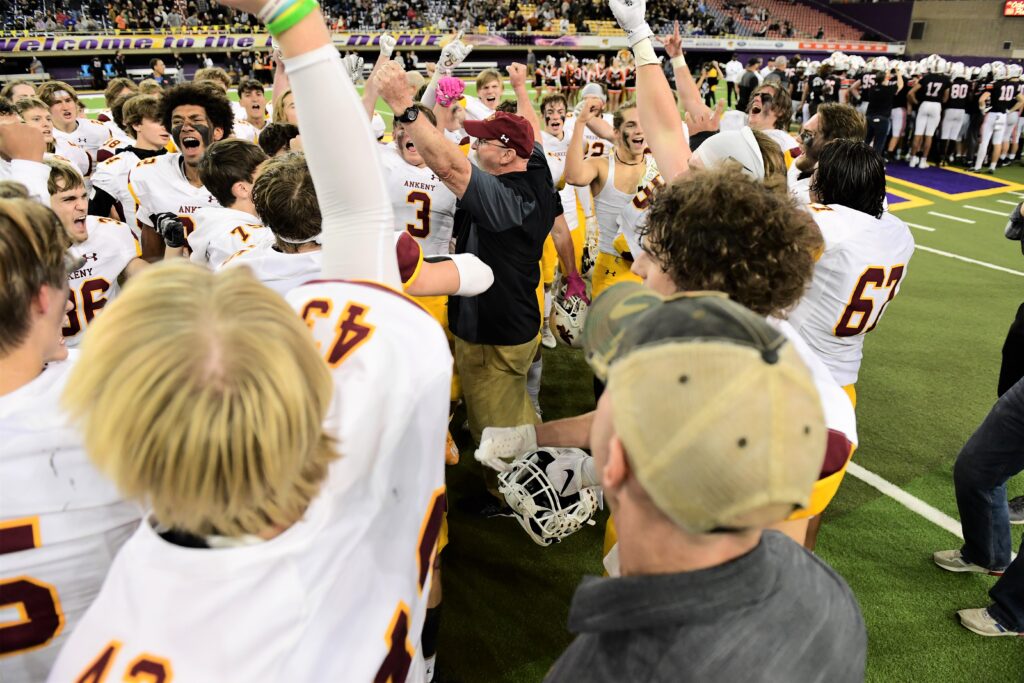 "We didn't really feel comfortable maybe until the fourth quarter, when we got that turnover and then we threw that long ball," said Ankeny coach Rick Nelson. "I felt pretty good. I thought maybe I could take my headset off because it probably wasn't going to do any good anyway."
Ankeny will play Southeast Polk (11-1) in Friday's championship game at 7 p.m. It'll be a rematch of last year's Class 4A title game, which was won by the Hawks, 42-14.
Ankeny also posted a 21-7 victory over the Rams earlier this season, but Southeast Polk star Xavier Nwankpa sat out the game due to an injury.
"It doesn't matter who we play," Kadolph said before the Rams defeated Iowa City High, 33-7, in Friday's second semifinal. "I'm down for whoever wants to fight."