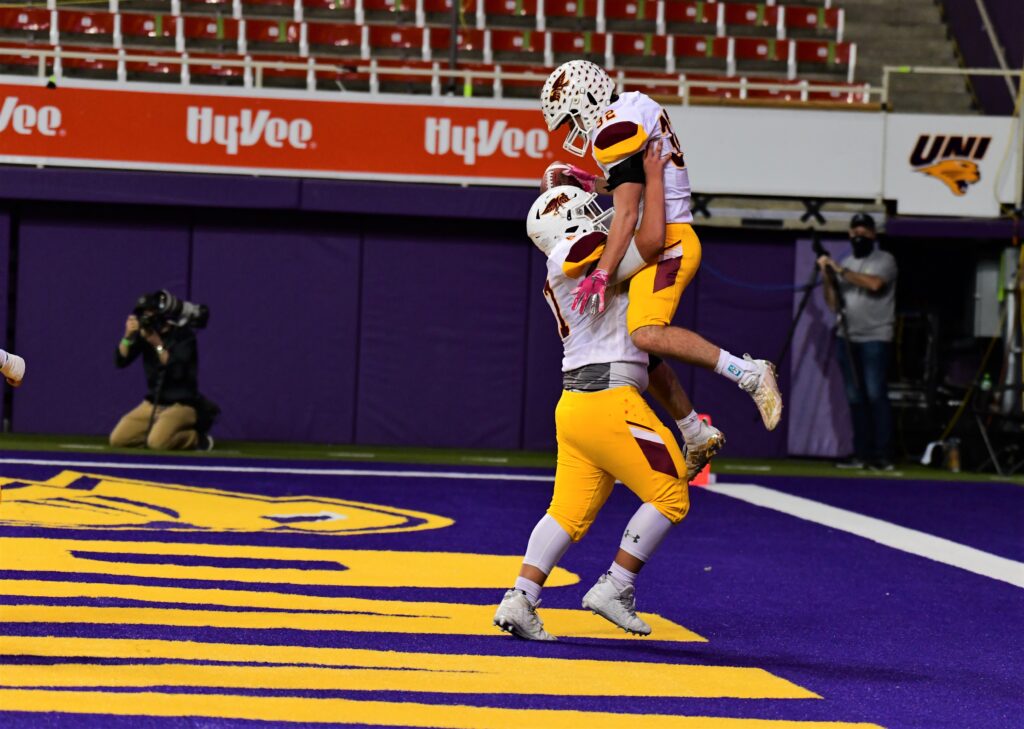 The cupboard is hardly bare for the Ankeny football team.
The Hawks suffered heavy losses to graduation after winning the Class 4A state title last fall, but several standouts are back from the squad that finished with an 11-1 record. Some talented newcomers have joined the roster as well.
Ankeny is third in the new Class 5A division in the preseason rankings by The Des Moines Register.
"We're having a lot of leaders emerge on offense and defense," said senior receiver Brady McCullough. "I think we're going to have a solid team."
McCullough caught 17 passes for 243 yards and two touchdowns as a junior, including a 25-yard scoring catch in the Hawks' double-overtime win against seven-time defending champion Dowling Catholic in the Class 4A semifinals. He is ranked the No. 18 senior prospect in Iowa by The Register.
McCullough boasts scholarship offers from South Dakota State, North Dakota and Northern Iowa. He is projected as a tight end in college.
"I'm just going to play wherever my offense needs me to be," McCullough said. "And even on defense–you never know."
Senior running back Colin Kadolph will also be a big part of Ankeny's offense. He ran 93 times for 840 yards and 15 touchdowns last year, when he was named to the all-district first team.
Kadolph, who also caught 11 passes for 146 yards and one score, is one of four Ankeny players on the Register's list of the top 100 players in Iowa. He was ranked No. 73.
"He's a really good running back," Ankeny coach Rick Nelson said of Kadolph. "I think he could run for 1,000-plus yards. He's worked really hard, and he's in great shape. If he can stay healthy, he's going to have a great year."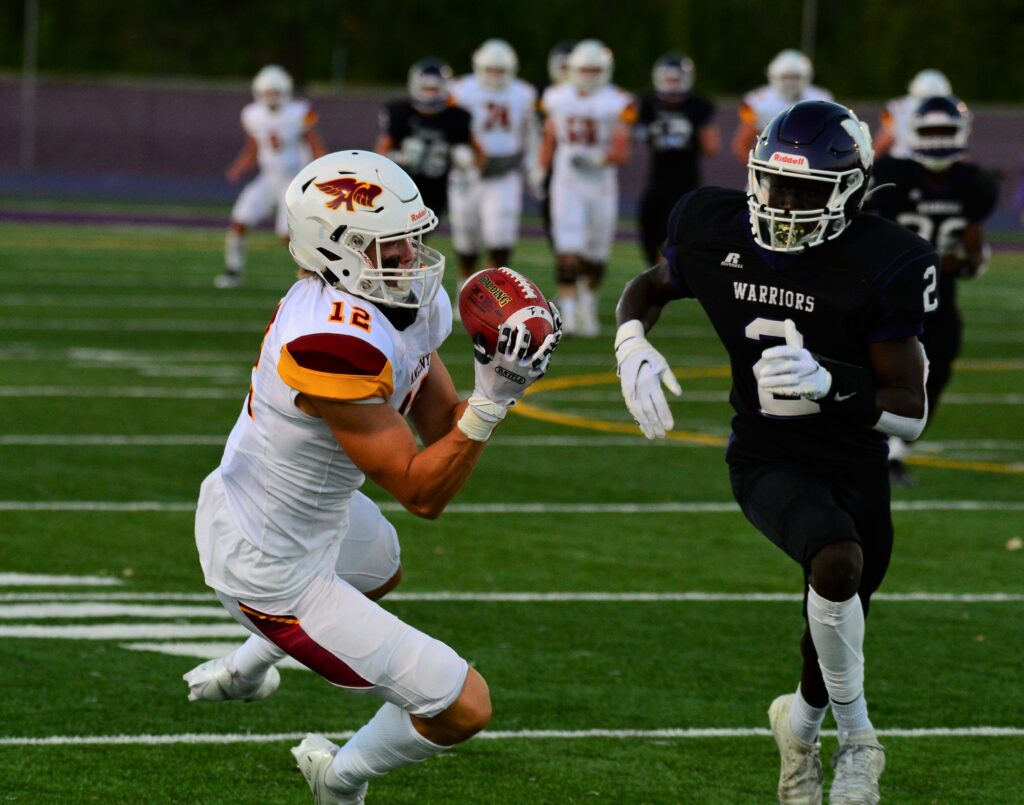 Senior offensive lineman Antonio Espino is also back. He was a second-team all-district selection a year ago.
Espino could be joined on the offensive line by senior Nick Eaton and junior Drew Monsivais, who both earned all-district honorable mention while playing for Ankeny Centennial last season. They both transferred to Ankeny along with junior quarterback JJ Kohl, who also received all-district honorable mention after passing for 891 yards and three touchdowns as a sophomore.
The 6-foot-6 Kohl, who also ran for five scores, is one of the state's fastest-rising prospects. He received scholarship offers from Florida State, Iowa and Iowa State over the summer.
"He's a really good quarterback," McCullough said. "He's a film junkie, and he really loves to play football. We've been able to get our chemistry down."
Kohl was ranked No. 34 on The Register's list of the top 100 players. He is also part of the Iowa Eight–the Register's top eight in-state prospects regardless of class.
"He's a sponge, and he's soaking (the offense) in," Nelson said. "I think it's just going to take some more reps. He has different strengths than Jase (Bauer), but they are very similar young men in the way that they approach the game."
Senior place-kicker Max Pelham, who made 4-of-9 field goals and 61-of-66 PATs last season, is among Ankeny's other returnees. He was named to The Register's all-Iowa preseason second team along with teammates Kohl and Ryan Crandall.
Crandall, a senior defensive back, will be one of the leaders of an experienced defensive unit. He racked up 55 tackles and three interceptions last season, when he was selected to the Class 4A all-state second team by the Iowa Print Sports Writers Association.
Crandall was No. 44 on the Register's list of the top 100 players. Teammate Braden Simonsen, a senior defensive lineman, was No. 50.
Simonsen had 37 tackles a year ago, including 14.5 for losses and four sacks. He was named to the all-state third team and joined Crandall on the all-district second team.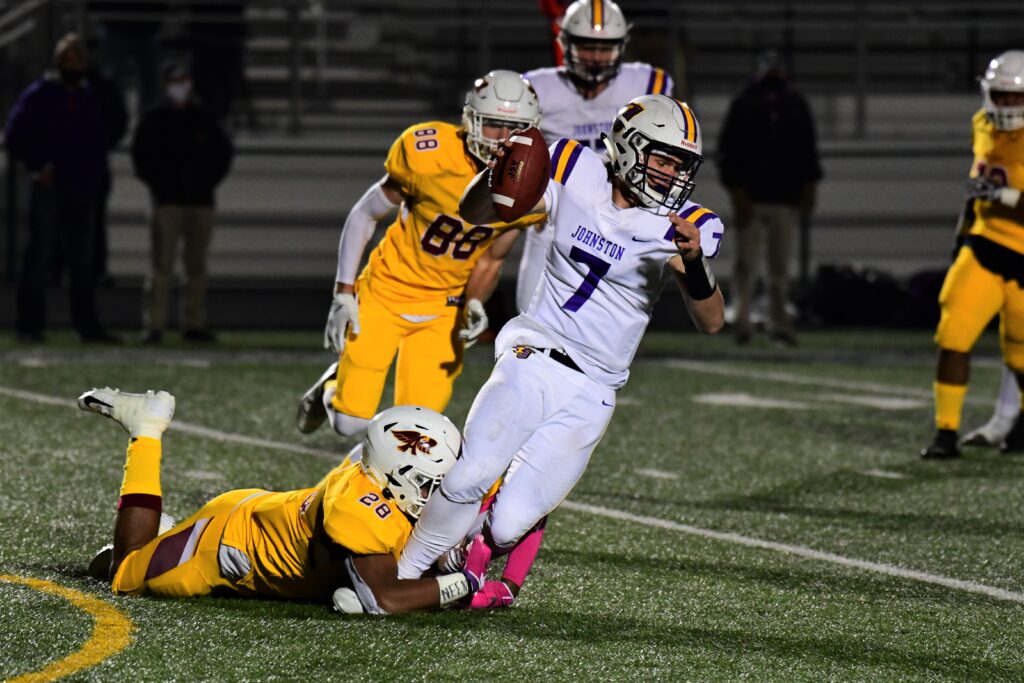 "We're really starting to come together (as a team)," Simonsen said. "It'll be fun to watch."
Senior linebacker Jackson Penningroth and senior defensive lineman Tamden Webb-Tate are also returning all-state players. Webb-Tate made 47.5 tackles, including 13 for losses, and was named to the Class 4A second team.
Penningroth had 42.5 tackles, including 16.5 for losses, and recovered a pair of fumbles. He was a third-team all-state pick and joined Webb-Tate on the all-district first team.
Senior defensive back Will Cornwell and senior defensive lineman Sean Gavin are also back. Cornwell made 38 tackles and had two interceptions, while Gavin made 21.5 tackles–nine of them for losses.
"We've moved Will to safety. He'll come up and hit you," Nelson said. "And the kid that has played lights out in our two scrimmages has been Sean Gavin. Teams just haven't been able to block him. He's playing really well, so we're excited about him."
The Hawks will host Waukee in their season opener on Friday. The Warriors handed Ankeny its only loss a year ago, but the Hawks later won a rematch, 28-7, in the Class 4A quarterfinals.
"They're always good," Simonsen said of the Warriors. "You can't overlook them. We can't overlook anybody and take anybody for granted."
Waukee has split into two high schools with the opening of Waukee Northwest. But Nelson said the Hawks can't afford to look ahead to upcoming matchups against Centennial, No. 2 Dowling and No. 1 Southeast Polk.
"We're going to find out in the first few weeks kind of who we are," Nelson said. "But right now, Waukee is the most important game."