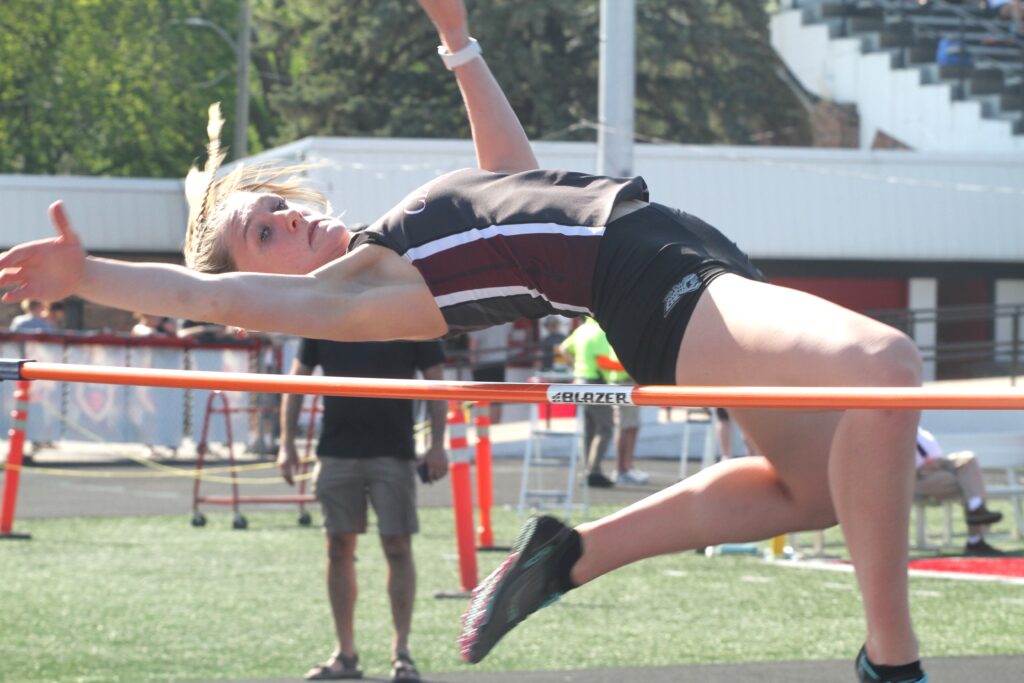 On a hot and humid night at Fort Dodge, the Ankeny Centennial girls' track team accomplished all of its goals–and then some–in a Class 4A state qualifying meet.
The Jaguars placed second among eight teams with 142 points. Ames won the team title with 160.5.
"It was a great meet for us," said Centennial girls' coach Andrew Kruzich. "We really exceeded our expectations for the night. On paper, we should have lost to Ames by 40.5 points, scoring 123.5. We scored 142 and grabbed a solid second in a very competitive district. I couldn't be prouder of the way we handled the terrible weather and the great competition.
"We are looking at bringing 17 (state) qualifiers in 13 different events, including all seven relays," he added.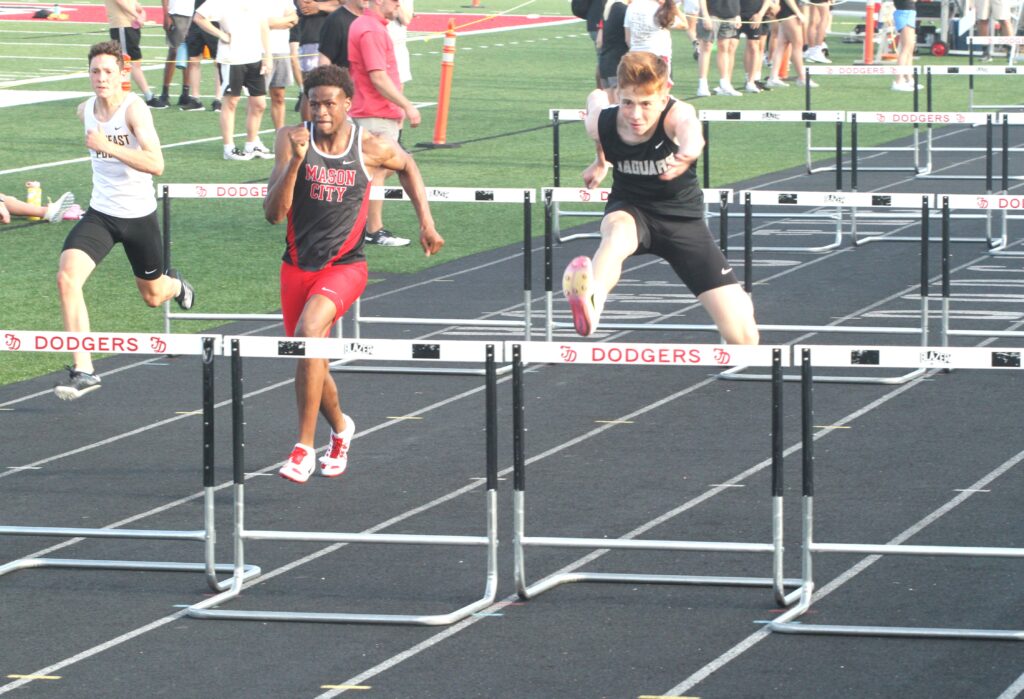 The Centennial boys' team also had a good night, despite some mishaps. The Jaguars took fourth with 113 points.
Southeast Polk won the boys' crown with 148 points.
"It was a good start and finish to the meet," said Centennial boys' coach Nate Smith. "Unofficially, everything should be in as expected. We had setbacks in two relays, but the guys came back and finished strong."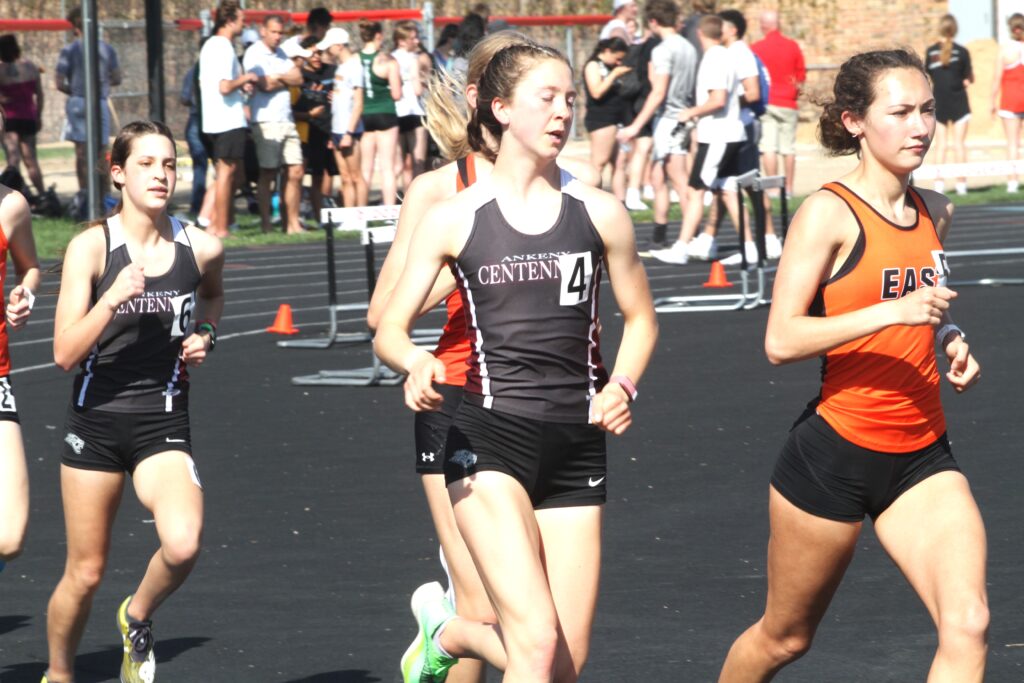 Centennial's Rondi Quass and Kambria Leazer automatically qualified for state with a pair of top-two finishes in girls' individual events. Quass won the 3,000 in a time of 11:04.96, then later took second in the 1,500 in 4:52.22.
"The heat was as bad as I thought it was going to be, but the wind definitely made it challenging–especially as the races spread out," said Quass, "My goal was to punch my ticket with a first or second, running as relaxed as possible so I can go into state feeling fresh!"
Leazer won the high jump by clearing the bar at 5 feet 1 inch. She just missed three attempts at 5-3.25, which would have broken the school record.
Leazer then moved to the long jump pit and placed second in that event with a leap of 18-0.5.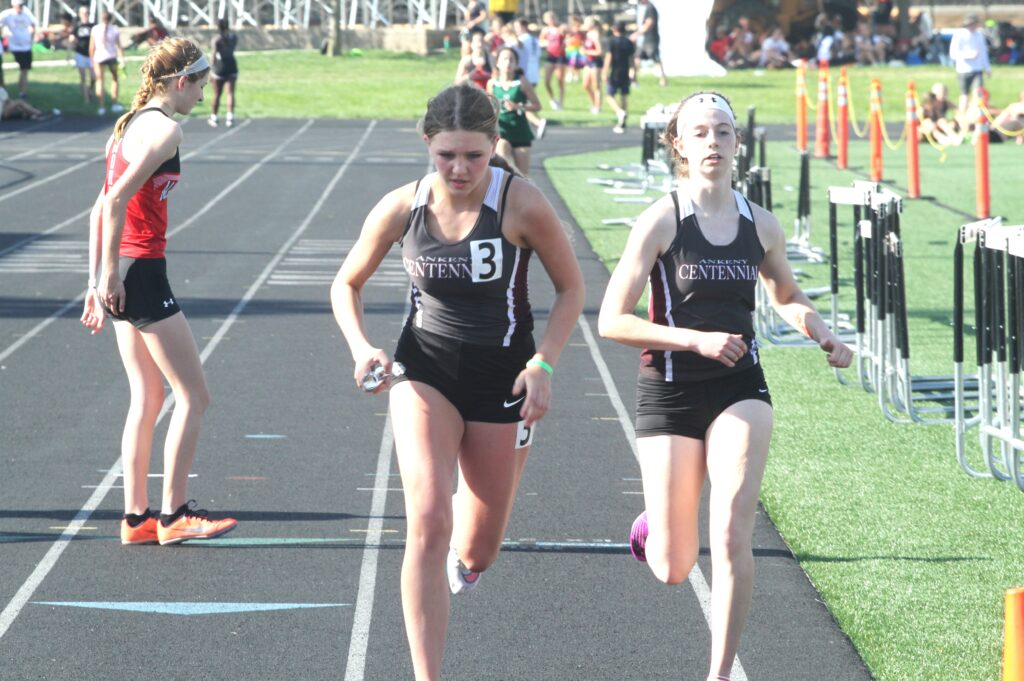 "State qualifier meets are a point of pride for our program," Kruzich said. "It's a chance to show not only how good your top talent is, but show everybody how deep and balanced your entire team is. We ran the sixth-best meet of any 4A school according to the power rankings. I'm intensely proud of our athletes and our coaching staff. They have been grinders all season, and it showed up (Thursday) when conditions were their most demanding."
Centennial's Maddy LaVoi added a second-place finish in the high jump. She jumped a personal-best 5 feet.
Kylin Smith was the runner-up in the 400 hurdles. She posted a time of 1:08.18.
The Jaguars also automatically qualified in the distance medley relay. The foursome of Addison Arringdale, Maraye Breeding, Addie Pollock and Bella Hodges placed second in that event with a time of 4:22.21.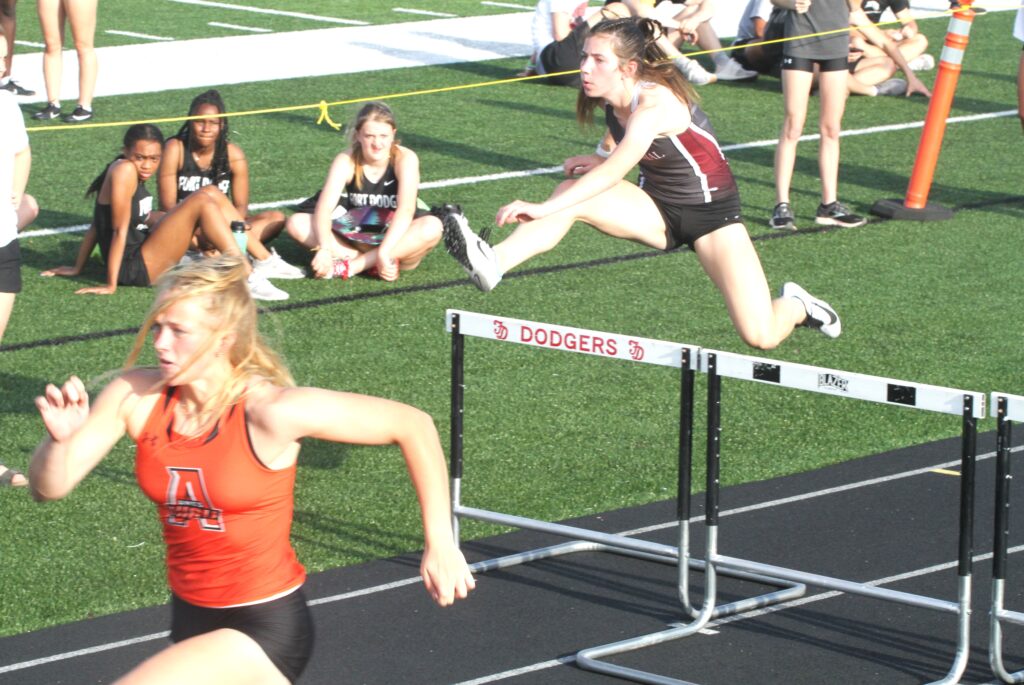 Hodges also took fifth in the 1,500 in 5:00.91, while teammate Julia Flick placed fourth in the 400 in 1:01.18.
"Those two set a pair of freshman school records," Kruzich said.
Another freshman, Olivia Kroska, was third in the 400 hurdles in 1:09.65. Anika Mohrhauser placed third in the 3,000 in 11:24.45, while Alee Edwards took third in the shot put and fourth in the discus.
Overall, Kruzich had very little to complain about–other than the stifling conditions.
"We went into the night knowing that a lot of our relays were going to be long shots to score at state," he said. "That allowed us to focus on a few relays and individual events that we think can medal, and then spread the love around and give a lot of girls a chance to qualify for state. Elle Street was a huge part of getting three relays qualified after a season where she has only run in about half the scheduled meets due to cancellations. She's a warrior."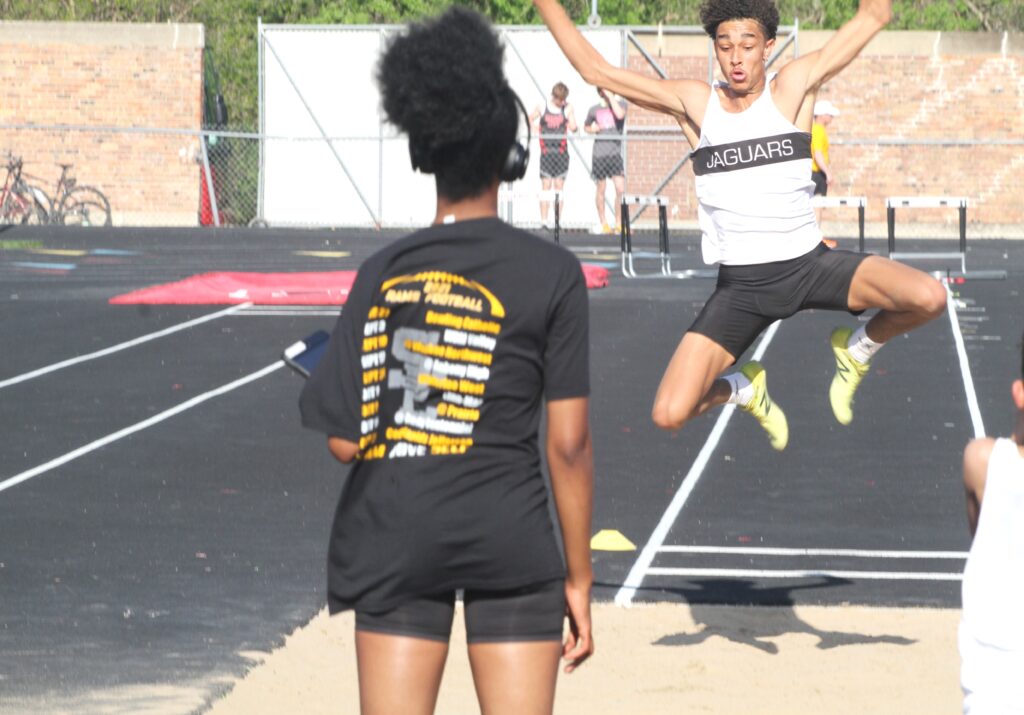 The Centennial boys' team did not win any events, but automatically qualified for state in four relays. Senior Isaiah Valentine was also an automatic qualifier by placing second in the long jump.
Valentine set a personal record with a leap of 22 feet 1.5 inches. Abu Sama of Southeast Polk won the event with a jump of 22-3.
"I felt pretty solid going into the meet," Valentine said. "I'm glad I achieved another goal which was jumping that 22-foot mark. The hot weather didn't bother me much. If anything, I think it helped me!"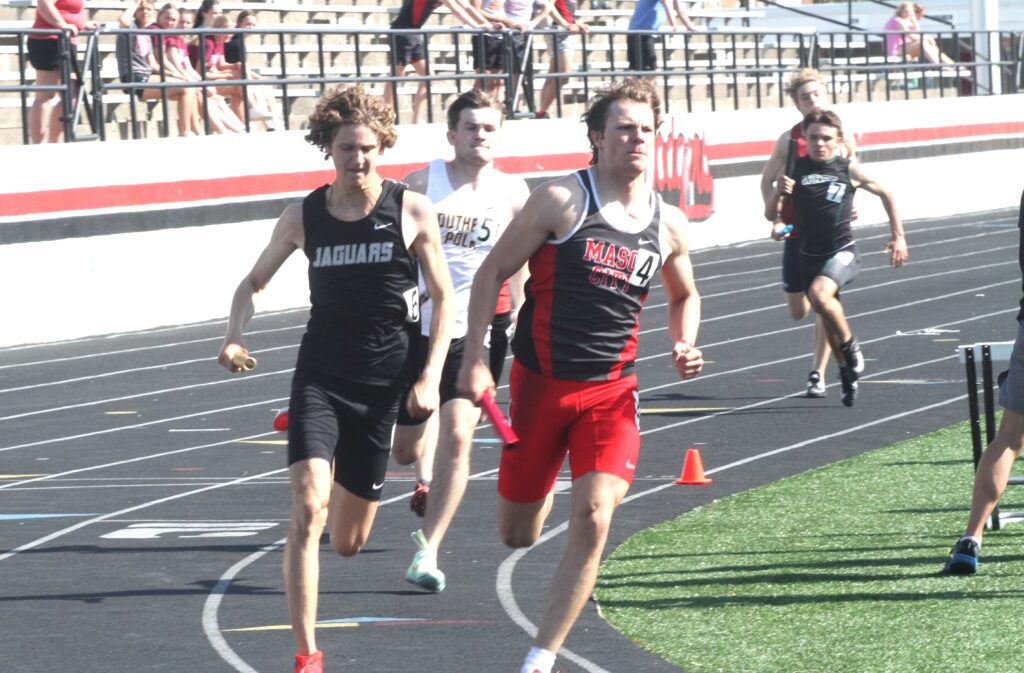 The Jaguars placed second in the sprint medley relay. The quartet of Alec Schneider, Max Snyder, Owen Gates and Cooper Majors was clocked in 1:37.64.
Schneider and Gates later ran on the runner-up 4×100 relay. They teamed up with Connor Welsch and Nick Severson to post a time of 43.02 seconds.
Gates then helped Centennial to another second-place finish in the 4×400 relay. He combined with London Hershberger, Gabe Murphy and Thomas Bunce to post a time of 3:29.91.
The Jaguars also took second in the shuttle hurdle relay. The team of Easton Miller, Malachi Curvey, Cael Woods and Tyler Bruns was clocked in 1:01.38.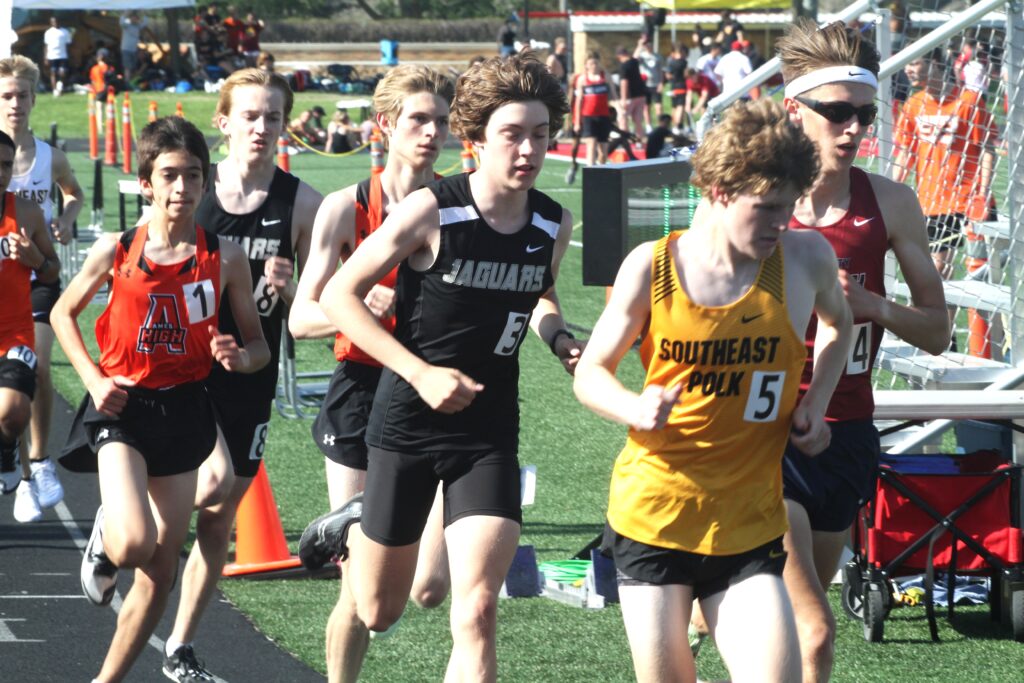 Schneider also placed third in the 100 in 11.69, while Majors took third in the 400 hurdles in 57.14. Tyler Schermerhorn finished third in the 3,200 in 10:21.21.
Karsten Peters added another third-place finish in the 800, posting a time of 2:01.65. Placing fourth for the Jaguars were Drake Dittmar in the 400 hurdles, Jake Gossett in the 400, Harrison Mackovec in the 200 and Sam Dietz in the shot put.
Centennial was leading the distance medley relay when anchor runner Peters was told by his coaches to leave the track because the team was going to be disqualified for an illegal handoff on the first exchange. The Jaguars also failed to score in the 4×200 relay.